Centre for Intelligent Transport
Facilities
On this page:
---
Centre for Advanced Robotics at Queen Mary (ARQ)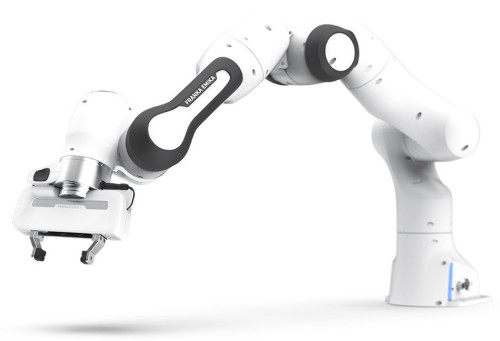 The laboratory of the Centre for Advanced Robotics at Queen Mary (ARQ) is equipped with robotics-arms, mobile platforms, mechatronic and control systems, swarm robots, human-like robotic systems, virtual reality and haptic interfaces, human motion tracking system. The laboratory is managed by ARQ and is located on the ground floor (G16) of the West wing of the Engineering building.

Contact: Prof Kaspar Althoefer
---
Computational Modelling Facilities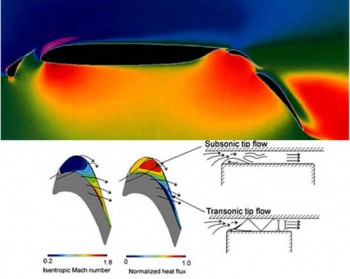 Prediction of flow around : 1- A Multi-Element Wing 2-A Jet Engine Gas Turbine Blade using Computational Aerodynamics.
Researchers of the Centre have prime access to 6 dedicated Lenovo ThinkSystem SD530 compute nodes with Cascade Lake CPUs.

Altogether, the compute nodes are equivalent to an HPC cluster of about 300 CPU cores for running parallel simulations on-demand.
This is In addition to several more Lenovo CPU compute nodes and high-performance GPU cards, such as A100 owned by individual research groups of the Centre.

The Aerospace Group also has access to the National Supercomputer Facilitiy (HECToR), QMUL Computing Cluster and Distributed Advanced Work Station at the School of Engineering and Materials Science.

In addition, our undergraduate students are being taught Computational Methods and use Industry Based Computing packages such as (ABAQUS) for Aerospace Structures and FLUENT for Computational Aerodynamics. These packages are currently being used by Aerospace Industries such as Airbus and BAe systems.

Contact: Prof Sergey Karabasov
---
Confocal Laser Scanning and Super-resolution Microscopy Lab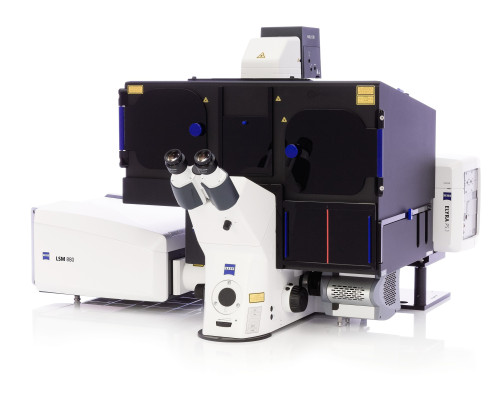 Zeiss Super resolution LSM710 ELYRA PS.1
SEMS hosts a confocal microscopy containing two laser scanning confocal microscopes - a Perkin Elmer spinning disc system and a Leica SP2 with multiphoton laser and lifetime imaging system. In addition we will soon be purchasing a new confocal microscope associated with a super-resolution system. The unit enables live cell fluorescence imaging (GFP, calcium imaging etc), 3D reconstruction and morphological measurement, photobleaching assays such as FRAP and FLIP and fluorescence lifetime microscopy(FLIM). The microscopes also interface with sophisticated mechanical loading systems for tissues, individual living cells (micropipette aspiration) and artificial constructs.

Contact: Prof Martin Knight
---
Flight Simulator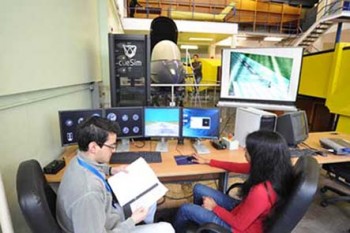 Flight Simulator
The School acquired a flight simulator with a cockpit, fully moving-base platform and virtual vision simulation for a range of visual cueing systems a decade ago. The simulator is within the Whitehead laboratory and is being used for undergraduate teaching and students' coursework and projects. All students in the Flight Simulation Module get to use the flight Simulator as part of their coursework. The School is also currently developing advanced research activities in the area of flight simulation. A new state-of-the-art Flight Simulator is currently being acquired to support our research activities and is expected to be installed in 2023.

In addition to in-house practical work Queen Mary, Aerospace students attend a one-day flight laboratory course at a National Flying Laboratory. It involves flight laboratory exercises aboard a twin turboprop JetStream aircraft. Each student will normally be on two flights each of about 50 minutes duration. Students will assess the drag, performance and the static and dynamic stability margins of the aircraft.

Contact: Dr Jun Chen

---
Hardness Test Machine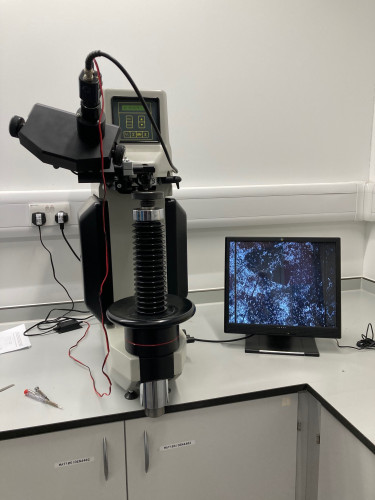 Hardness Test Hardness tester available in G27
Zwick-Roell Hardness Test Machine. Loads from 3kgf to 150kgf. The indenters available are Rockwell diamond and spherical, Brinell (1.0 andf 2.5mm diameter) and Vicker's diamond. At these load levels mainly used for metals and ceramics. There is an attached camera for recording processes.

Contact: Dr Erica di Federico

---
Materials Characterisation Lab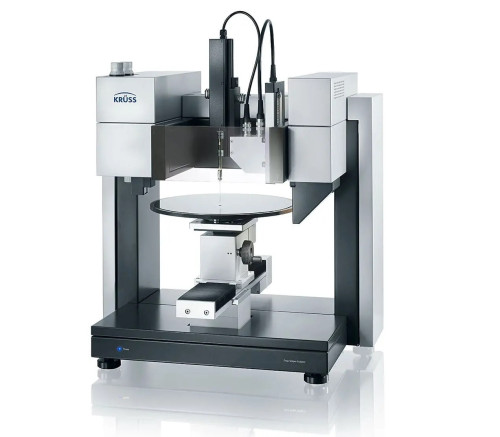 Contact Angle Goniometer
We provide a full analysis service in materials science and contains an impressive variety of analytical equipment to cover a broad range of tests and analyses, which are used for structural, thermal and mechanical analysis. The facility offers an analysis service to university-based and external users, both industrial and academic. The lab is located in the Engineering building (Room 232) at the Mile End campus. There are a range of charges for using these facilities.

Contact: Dr Shoghik Hakobyan
---
Materials Engineering in Magnetic Fields (MagMat) Facility

MagMat is a unique capability in the UK for the synthesis and processing of materials in strong magnetic fields (SMF) known at MagMat. This project provides the initiative for a new era of materials science where magnetic field driven forces are coupled with materials synthesis and processing to produce novel materials. Magneto related phenomena have special relevance to the fields of functional materials and biosciences, where the engineering outcomes are often a result of multifunctional couplings. The use of high magnetic fields in combination with a wide range of processing techniques could lead to new phenomena, materials and manufacturing routes. Our Work is focused on four main research areas of interest where strong magnetic fields can be employed to engineer a wide range of materials - texturing, synthesis, processing and self-assembly.

Contact: Prof Michael Reece
Contact: Dr Salvatore Grasso
---
Mechanical Testing Facilities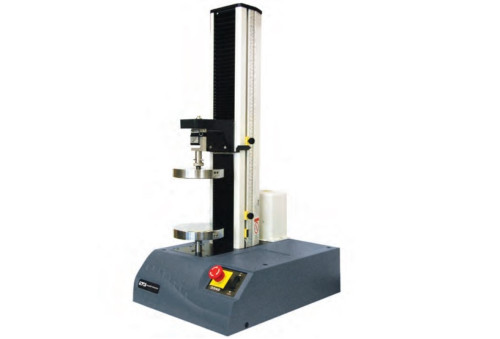 Instron 3340 series materials testing system
The School has a variety of mechanical testing equipment used to determine the mechanical properties of different materials and structures ranging from aircraft components to new implant materials or even biological tissues. These testing machines apply forces in compression, tension or torsion and can be used to find out material properties such as ultimate strength and modulus.

Contact: Dr Erica Di Federico
---
Mechanical Workshop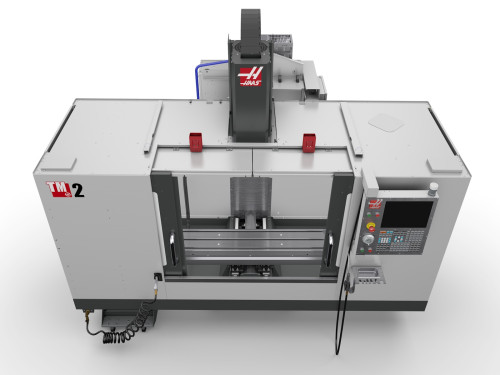 TM-2P - CNC Toolroom Mill
The School of Engineering and Material Science has a purpose built, fully equipped mechanical workshop where students and academics can come and have their parts manufactured for both research and projects relating to their field of interest. It contains both manual and CAD/CAM controlled milling and turning machines for high-speed production of complex parts in a variety of materials. Also available is a state-of-the-art FDM 3D printer for rapid prototyping in a broad range of thermoplastics. Designs and ideas can be realised by apprentice trained mechanical technicians with years of experience in a variety of engineering backgrounds.
---
Nano Fluids Research Labs
The School has a rapidly expanding group working on heat transfer from nano-fluids which are liquids containing nano-scale particles that act to alter the fundamental thermo-physical properties of the fluid and so increase heat transfer rates. The specific research includes formulation of nanoparticles and stable nanofluids in a purpose built laboratory. In addition, a new test facility is being constructed to investigate flow and heat transfer behavior of nanofluids in micro-tubes. The research will include mechanistic analysis of micro/nanoscale energy transportation and enhanced heat transfer performance.
---
NanoVision Centre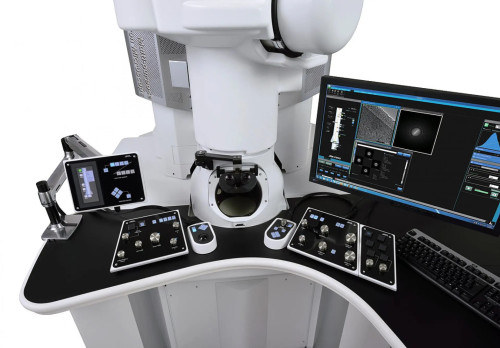 JEM-F200 Scanning Transmission Electron Microscope
The NanoVision Centre is a state-of-the-art microscopy unit which brings together the latest microscope techniques for structural, chemical and mechanical analysis at the nanometer scale (1/1000000 mm). The facility contains an impressive range of electron microscopes, scanning probe microscopes and associated analytical equipment for use in the cutting-edge research being conducted by students and staff.

Contact: Dr Subash Rai
---
Photoelectron Spectroscopy Facility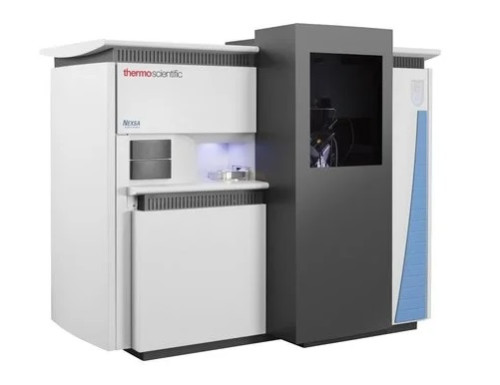 ThermoFisher Nexsa X-ray Photoelectron Spectrometer (XPS) System
A ThermoFisher Nexsa X-ray Photoelectron Spectrometer (XPS) System enables a range of photoelectron spectroscopy measurements on a range of materials. It includes facility for:

- X-ray photoelectron spectroscopy (XPS)
- Ultraviolet photoelectron spectroscopy (UPS)
- Reflection electron energy loss spectroscopy (REELS)
- Ion Scattering Spectroscopy (ISS)

Contact: Dr Richard Whiteley
---
Polymer Processing Facility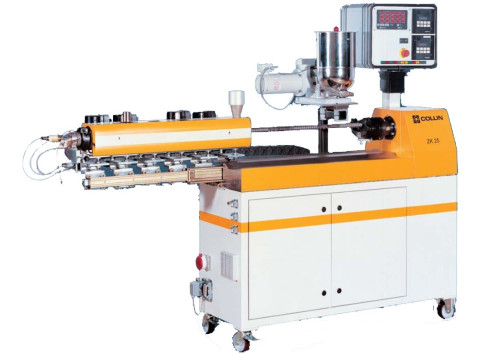 Twin screw extruder, Collin ZK25
As the first UK Materials department (1967) and one of the five Science Research Council funded Polymer Research Centres in a Materials Department, we have a long standing history and extensive research expertise in polymer and composites processing. Ranging from melt-processing (single and twin-screw extruders, injection moulding, film blowing, solid state stretching) to solution processing (electrospinning, spin coating), a wide range of polymer processing and composites equipment is available at our lab.

Contact: Dr Han Zhang
Contact: Dr Dimitrios Papageorgiou
---
Spectroscopy Facility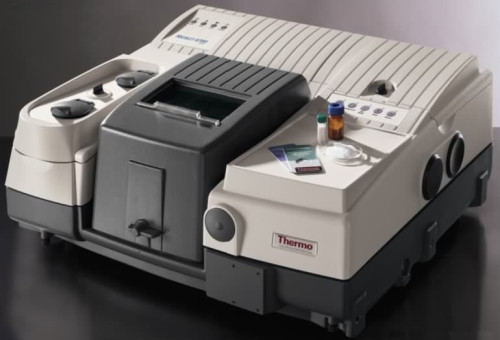 FTIR equipment for materials analysis.
We have a variety of sophisticated spectrometers which are used to identify specific compounds and investigate composition of materials prepared as either a liquid, solid, film or powder. These devices include:
- Fourier Transform Infrared Spectroscopy (FTIR)
- Raman Spectroscopy
- Near InfraRed Spectroscopy (uv-vis NIR).

Contact: Dr Shoghik Hakobyan
---
Sustainable Thermal Systems Laboratory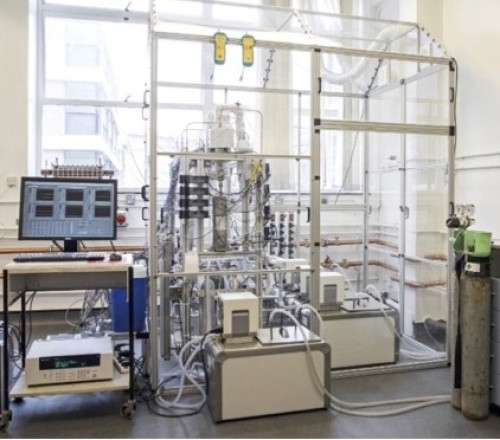 Microchannel rig to measure local condensation and flow boiling heat transfer using inverse method.
The School has an international reputation for research into two-phase flow with heat transfer. In particular, it has five test rigs for investigating various aspects of condensation and flow boiling heat transfer which has direct applications to steam power plant, nuclear power plant, organic Rankine cycle (ORC), refrigerators and air conditioners, heat pumps, solar assisted heat pump based heating systems, advanced thermal management of data centre and electric vehicle batteries and air conditioning systems for electric vehicles. These include a microchannel rig for accurate measuring local heat transfer during condensation and flow boiling of low GWP refrigerants and refrigerant mixtures up to high pressure and high temperature and a full tube bank rig for investigating the complex interactions between tube geometry and vapour and liquid flow in real condensers. Several rigs are being used to investigate and optimise highly enhanced finned tubes for increasing heat transfer rates for both internal and external flows and so reducing condenser size. In addition, two calibration baths allow calibration of thermocouples with an accuracy of +/-0.05 K from -15 oC to 200 oC.

Contact: Professor Huasheng Wang
---
The Makerspace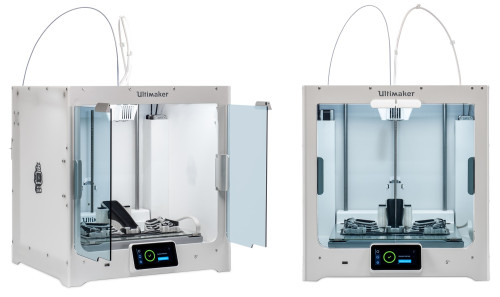 Ultimaker S5 FDM 3D Printer
The Makerspace is an open access workshop for all SEMS and EECS students and staff. It is a space where students can make things, this might be prototyping, model making or simply working on personal projects. The primary aim of the Makerspace is to give students the practical, and creative skills they will require to be effective engineers.

Contact: Mr James Wayland
---
Thermal Analysis Facility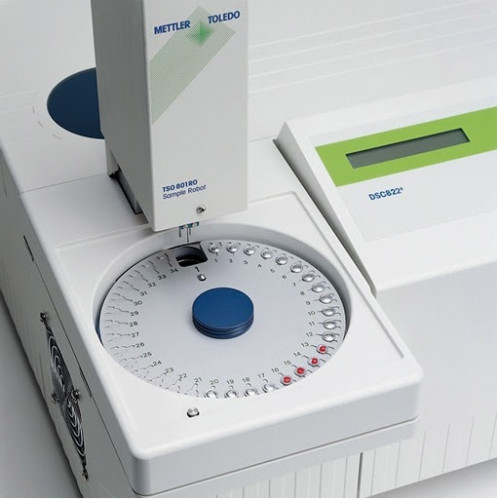 Differential Scanning Calorimeter.
We have a variety of excellent techniques for analysis the thermal properties of materials such as melting temperature, glass transition temperature, viscosity, thermal expansion and thermo-mechanical properties over a range of temperatures (-150 to 1600C). The techniques include:
- Differential Scanning Calorimetry (DSC)
- Rheometery
- Thermo Gravimetric Analysis (TGA)
- Simultaneous Thermal Analysis (STA)
- Dynamic Mechanical Analysis (DMA)
- Dilatometry.

Contact: Dr Shoghik Hakobyan
---
Thermoelectric Suite
Electrical conductivity and Seebeck measurement (Linseis LSR3)
We house a suite of instruments for the accurate measurement of thermoelectric materials in bulk or thin film form, including:
- Laser Flash Analyzer (Netzsch 453 LFA)
- Electrical conductivity and Seebeck measurement (Linseis LSR3)
- Thin film electrical and thermal conductivity, and Seebeck measurement (Linseis TFA)

Contact:
Prof Michael Reece
Dr Oliver Fenwick
---
Undergraduate Teaching Labs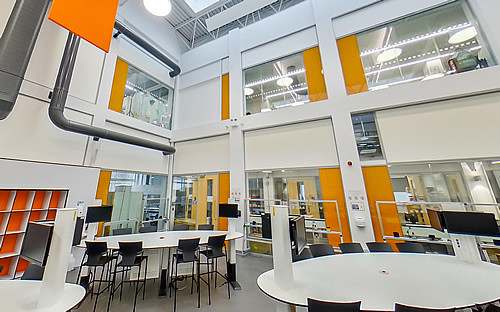 We have recently invested £30M in major new teaching laboratories to provide state-of-the-art experimental facilities specifically for teaching.

Opened in 2016 the lab provides a space on the ground floor with step free access and has a height adjustable bench installed for wheelchair users.

Contact: Dr Reshma Tilwani
---
Whitehead Aeronautical Laboratory
The Whitehead Aeronautical Laboratory.
The Whitehead Aeronautical Laboratory contains a large number of wind tunnels which are being used for teaching, undergraduate projects and research activities. In addition to the wind tunnels themselves these laboratories contain a large variety of flow measurement and visulisation tools including:
- Pressure probes
- Flow Visualisation tools such as smooke, oil and schlieren system
- State of art image processing techniques for obtaining qualitative and quantitative information about the flow field
- Hot-Wire Anemometers for turbulence measurements
- Advanced optical flow diagnostic tools such as Particle Image Velocitemetry (PIV) and Laser Doppler Velocimetry (LDV)
- Direct force and moment measurement using three and six-component balances
- Noise measurement devices.
---
X-Ray Diffraction Facility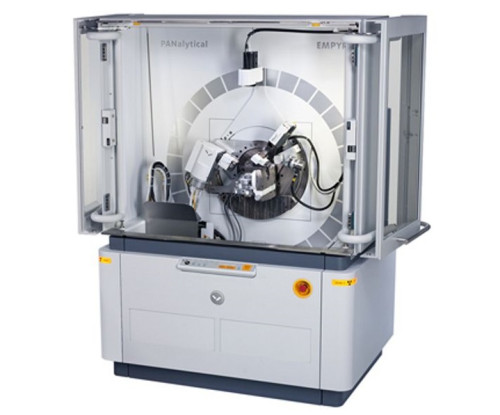 PANalytical Empyrean diffractometer
The X-Ray Diffraction Facility (XDF) offers a full diffraction analysis service in materials science, structural chemistry, structural biology and solid state science. The facility is located in the Francis Bancroft building (room G.30) at the Mile End campus, and is operated by the School of Biological and Behavioural Sciences

Contact: Dr Richard Whiteley