Confocal and Super-resolution Microscopy Facility
Within the Bioimaging Centre in the School of Engineering and Materials Science we have the following two confocal microscope systems: a Nikon CSU-W1 SoRa spinning disk, and a Zeiss LSM710 Elyra PS.1 super resolution system purchased through the Institute of Bioengineering, as well as two inverted epifluorescence microscopes: Leica DMi8 & Leica DMI4000B, and an incubator based Lumascope 720 for live cell imaging. We also have a Nanosight LM20 for size distribution of particles, an upright Jenapol Polarized Microscope, an iBright FL1500 for western blots and nucleic acid gels, and Imaris 9.7.2 workstation for imaging data analysis. The bioimaging facilities have contributed significantly to the publication output in SEMS and other institutes at QMUL. To apply for a training of any of our bioimaging facilities, please request through iLab.
---
Zeiss Super resolution LSM710 ELYRA PS.1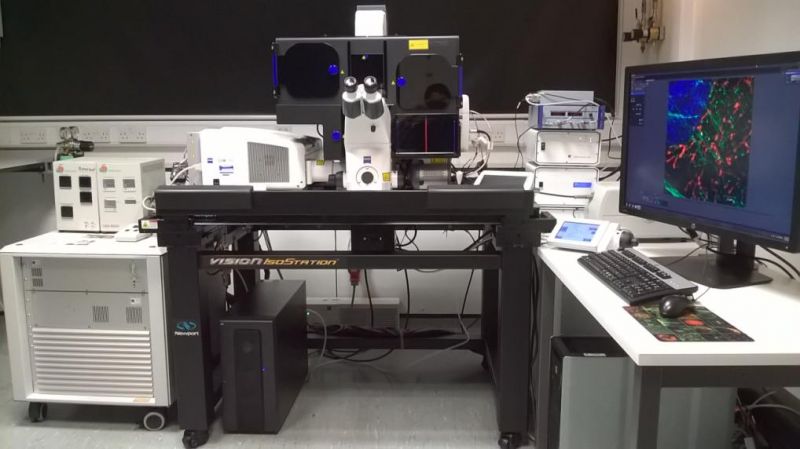 LSM 710 ELYRA PS.1 is a combination of an inverted laser scanning confocal microscopy 710 (LSM 710) with super resolution imaging microscopy ELYRA PS.1: photo activated localization microscopy (PALM)/Stochastic Optical Resolution Microscopy (STORM) and structured illumination microscopy (SIM). It is suitable for imaging targeting at 10-100nm resolution at single molecule level. In addition, Zen 2012 software, motorised X/Y stage, definite focus, TIRF mode make it capable of acquisition of tiling, multiple positions, time lapse, FRAP and FRET. It has a on stage environment chamber with a 35mm petri dish adaptor linked with a CO2/N2 controller for live cell imaging including hypoxic experiments. Furthermore, it comes with an offline data processing workstation.
Objectives:
EC Plan-Neofluar10x/0.3 M27,
EC Plan-Neofluar20x/0.5 M27,
Plan-Apochromat 63x/1.4 Oil DIC M27,
Plan-Apochromat 100x/1.46 Oil DIC M27
Lasers:
LSM 710: Diode laser 405nm (30mW), Ar/ML 458/488/514nm (35mW), HeNe 543nm (1mW), HeNe 633nm (5mW)
SIM/PALM: HR Diode 405nm (50mW), HR Diode 488nm (100mW), HR DPSS 561nm (100mW), HR Diode 642nm (150mW)
Cameras:
pco.edge sCMOS for SIM
Andor iXon DU 897 back-illuminated EMCCD for PALM/STORM
---
Nikon CSU-W1 SoRa Spinning Disk Confocal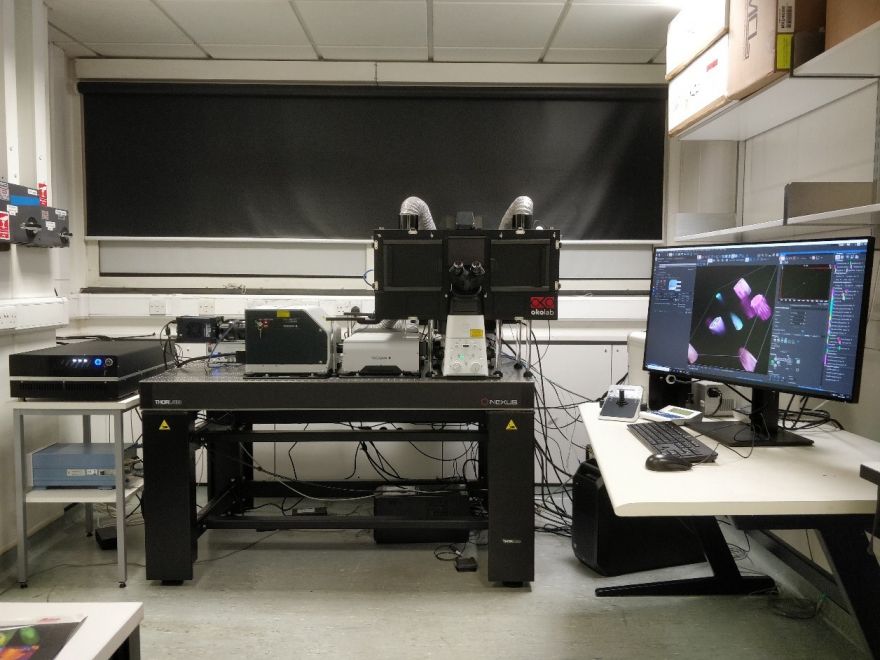 Nikon CSU-W1 SoRA Super-Resolution Spinning Disk Confocal scanning unit, couples the Nikon Ti2-E inverted microscope platform to the CSU-W1 SoRa system from Yokogawa. The system is equipped with two camera adapters, disk changer with two spinning disks (a 50 μm pinhole W1 spinning disk, and a 50 μm micro-lensed pinhole SoRa spinning disk), a full enclosure incubator with temperature, CO2 and humidity control for live imaging, FRAP and FRET. The system uses NIS-Elements software for data acquisition and image processing, and it comes with an offline data processing workstation.
Objectives:
CFI Plan Fluor 10x/0.3/WD 16mm,
CFI Plan Apochromat VC 20x/0.75/WD 1mm,
CFI Super Fluor 40xC/0.9/WD 0.34-0.26mm,
CFI Plan Apochromat Lambda D 60x/1.42/WD 0.15mm Oil
CFI Apochromat TIRF 60xC/1.49/WD 0.12mm Oil
Lasers:
LuxX Diode lasers: 405nm (120mW), 445nm (100mW), 488nm (200mW), 515nm (100mW), 638nm (200mW)
Coherent OBIS LS laser 561nm (150mW)
Camera:
Two Photometrics Prime BSI back-illuminated sCMOS cameras
---
Leica DMI4000B Epifluorescence Microscope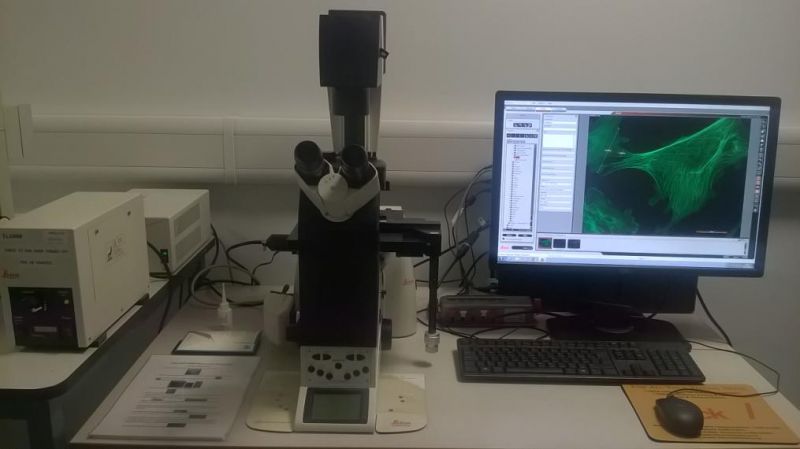 Leica DMI4000B is an inverted epifluorescence widefield (WF) microscope suitable for bright field (BF), phase contrast (PH) acquisition and epifluroscence imaging with DAPI, FITC, TRITC, and Texas Red filters on fixed cell and tissue samples.
Objectives:
N PLAN 2.5x/0.07
HCX PL FLUOTAR 10x/0.3 PH1,
HCX PL FLUOTAR 20x/0.5 PH2,

HCX PL APO 40x/1.25-0.754 Oil,

HCX PL FLUOTAR 63x/1.25 Oil PH3
Camera:
LEICA DFC9000 GT sCMOS camera for epifluorescence and BF/PH imaging
---
Leica DMi8 Epifluorescence Microscope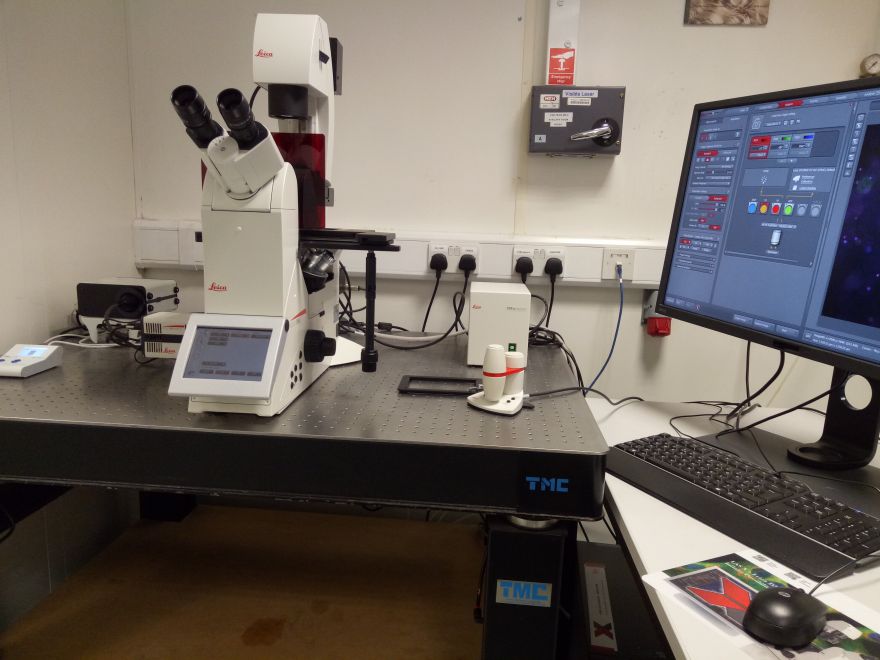 Leica DMi8 is a semiautomatic inverted epifluorescence widefield (WF) microscope suitable for bright field (BF), phase contrast (PH) acquisition and epifluroscence 2D and 3D imaging with DAPI, GFP, Cy3, and Cy5 filters on fixed cell and tissue samples.
Objectives:
HC PL FLUOTAR 10x/0.32 PH1,
HC PL FL L 20x/0.40 CORR, PH1,
HC PL FL L 40x/0.60 CORR PH2,
HC PL FLUOTAR 63X/1.30 Oil PH3
Camera:
LEICA DFC9000 GT sCMOS camera for epifluorescence and BF/PH imaging
---
Lumascope 720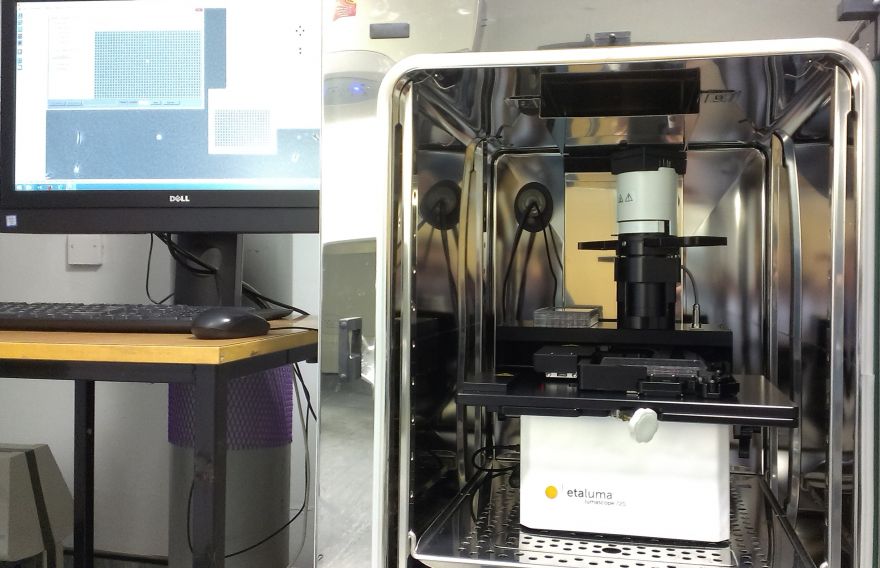 Lumascope 720 is an automatic incubator based, inverted 3-colour (blue, green, red) epifluorescence microscope, with motorized XY stage and auto Z-focus. It is suitable for multiple positions, time lapse live imaging with both phase contrast and fluorescence 2D and 3D mode, up to 10 fps, or 30 fps with reduced frame size.
Objectives:
Motic EF-N Plan 4x/0.10 (not for imaging),
Olympus CAch N 10x/0.25,
Olympus LCAch N 20x/0.40,
Olympus LCAch N 40x/0.55
Camera:
CMOS camera for epifluorescence and PH imaging
---
Nanosight LM20

Nanosight LM20 with a LM10 laser unit (Class 1 diode 635 nm) characterizes the size distribution and concentration of all types of nanoparticles from 20nm-1000nm in solution by dynamically analysing the paths the particles take under Brownian motion over a suitable period of time.
---
Jenapol Polarized Microscope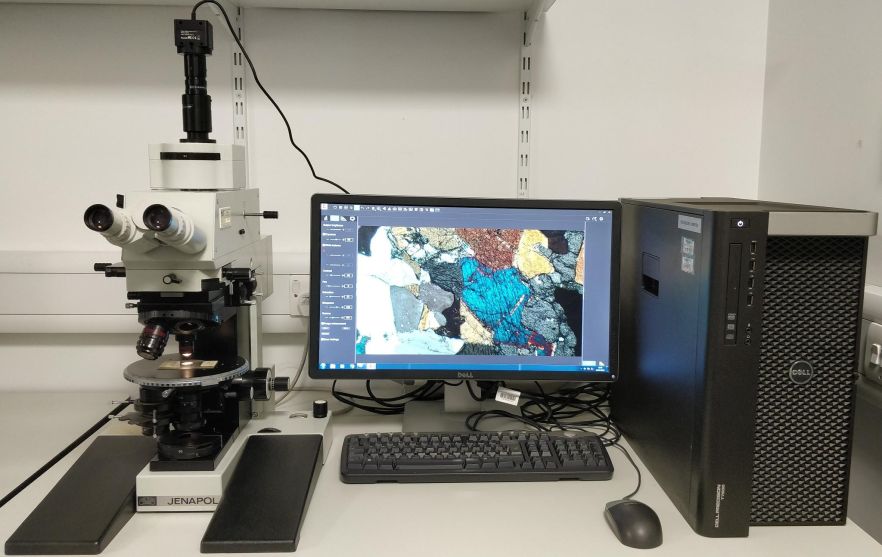 Jenapol is an upright polarized microscope with a MC4K 8.3MP Sony IMX334 CMOS camera, using Pixit Pro Version 3.2 software for imaging acquisition, suitable for cultured cells, tissues, mineral or other transparent material samples.
Objectives:
Planachromat Pol 10x/0.2, 

Planachromat Pol 20x/0.4, 

Planachromat Pol 50x/0.95 
Camera:
---
 iBright FL1500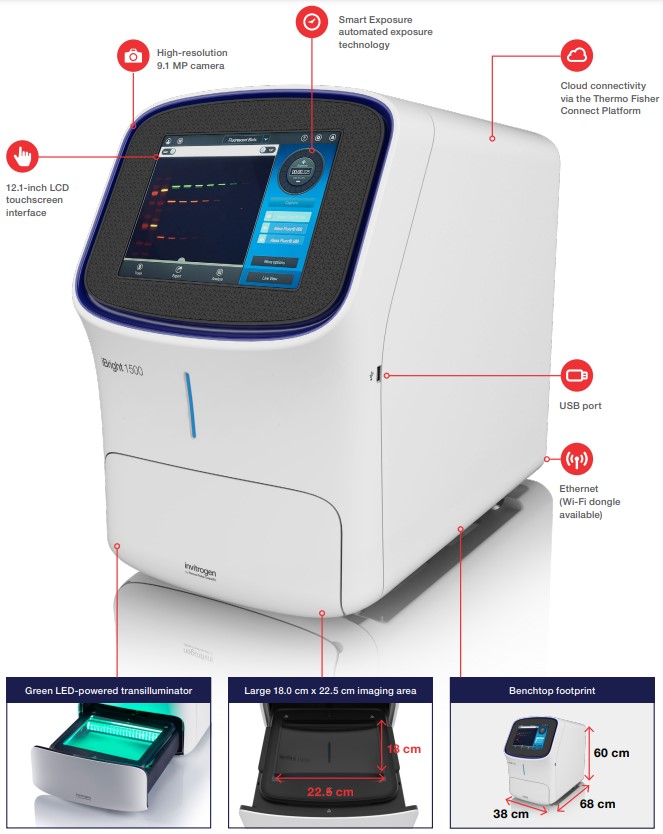 iBright FL1500 Imaging System supports the main imaging applications of fluorescent, chemiluminescent, and colorimetric western blots, in addition to fluorescent stained nucleic acid gels, fluorescent stained protein gels, colorimetric stained protein gels, and colorimetric membrane stains. 
Features of the iBright FL1500 Imaging System:
• 9.1 MP cooled CCD camera: high sensitivity and dynamic range to help enable the detection of subtle differences in samples
• Five fluorescence channels: multiplex and capture up to four proteins in a single blot for more meaningful and representative experiments
• Smart Exposure technology: provides rapid determination of optimal exposure time to help minimize the need to repeat exposures to acquire the desired signal
• Simple interface: clear layout of functions and features combined with a 12.1-inch capacitive touchscreen for a smooth imaging experience
• Advanced automated features: automatic sample rotation, automatic zoom, and automatic focus help streamline image capture
• 22.5 x 18.0-cm field of view: large field of view for high-throughput imaging (image up to four mini or two midi blots at a time)
• Green LED-based transilluminator: effectively excite popular DNA dyes such as ethidium bromide and Invitrogen SYBR Green dyes with an alternative to UV-based transilluminators
• Flexible connectivity: export captured images via ethernet connection, Wi-Fi (with optional accessory), USB, or directly to Connect cloud-based platform
• Multiple image analysis options: perform densitometry, quantitation, and normalization directly using the on-instrument software, or for more in-depth analysis use iBright Analysis Software (available in both desktop and cloud-based versions)

---
Imaris 9.7.2 ----- Imaris Single Full with ClearView

Imaris Single Full gives you complete power and flexibility of all Imaris functionalities at your fingertips. Visualization of complex 3/4D microscopy datasets with automated Spots and Surfaces detection and visualisation (100s of GBs), smart detection of complex objects, tracing of neurons, blood vessels (no lumen) or other filamentous structures, tracking including cell division detection, batch analysis and a wide range of customized analysis powered by MatLab or Python. Imaris integrates ClearView™ algorithms for Spinning Disk Confocal, Widefield Fluorescence, Brightfield, Laser Scanning Confocal and TIRF, allowing GPU-accelerated Deconvolution. 
For more information:
https://imaris.oxinst.com/products/imaris-single-full
Online learning centre: 
https://imaris.oxinst.com/learning/
---
Charges
Nikon CSU-W1 SoRa, Zeiss LSM710 Elyra PS.1:

Leica DMi8, Leica DMI4000B, Lumascope 720, Nanosight LM20:

---
Publications
---
To request a training via iLab
---
Contact
Prof Martin Knight
email: m.m.knight@qmul.ac.uk
Tel: +44 (0)20 7882 8868
Dr Dongsheng Wu
email: dong.wu@qmul.ac.uk
Tel: +44 (0)20 7882 5051