Confocal and Super-resolution Microscopy Facility
Within the School of Engineering and Materials Science we have the following three confocal microscope systems
We also have multi photon imaging  capability and a new super resolution system purchased through the Institute of Bioengineering, as well as standard epi-fluorescence microscopes. 
---
Zeiss Super resolution LSM710 ELYRA PS.1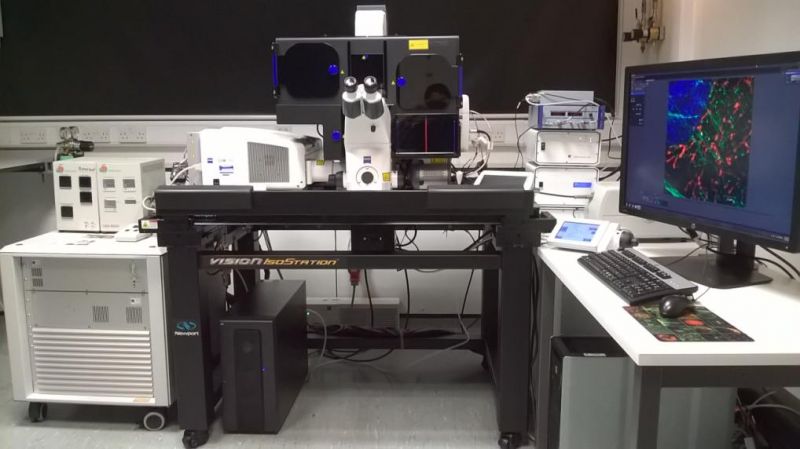 LSM 710 ELYRA PS.1 is a combination of  an inverted  laser scanning confocal microscopy 710 (LSM 710) with super  resolution imaging microscopy ELYRA PS.1:  photo activated localization microscopy (PALM)/Stochastic  Optical Resolution Microscopy (STORM) and structured illumination microscopy (SIM). It is suitable for imaging  targeting  at  10-100nm  resolution  at  single  molecule  level.  In  addition,  Zen  2012  software,  motorised  X/Y  stage,  definite  focus, TIRF mode make it  capable  of  acquisition of tiling,  multiple positions, time lapse, FRAP  and  FRET.  It  has  a  on  stage  environment  chamber  with  a  35mm  petri  dish  adaptor  linked  with  a  CO2/N2 controller  for  live  cell  imaging  including  hypoxic  experiments.  Furthermore,  it  comes  with  an  offline  data processing workstation. 
Objectives: 
EC Plan-Neofluar10x/0.3 M27, 
EC Plan-Neofluar20x/0.5 M27, 
Plan-Apochromat 63x/1.4 Oil DIC M27, 
Plan-Apochromat 100x/1.46 Oil DIC M27
Lasers:
LSM 710:  Diode laser 405nm  (30mW), Ar/ML 458/488/514nm  (35mW), HeNe 543nm (1 mW), HeNe 633 nm (5mW)
SIM/PALM: HR Diode 405nm (50mW), HR Diode 488nm (100mW), HR DPSS 561nm (100mW), HR Diode 642nm (150mW)  
Cameras:
sCMOS for SIM, EMCCD for PALM
---
Leica TCS SP2 Confocal and Multiphoton Microscope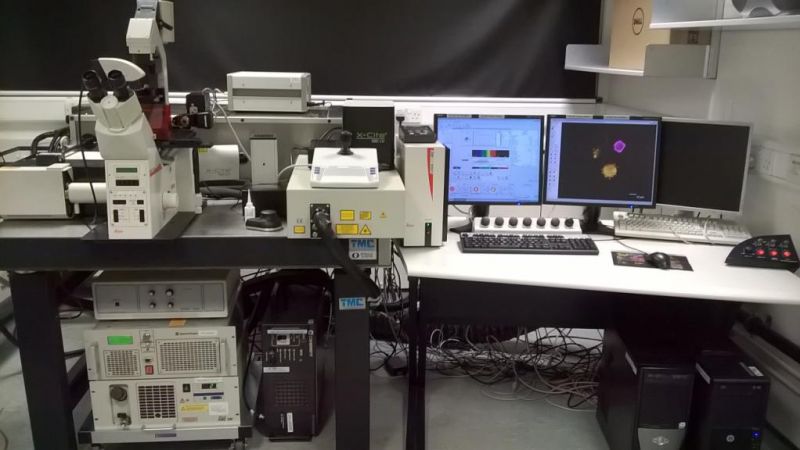 Leica TCS SP2 combines an inverted laser scanning  confocal  microscope with MaiTai multiphoton microscope. It has four confocal laser lines and a multiphoton infrared laser line , an environment chamber and a Eppendorf  micromanipulator  which  make  it  suitable  for  high  resolution  imaging acquisition  for  cell  and  tissue  samples including live imaging and FRAP. 
Objectives: 
HC PL FLUOTAR 10x/0.3, 
HC PL FLUOTAR 20x/0.5, 
HCX PL APO 40x/1.25-0.754 Oil, 
HCX PL APO 63x/1.40-0.60 Oil
Lasers:
LSM  TCS  SP2:  Coherent  Enterprise  Ion  laser  351nm  (90mW),  Ar  488nm  (125mW),  HeNe  543nm  (1.5  mW), 
HeNe 633 nm (1.5mW)
MaiTai Multiphoton: Maitai BB-067 Ti:sapphire 650-1100nm (4W) 
Camera:
LEICA DFC420C CCD camera for epifluorescence and brightfield imaging (optional)
---
PerKinElmer Spinning Disk Confocal Microscope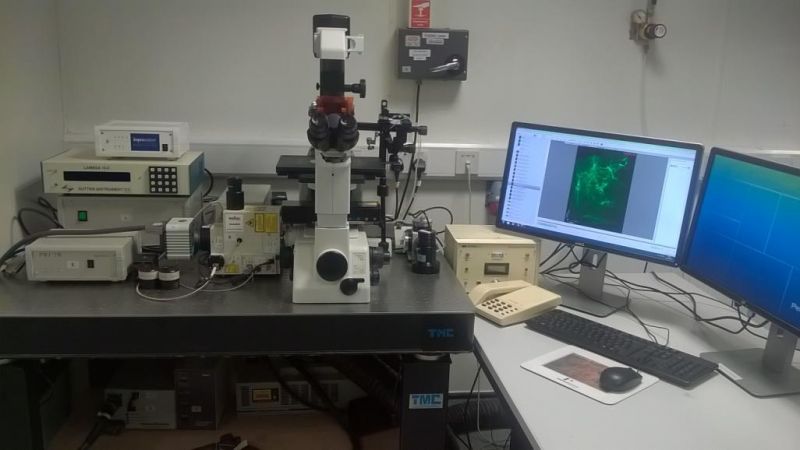 PerkinElmer UltraView imaging system is an inverted spinning disk confocal microscope with 488/586nm laser lines, with an INTRACEL temperature controller and a Narishige micromanipulator, suitable for fast dynamic fluorescent and bright field live imaging such as organelle trafficking, calcium imaging, chromatin and cell dynamics.
Objectives: 
Plan APO 4x/0.2, 
Plan APO 10x/0.45 DIC L, 
LWD 40x/0.55 PH1 ADL, 
Plan APO 60x/1.4 Oil DICH
Lasers:
Omnichrome 488nm and 568nm (100mW)
Camera:
HAMAMATSU ORCA-ER C4742-80 CCD camera
---
Leica DMI4000B Epifluorescence Microscope
Leica DMI4000B is an inverted epifluorescence widefield (WF) microscope suitable for bright field (BF), phase contrast (PH) acquisition and epifluroscence imaging with DAPI, FITC, TRITC, and Texas Red filters on fixed cell and tissue samples (<20µm thickness). 
Objectives: 
N PLAN 2.5x/0.07
HCX PL FLUOTAR 10x/0.3 PH1, 
HCX PL FLUOTAR 20x/0.5 PH2,  
HI Plan I 40x/0.5 PH2, 
HCX PL FLUOTAR 63x/1.25 Oil PH3
Camera:
LEICA DFC300 FX CCD camera for epifluorescence and brightfield imaging