Bioengineering
Facilities
On this page:
---
BioFluids Laboratory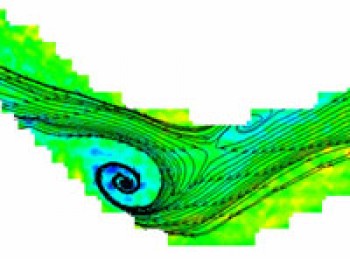 Fluid mechanics analysis of blood flow in a pump.
Research in the biofluids and cell mechanics laboratory focuses on the interactions between physiological fluids and biological tissues. At the macroscopic level, we work on blood circulation in bypass grafts, aortic valve mechanics and stress and strain distributions in the atrial wall. At the microscopic level, we investigate flow and solute transport in extracellular matrices and interactions between flow and endothelial cells, with a particular interest in the endothelial glycocalyx. All these studies aim to reveal fundamental mechanisms involved in vascular and soft tissue function in health and disease.
---
Cell and Tissue Engineering Laboratories
Students doing a lab practical as part of the the Tissue Engineering module.
The cell and tissue engineering laboratories provide extensive facilities for tissue engineering, mechanobiology and biomechanics research and teaching. The facilities include five dedicated cell culture laboratories, a molecular biology facility and general purpose and biochemistry laboratories. The labs house machines for mechanical testing of biological tissues or implantable materials as well as equipment for a wide range of biochemical/cell biology analysis.
---
Confocal Laser Scanning and Super Resolution Microscopy Lab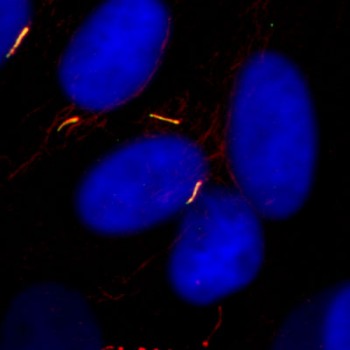 Confocal fluorescence 3D reconstruction of tendon cells (nuclei labelled blue, primary cilia cytoskeleton red)
The School of Engineering and Materials Science hosts a confocal microscopy containing two laser scanning confocal microscopes - a Perkin Elmer spinning disc system and a Leica SP2 with multiphoton laser and lifetime imaging system.

In addition the Institute of Bioengineering will soon be purchasing a new confocal microscope associated with a super resolution system. The unit enables live cell fluorescence imaging (GFP, calcium imaging etc), 3D reconstruction and morphological measurement, photobleaching assays such as FRAP and FLIP and fluorescence lifetime microscopy(FLIM). The microscopes also interface with sophisticated mechanical loading systems for tissues, individual living cells (micropipette aspiration) and artificial constructs.

Contact:
Prof Martin Knight

Confocal Microscopy Lab »
---
Gait Analysis Laboratory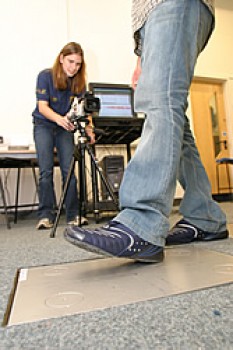 Undergraduate students using the force plate for their 4th year project.
The Kidman (Gait Analysis) lab allows us to analyse motion and forces in people during walking, running and many other activities. These state of the art facilities allow us to assess normal subjects, elite athletes, patients who have had an operation, or individuals with some disability. The wide range of equipment available includes a force plate in the ground, a treadmill that can accommodate wheelchairs and motion analysis facilities, as well as sensors for indicating when muscles are activated and an oxygen consumption monitor. All of these are used for undergraduate, clinical and research projects.
---
Mechanical Testing Facilities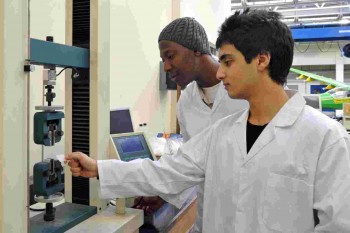 Students using mechanical testing equipment.
The School has a variety of mechanical testing equipment used to determine the mechanical properties of different materials and structures ranging from aircraft components to new implant materials or even biological tissues. These testing machines apply forces in compression, tension or torsion and can be used to find out material properties such as ultimate strength and modulus.
---
Mechanobiology and BioAFM Laboratories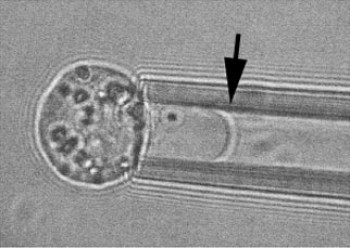 Micropipette aspiration of a living stem cell
The School of Engineering and Materials Science in association with the Institute of Bioengineering has extensive multi-user mechanobiology facilities.
This includes a range of bioreactor systems for subjecting living cells to dynamic mechanical loading in the form of tensile strain (Flexcell), compressive strain (Bose) and fluid shear (Osciflow & Bose). These loading systems are mounted in cell culture incubators for long term loading studies.
We also have equipment for measuring cellular mechanical properties and mechanically stimulating individual cells using biological atomic force microscopy (bioAFM), micropipette aspiration or custom built scanning ion conductance microscopy.
In addition we have a range of mechanical test machines for measuring the mechanical properties of biological tissues and biomaterials under dynamic, uniaxial and biaxial loading conditions.
For more information contact: Prof Martin Knight
---
Medical Electronics Lab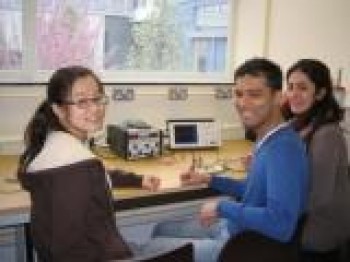 Students working in the Medical Electronics Lab
The medical electronics laboratory is a customised workspace for undertaking electronics work, with specific expertise in the medical field. The wide range of medical equipment includes ECG monitors, ultrasound probes and pulse oximeters. The laboratory also contains a wide range of electronics components and prototyping boards, as well as microprocessor software, to make your own circuitry. The facility is used for a range of taught laboratories that focus on circuit design, and is also available for MSc projects.
---
NanoVision Centre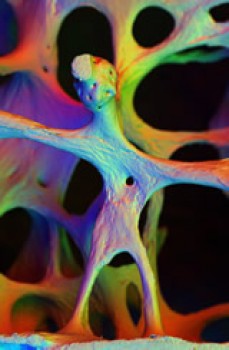 Scanning electron microscopy (SEM) image of human bone from a patient with osteoporosis.
The NanoVision Centre is a state-of-the-art microscopy unit which brings together the latest microscope techniques for structural, chemical and mechanical analysis at the nanometer scale (1/1000000 mm). The facility contains an impressive range of electron microscopes, scanning probe microscopes and associated analytical equipment for use in the cutting-edge research being conducted by students and staff.

NanoVision »

---
Queen Mary+Emulate Organs-on-Chips Centre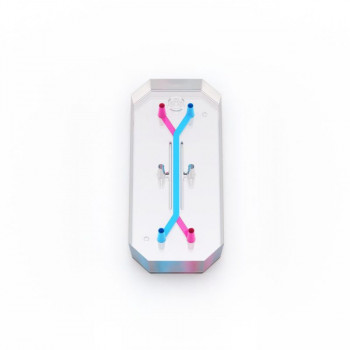 Emulate Organ-chip
The QM+Emulate Organs-on-Chips Centre provides open access to Emulate's Organs-on-Chips technology to enable researchers to use Emulate's supported organ models which include: Liver, Proximal Tubule Kidney, Lung and Intestine or develop organ models of their design to expedite their experiments. Emulate's state-of-the art organ-chip platform is available for fundamental research or for use as part of a drug discovery pipeline. Expert staff are on hand to support with training and use of the platform. The Centre also provides opportunities for collaboration with Emulate and support for commercialisation and translational impact.

Queen Mary+Emulate Organs-on-Chips Centre »

---
Spectroscopy Facility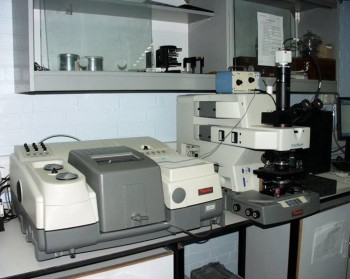 FTIR equipment for materials analysis.
We have a variety of sophisticated spectrometers which are used to identify specific compounds and investigate composition of materials prepared as either a liquid, solid, film or powder.

These devices include:
- Fourier Transform Infrared Spectroscopy (FTIR)
- Raman Spectroscopy
- Near InfraRed Spectroscopy (uv-vis NIR).
---
The Makerspace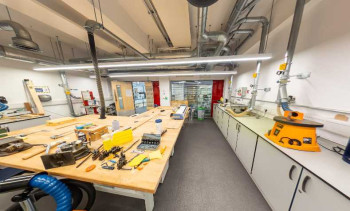 The Makerspace
The Makerspace is an open access workshop for all SEMS and EECS students and staff. It is, as the name implies a space for making things: prototyping through practical model creation.

The Makerspace »
---
Thermal Analysis Facility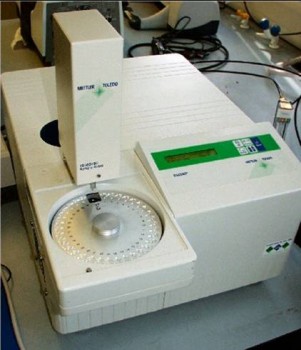 Differential Scanning Calorimeter.
We have a variety of excellent techniques for analysis the thermal properties of materials such as melting temperature, glass transition temperature, viscosity, thermal expansion and thermo-mechanical properties over a range of temperatures (-150 to 1600C).

The techniques include:
- Differential Scanning Calorimetry (DSC)
- Rheometery
- Thermo Gravimetric Analysis (TGA)
- Simultaneous Thermal Analysis (STA)
- Dynamic Mechanical Analysis (DMA)
- Dilatometry.

---
Undergraduate Teaching Labs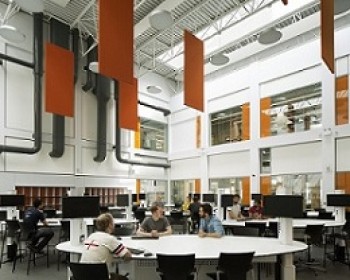 We have recently invested £8M in major new teaching laboratories to provide state-of-the-art experimental facilities specifically for teaching of undergraduate students.
Opened in 2016 the lab provides a space on the ground floor with step free access and has a height adjustable bench installed for wheelchair users.