Centre for Bioengineering
Facilities
On this page:
---
Cell and Tissue Engineering Labs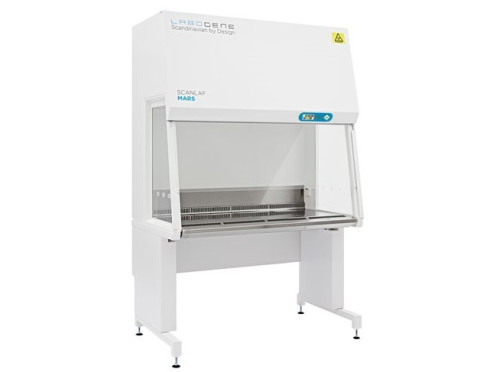 LaboGene Microbiological Safety Cabinet
The cell and tissue engineering laboratories provide extensive facilities for tissue engineering, mechanobiology and biomechanics research and teaching. The facilities include five dedicated cell culture laboratories, a molecular biology facility and general purpose and biochemistry laboratories. The labs house machines for mechanical testing of biological tissues or implantable materials as well as equipment for a wide range of biochemical/cell biology analysis.

Contact: Mr Shafir Iqbal
---
Centre for Advanced Robotics at Queen Mary (ARQ)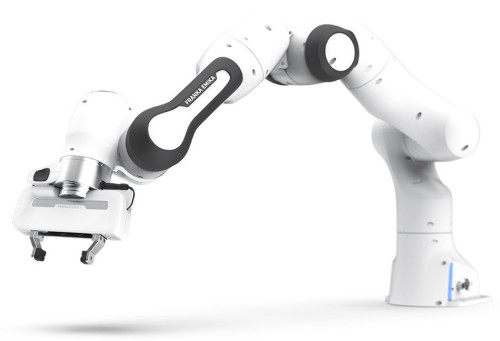 The laboratory of the Centre for Advanced Robotics at Queen Mary (ARQ) is equipped with robotics-arms, mobile platforms, mechatronic and control systems, swarm robots, human-like robotic systems, virtual reality and haptic interfaces, human motion tracking system. The laboratory is managed by ARQ and is located on the ground floor (G16) of the West wing of the Engineering building.

Contact: Prof Kaspar Althoefer
---
Confocal Laser Scanning and Super-resolution Microscopy Lab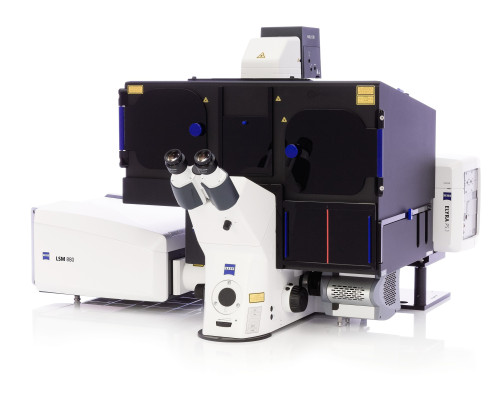 Zeiss Super resolution LSM710 ELYRA PS.1
SEMS hosts a confocal microscopy containing two laser scanning confocal microscopes - a Perkin Elmer spinning disc system and a Leica SP2 with multiphoton laser and lifetime imaging system. In addition we will soon be purchasing a new confocal microscope associated with a super-resolution system. The unit enables live cell fluorescence imaging (GFP, calcium imaging etc), 3D reconstruction and morphological measurement, photobleaching assays such as FRAP and FLIP and fluorescence lifetime microscopy(FLIM). The microscopes also interface with sophisticated mechanical loading systems for tissues, individual living cells (micropipette aspiration) and artificial constructs.

Contact: Prof Martin Knight
---
Electrochemistry Facilities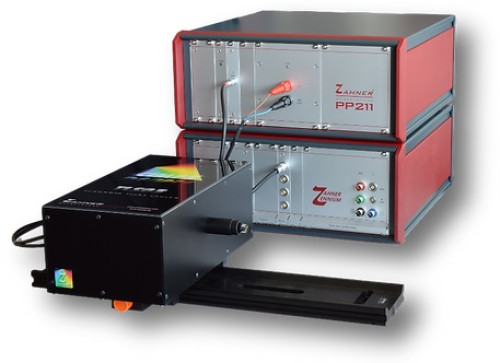 Zahner photoelectrochemistry station
We have a wide range of electrochemical and photoelectrochemical facilities for testing of energy materials. These include:
- Xe lamp 400W with solar simulator filter, potentiostat and electrochemical cell: for photocurrent measurements of photoelectrodes in multiple electrolytes, in a three-electrode (half cell) configuration, under 1 sun simulated conditions (with IR filter to avoid overheating of lamp and sample).
- Zahner photoelectrochemistry station: fully integrated photoelectrochemical workstation for high accuracy QE/IPCE measurements. Also with a tuneable LED light source that allows to measure photocurrent response at different wavelengths and possibility of measure electrochemical impedance spectroscopy, too.
- Rotating Disc Electrode (RDE) and potentiostat (with FRA for measuring electrochemical impedance spectroscopy): RDE in three-electrode electrochemical cell configuration with potentiostat to measure the electrocatalytic activity of new materials towards the oxygen evolution reaction (OER) and oxygen reduction reaction (ORR)
- Potentiostat Biologic (+/- 5V -10A) and redox flow battery system: for measuring the performance of electrode materials in full cell configuration for redox flow cell applications.

Contact: Dr Ana Sobrido
---
Human Performance Lab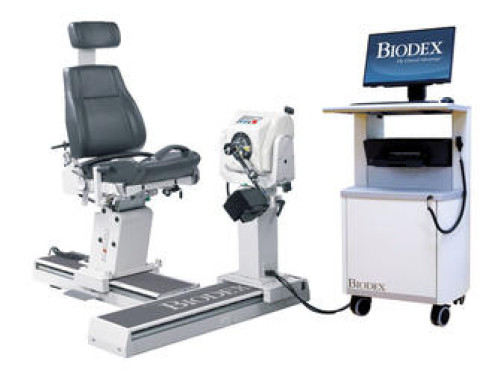 Biodex System Isokinetic Dynamometer
We analyse motion and forces in people during walking, running and many other activities. Our state-of-the-art facilities allow us to assess normal subjects, elite athletes, patients who have had an operation, or individuals with some disability. The wide range of equipment available includes: Force plate in the ground, Treadmill that can accommodate wheelchairs and motion analysis facilities, and Sensors for indicating when muscles are activated and an oxygen consumption monitor. All of these are used for undergraduate, clinical and research projects.

Contact: Dr Stuart Miller
---
Intelligent BioFluids Lab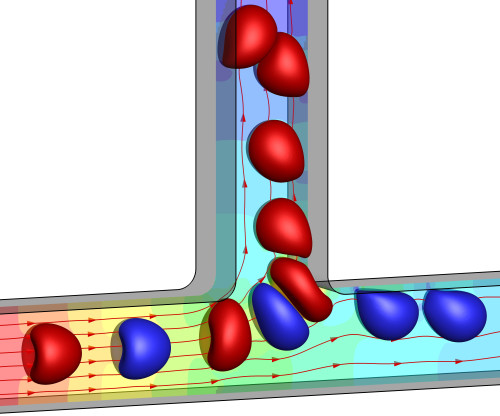 Hydrodynamic interaction of microcapsules in a microchannel bifurcation (front cover highlight in Journal of Fluid Mechanics volume 923)
Research in the intelligent biofluids and cell mechanics laboratory focuses on high-fidelity mechanical modelling and real-time ultra-high-throughput characterisation of blood and cancer cells, drug-delivery microcapsules. We also investigate flow and solute transport in extracellular matrices and interactions between flow and endothelial cells, with a particular interest in the endothelial glycocalyx. Our group integrates the state-of-the-art AI tools, mechanistic models, with microfluidic systems and high-speed imaging, to develop next-generation technologies for healthcare challenges such as cancer and cardiovascular diseases.

Contact: Prof Wen Wang, Prof Yi Sui
---
Materials Characterisation Lab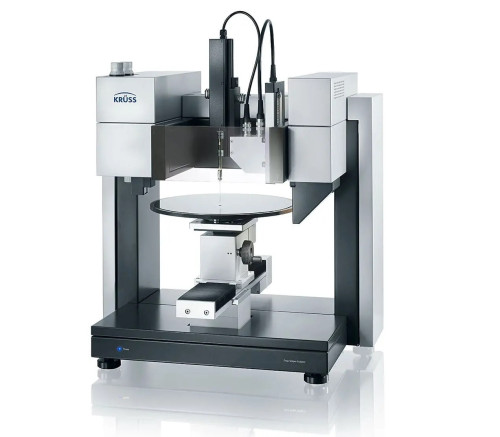 Contact Angle Goniometer
We provide a full analysis service in materials science and contains an impressive variety of analytical equipment to cover a broad range of tests and analyses, which are used for structural, thermal and mechanical analysis. The facility offers an analysis service to university-based and external users, both industrial and academic. The lab is located in the Engineering building (Room 232) at the Mile End campus. There are a range of charges for using these facilities.

Contact: Dr Shoghik Hakobyan
---
Mechanical Testing Facilities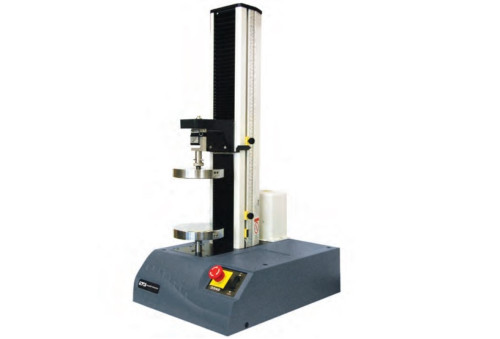 Instron 3340 series materials testing system
The School has a variety of mechanical testing equipment used to determine the mechanical properties of different materials and structures ranging from aircraft components to new implant materials or even biological tissues. These testing machines apply forces in compression, tension or torsion and can be used to find out material properties such as ultimate strength and modulus.

Contact: Dr Erica Di Federico
---
Mechanical Workshop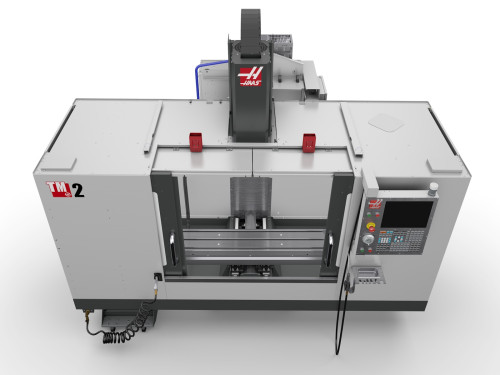 TM-2P - CNC Toolroom Mill
The School of Engineering and Material Science has a purpose built, fully equipped mechanical workshop where students and academics can come and have their parts manufactured for both research and projects relating to their field of interest. It contains both manual and CAD/CAM controlled milling and turning machines for high-speed production of complex parts in a variety of materials. Also available is a state-of-the-art FDM 3D printer for rapid prototyping in a broad range of thermoplastics. Designs and ideas can be realised by apprentice trained mechanical technicians with years of experience in a variety of engineering backgrounds.
---
Mechanobiology and BioAFM Laboratories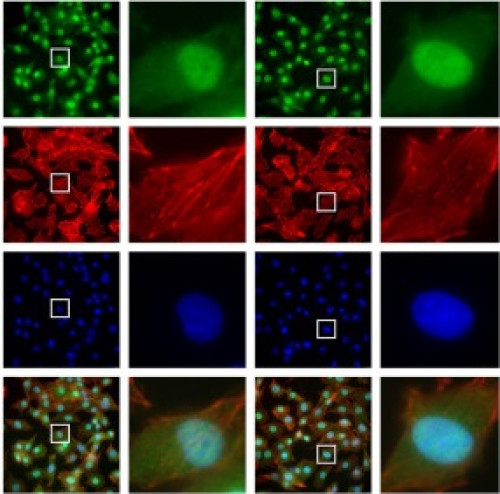 Epifluorescence images of YAP (green) and Actin (red)
The School of Engineering and Materials Science in association with the Institute of Bioengineering has extensive multi-user mechanobiology facilities.
This includes a range of bioreactor systems for subjecting living cells to dynamic mechanical loading in the form of tensile strain (Flexcell), compressive strain (Bose) and fluid shear (Osciflow & Bose). These loading systems are mounted in cell culture incubators for long term loading studies.

We also have equipment for measuring cellular mechanical properties and mechanically stimulating individual cells using biological atomic force microscopy (bioAFM), micropipette aspiration or custom built scanning ion conductance microscopy. In addition we have a range of mechanical test machines for measuring the mechanical properties of biological tissues and biomaterials under dynamic, uniaxial and biaxial loading conditions.

Contact: Prof Martin Knight
---
Medical Electronics Facility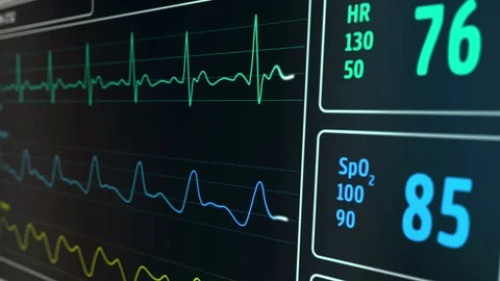 Electrocardiogram (ECG) and Oxygen Saturation level (SpO2) physiological signals.
SEMS has a customised facility for undertaking electronics work with specific expertise in the medical field. The wide range of medical equipment includes ECG monitors, ultrasound probes and pulse oximeters. The laboratory also contains a wide range of electronics components and prototyping boards, as well as microprocessor software, to make your own circuitry. The facility is used for a range of taught laboratories that focus on circuit design, and is also available for MSc projects.

Contact: Ms Jun Ma
---
NanoVision Centre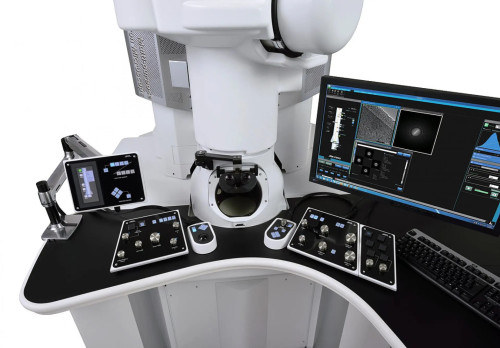 JEM-F200 Scanning Transmission Electron Microscope
The NanoVision Centre is a state-of-the-art microscopy unit which brings together the latest microscope techniques for structural, chemical and mechanical analysis at the nanometer scale (1/1000000 mm). The facility contains an impressive range of electron microscopes, scanning probe microscopes and associated analytical equipment for use in the cutting-edge research being conducted by students and staff.

Contact: Dr Subash Rai
---
Photoelectrochemical Imaging Lab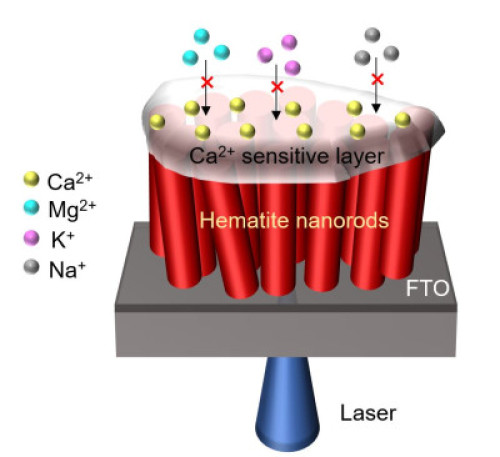 Photoelectrochemical calcium ion sensor based on hematite nanorods
Light-Addressable Potentiometric Sensors (LAPS) and Scanning Photo-induced Impedance Microscopy (SPIM) are imaging techniques based on photocurrent measurements at electrolyte/insulator/silicon (EIS) field-effect structures. They are capable of measuring local changes in the surface potential (LAPS), which can be used to image ion concentrations, and of measuring the local impedance (SPIM).

LAPS and SPIM have great potential as tools for functional electrochemical imaging of the attachment area of cells, providing information such as ion concentration, extracellular potentials and cell impedance. The techniques are particularly attractive for analysing responses of cells with planar polarisation or cell types that separate one compartment from the other as the cell-surface attachment area is not accessible to conventional electrophysiological and electrochemical imaging.

Contact: Prof Steffi Krause
---
Photoelectron Spectroscopy Facility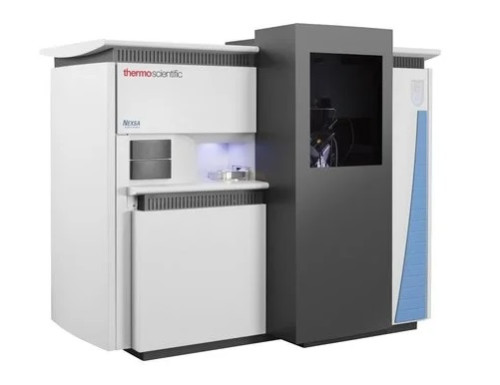 ThermoFisher Nexsa X-ray Photoelectron Spectrometer (XPS) System
A ThermoFisher Nexsa X-ray Photoelectron Spectrometer (XPS) System enables a range of photoelectron spectroscopy measurements on a range of materials. It includes facility for:

- X-ray photoelectron spectroscopy (XPS)
- Ultraviolet photoelectron spectroscopy (UPS)
- Reflection electron energy loss spectroscopy (REELS)
- Ion Scattering Spectroscopy (ISS)

Contact: Dr Richard Whiteley
---
Polymer Processing Facility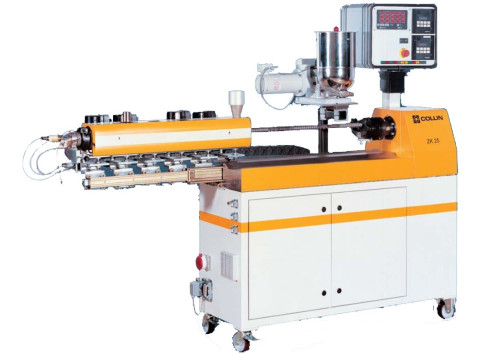 Twin screw extruder, Collin ZK25
As the first UK Materials department (1967) and one of the five Science Research Council funded Polymer Research Centres in a Materials Department, we have a long standing history and extensive research expertise in polymer and composites processing. Ranging from melt-processing (single and twin-screw extruders, injection moulding, film blowing, solid state stretching) to solution processing (electrospinning, spin coating), a wide range of polymer processing and composites equipment is available at our lab.

Contact: Dr Han Zhang
Contact: Dr Dimitrios Papageorgiou
---
Queen Mary+Emulate Organs-on-Chips Centre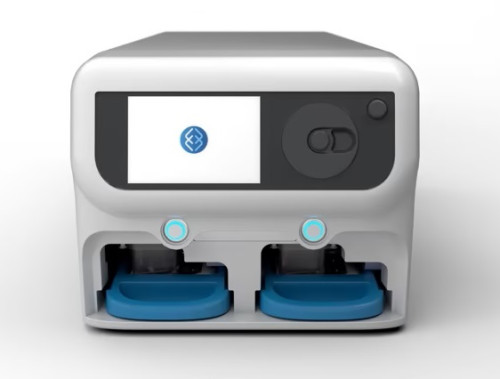 Zoë™ Culture Module
The QM+Emulate Organs-on-Chips Centre provides open access to Emulate's Organs-on-Chips technology to enable researchers to use Emulate's supported organ models which include: Liver, Proximal Tubule Kidney, Lung and Intestine or develop organ models of their design to expedite their experiments. Emulate's state-of-the art organ-chip platform is available for fundamental research or for use as part of a drug discovery pipeline. Expert staff are on hand to support with training and use of the platform. The Centre also provides opportunities for collaboration with Emulate and support for commercialisation and translational impact.

Contact: Prof Martin Knight
---
Spectroscopy Facility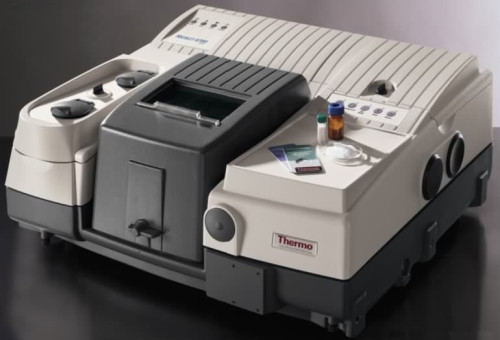 FTIR equipment for materials analysis.
We have a variety of sophisticated spectrometers which are used to identify specific compounds and investigate composition of materials prepared as either a liquid, solid, film or powder. These devices include:
- Fourier Transform Infrared Spectroscopy (FTIR)
- Raman Spectroscopy
- Near InfraRed Spectroscopy (uv-vis NIR).

Contact: Dr Shoghik Hakobyan
---
The Makerspace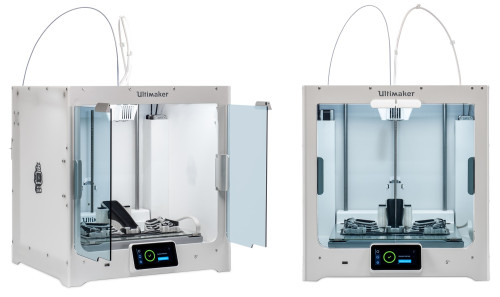 Ultimaker S5 FDM 3D Printer
The Makerspace is an open access workshop for all SEMS and EECS students and staff. It is a space where students can make things, this might be prototyping, model making or simply working on personal projects. The primary aim of the Makerspace is to give students the practical, and creative skills they will require to be effective engineers.

Contact: Mr James Wayland
---
Thermal Analysis Facility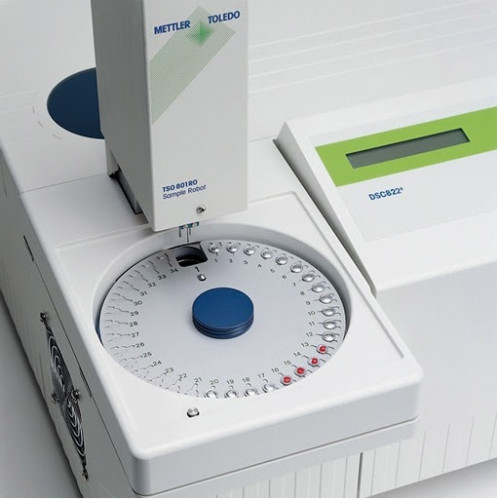 Differential Scanning Calorimeter.
We have a variety of excellent techniques for analysis the thermal properties of materials such as melting temperature, glass transition temperature, viscosity, thermal expansion and thermo-mechanical properties over a range of temperatures (-150 to 1600C). The techniques include:
- Differential Scanning Calorimetry (DSC)
- Rheometery
- Thermo Gravimetric Analysis (TGA)
- Simultaneous Thermal Analysis (STA)
- Dynamic Mechanical Analysis (DMA)
- Dilatometry.

Contact: Dr Shoghik Hakobyan
---
Thermoelectric Suite
Electrical conductivity and Seebeck measurement (Linseis LSR3)
We house a suite of instruments for the accurate measurement of thermoelectric materials in bulk or thin film form, including:
- Laser Flash Analyzer (Netzsch 453 LFA)
- Electrical conductivity and Seebeck measurement (Linseis LSR3)
- Thin film electrical and thermal conductivity, and Seebeck measurement (Linseis TFA)

Contact:
Prof Michael Reece
Dr Oliver Fenwick
---
Undergraduate Teaching Labs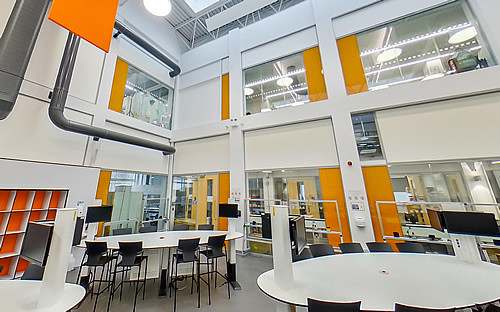 We have recently invested £30M in major new teaching laboratories to provide state-of-the-art experimental facilities specifically for teaching.

Opened in 2016 the lab provides a space on the ground floor with step free access and has a height adjustable bench installed for wheelchair users.

Contact: Dr Reshma Tilwani
---
X-Ray Diffraction Facility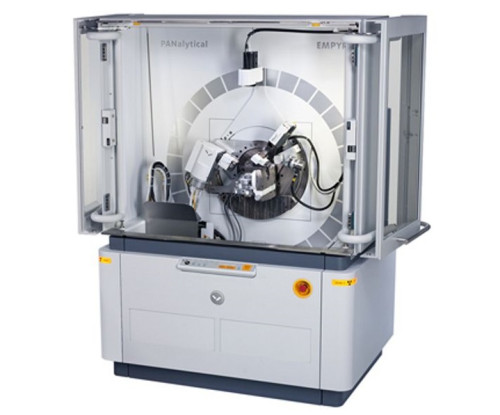 PANalytical Empyrean diffractometer
The X-Ray Diffraction Facility (XDF) offers a full diffraction analysis service in materials science, structural chemistry, structural biology and solid state science. The facility is located in the Francis Bancroft building (room G.30) at the Mile End campus, and is operated by the School of Biological and Behavioural Sciences

Contact: Dr Richard Whiteley