Dr Wei Tan
BEng, PhD, MIMMM
Research Impact
1. Phase field predictions of microscopic fracture and R-curve behaviour of fibre-reinforced composites
A computational framework to explore the effect of microstructure and constituent properties upon the fracture toughness of fibre-reinforced polymer composites is presented. A phase field fracture method and a cohesive zone model are coupled to capture microscopic matrix cracking and fibre-matrix debonding. This model is possible to accurately capture the crack path, interface debonding and load versus displacement response. The sensitivity of the crack growth resistance curve (R-curve) to the matrix fracture toughness and the fibre-matrix interface properties is determined. The influence of porosity upon the R-curve of fibre-reinforced composites is also explored, revealing a higher crack growth resistance with increasing void volume fraction. These results shed light into microscopic fracture mechanisms and set the basis for efficient design of high fracture toughness composites.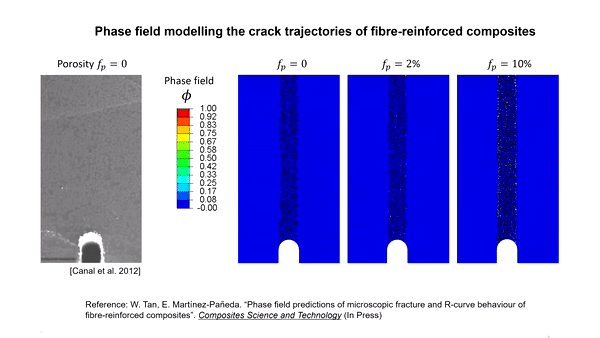 Reference: Tan, Wei, and Emilio Martínez-Pañeda. "Phase field predictions of microscopic fracture and R-curve behaviour of fibre-reinforced composites." Composites Science and Techonology (2020). In Press. (https://doi.org/10.1016/j.compscitech.2020.108539)
2. A physically-based constitutive model for the shear-dominated response and strain rate effect of carbon fibre reinforced composites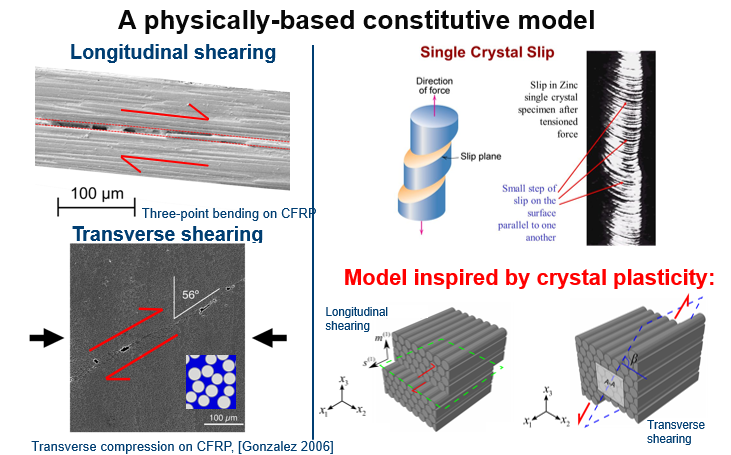 To develop a micro-mechanically motivated constitutive model for CFRP composites, accurately capturing the fibre rotation and the strain rate effect, we shall understand the deformation mechanisms of CFRP composite. Experimental observations suggest this non-linear behaviour is mainly achieved by the shearing of the matrix along the fibre direction with evident fibre rotations.
By analogy, we developed a micromechanical model to capture the matrix shearing and fibre rotation of CFRP under finite strain and different strain rates, inspired by the crystal plasticity theory. Strain rate dependency of the shear modulus and yield strength of matrix is modelled through scaling functions. We then validate the predictive capabilities of this micromechanical model against the measured stress-strain responses of unidirectional (UD) and cross-ply composite laminates.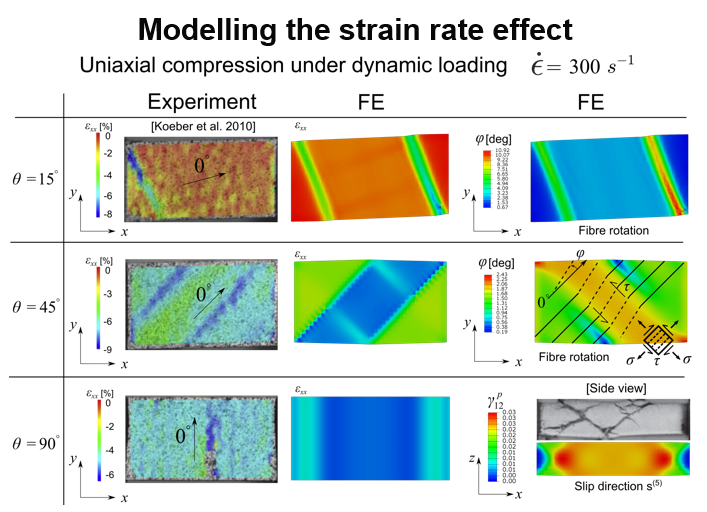 This work reveals the origin of the hardening response through analytical and finite element analysis. It provides a computational tool to predict the shear deformation of carbon fibre composites which will contribute to the development of damage tolereant composite structures.
Reference: Tan, W. and Liu, B., 2020. A physically-based constitutive model for the shear-dominated response and strain rate effect of Carbon Fibre Reinforced composites. Composites Part B: Engineering, p.108032.