Dr Tina Chowdhury
BSc, MSc, PhD, PGCAP, SFHEA
Research Group News
November 2022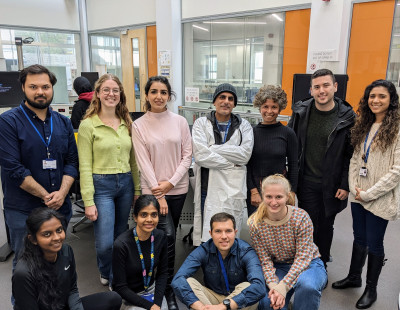 2 November 2022

Celebrating This is Engineering This is Engineering Day returned today as National Engineering Day to celebrate the engineers and show how engineering improve lives. We marked the event by inviting undergraduate, Intercalated and MSc students to meet the engineers and celebrate all things STEMM. Engineers improve lives Around 100 students worked … [more]
---
October 2022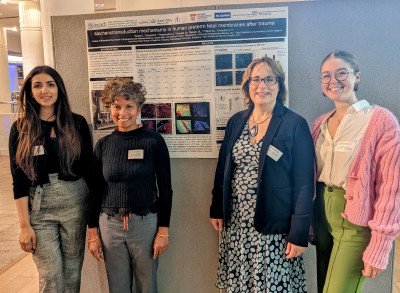 11 October 2022

Rosetrees Trust supports interdisciplinary research Rosetrees Trust is a unique medical charity working to advance interdisciplinary research in science, engineering and medicine. The charity has been funding exciting research projects to develop healthcare solutions that benefit patients and improve the lives of communities and society. After supporting 35 years of … [more]
---
June 2022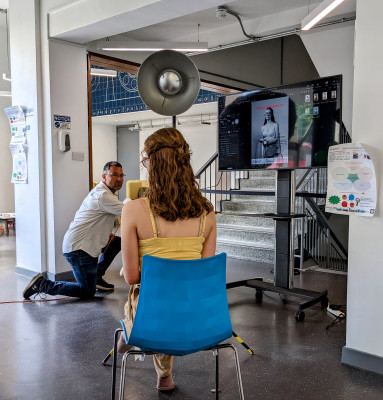 23 June 2022

Celebrating women engineers and helping each other see our lives For years we have been celebrating the achievements of our engineers but today we wanted to do something different. We wanted to help others see who we are, help us reflect on our past and see … [more]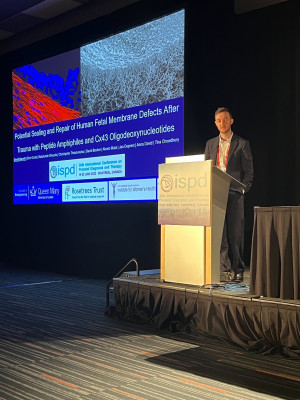 21 June 2022

Malcolm Ferguson-Smith Young Investigator Award Dr David Barrett presented our award winning paper "potential sealing and repair of human fetal membrane defects after trauma with peptide amphiphiles and Cx43 antisense" at the 26th International Conference on Prenatal Diagnosis and Therapy in Montreal, Canada which took place between 19 and 23 … [more]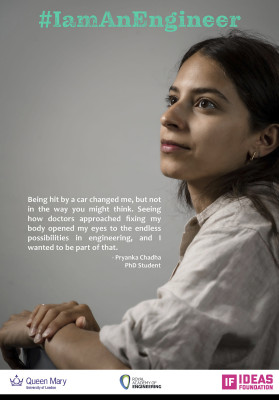 13 June 2022

When you see an engineer, what does the picture mean to you? International photographer Michael Cockerham and the Ideas Foundation created a digital storytelling workshop at Queen Mary's Festival of Communities to help engineers see each other's worlds. The creative & culture teams built … [more]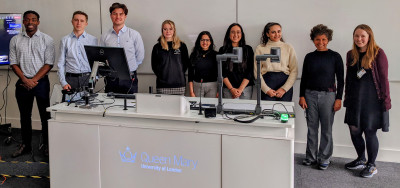 1 June 2022

Celebrating seven years of the Intercalated Research Symposium The Intercalated Symposium is an exciting scientific forum for medical students to present collaborative multi-disciplinary research in science, engineering and medicine. Around 60 participants joined the 2 sessions with presentations in machine learning, computational medicine, medical robotics, healthcare, nanotechnology, biomaterials and regenerative … [more]
---
March 2022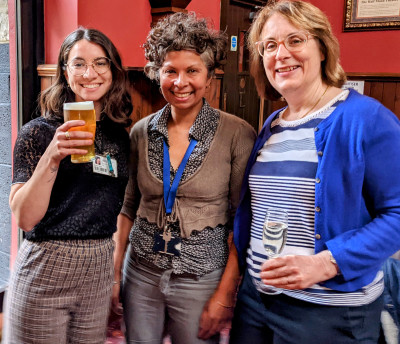 29 March 2022

Enormous congratulations to Eleni Costa who defended her Doctoral PhD thesis entitled "repair mechanisms in fetal membrane defects after trauma, strain and fetal surgery". Eleni is working with a multi-disciplinary team of scientists, engineers and clinicans at SEMS (Tina Chowdhury), UCL/UCLH (Prof Anna David), KU Leuven (Prof … [more]
---
January 2022

27 January 2022

The Science and Engineering Faculty Celebration took place in the Octagon to a large assembled in person gathering and was broadcast simultaneously online to an even larger audience on the 27th January 2022. SEMS had a very large number of the awards with Andrew Spowage winning the Faculty Award for Internationalisation … [more]
---
October 2021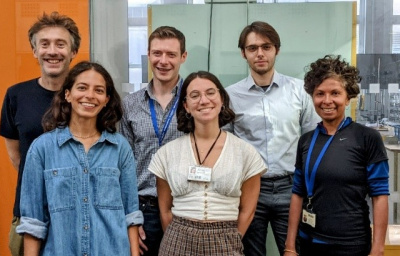 12 October 2021

'Engineer The Story', run in partnership with the Ideas Foundation, helps engineers tell stories about their career aspirations at Queen Mary and bring engineering research to life. It is supported by the Train the Trainer programme at the StoryFutures Academy, the UK's National Centre for Immersive … [more]
---
August 2021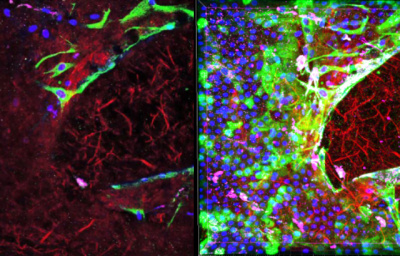 18 August 2021

The integrity of the fetal membranes that surround the baby in the womb during pregnancy is vital for normal development. But fetal membranes can become damaged as a result of infection, bleeding, or after fetal surgery and even diagnostic tests during pregnancy, such as amniocentesis, which require doctors to make … [more]
---
February 2021
25 February 2021

'Engineer the Story', run in partnership with the Ideas Foundation, helps engineers create digital stories to bring their research to life. Supported by new funding from the Train the Trainer Initiative of StoryFutures Academy, the UK's National Centre for Immersive Storytelling run by National Film and … [more]
---
October 2020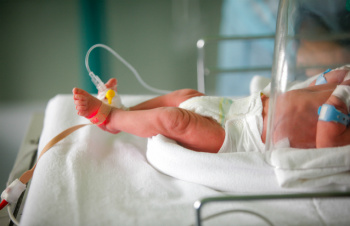 13 October 2020

The study, published in the journal Prenatal Diagnosis, found that these molecules, known as peptide amphiphiles (PAs) self-assemble to form a 'plug' that seals holes within the fetal membranes, and could potentially help repair any damage. For the study, the researchers established a fetal membrane defect model, … [more]
---
April 2020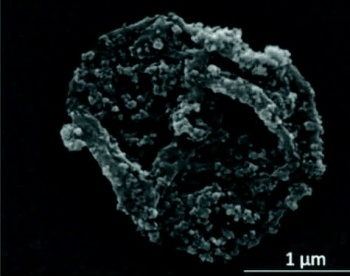 30 April 2020

The researchers were able to use magnetism to hold 'magnetically responsive' microscopic drug carriers at chosen sites, even in the presence of external forces, such as flowing liquid, which would normally displace them. They also found that magnetism restricted the movement of cells containing these drug capsules. This … [more]
---
March 2020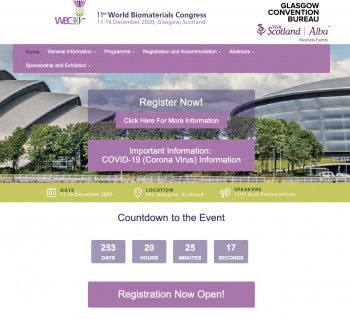 31 March 2020

The World Biomaterials Congress with Liz Tanner as a member of the Executive Committee has been postponed from May to December 2020 due to Covid-19. The new dates are Thursday 11th December to Wednesday 16th December. The programme will be similar but there will be new events announced nearer the time. [more]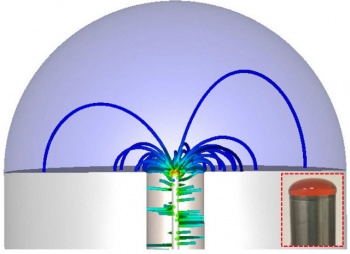 5 March 2020

The researchers are now looking to develop the technology into a wearable device that could be used by athletes, or in healthcare settings, to monitor hydration in real time. For the study, the research team utilised a microwave-based measurement system, developed by NPL, to examine changes to salts and … [more]
---
July 2019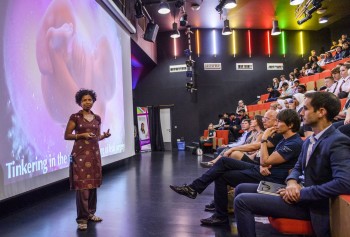 12 July 2019

Queen Mary researcher Dr Tina Chowdhury gave an inspiring talk to young people about saving babies' lives at the eighth St Paul's Way Trust Science Summer School chaired by Professor Brian Cox (OBE) and Lord Andrew Mason (OBE). Dr Chowdhury's research is investigating ways to … [more]
---
April 2019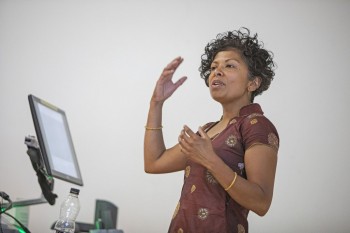 23 April 2019

Researchers from Queen Mary University of London and University College London have developed a new approach to repair defects in fetal membranes which could prevent life-long medical conditions and disabilities associated with preterm birth. The integrity of the fetal membranes that surrounds the baby in the womb during pregnancy is … [more]
---
April 2018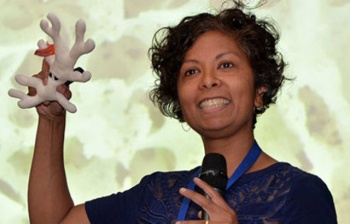 5 April 2018

A Queen Mary University of London project which aims to give engineers the skills to create digital stories about how their work can improve the world has received funding from the Ingenious Awards. 'Engineer the Story' will bring together engineers to work alongside disadvantaged young people from east … [more]
---
February 2018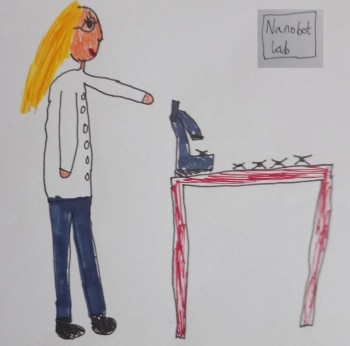 1 February 2018

When we loose cartilage tissue in the knee joint and suffer from knee pain, the joint function is impaired and the patient may need a total knee replacement surgery. The procedure involves removal of the damaged and diseased joint and replacement with an artificial joint. Most patients who undergo knee … [more]
---
September 2017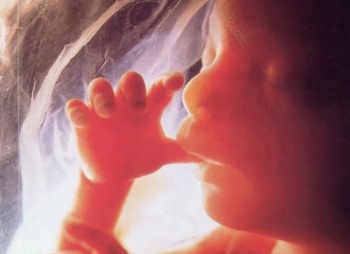 5 September 2017

Life-long medical conditions and disabilities associated with preterm birth could be prevented with a new bioengineering approach led by researchers at Queen Mary University of London (QMUL). Bioengineers from SEMS working together with clinical practitioners have potentially found a way to reduce preterm births and prevent early deaths of young … [more]
---
June 2017
20 June 2017

Congratulations to our PhD student David Barrett, who has won the prestigious 2016 Malcolm Ferguson-Smith Young Investigator Award for his article published in the October 2016 issue of the Prenatal Diagnosis journal. The title of David's article is "Connexin 43 is overexpressed in human fetal membrane defects after fetoscopic surgery". … [more]
---
March 2017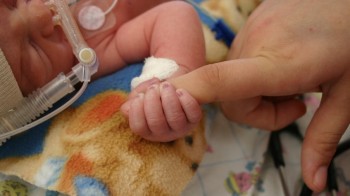 27 March 2017

Dr Tina Chowdhury has been awarded a project grant by GOSH and Sparks charity (£148, 862). The project will develop a novel therapy to heal fetal membrane defects in the womb with Anna David (fetal medicine professor, UCL), Alvaro Mata (nanotechnology professor, SEMS), Jan Deprest (fetal surgeon/professor, Leuven), Dan Bader (… [more]
---
February 2017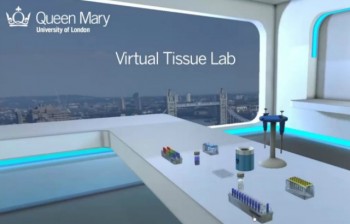 1 February 2017

The Virtual Lab, a platform that allows students to learn lab skills in bioengineering and the life sciences, has won the Gold Award at the Life Sciences category. The Awards celebrate innovative higher education pedagogies which enhance learning and employability across the globe. The Virtual Lab uses the latest games … [more]
---
November 2016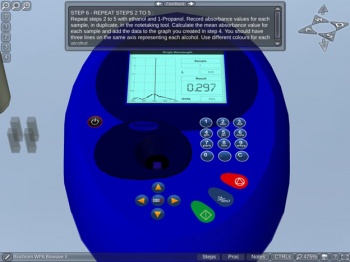 15 November 2016

The Virtual Lab, a platform that allows students to learn lab skills in bioengineering and the life sciences has been nominated for the e-Learning Innovation category in the Reimagine Education Awards 2016. Dr Tina Chowdhury, Senior Lecturer in Regenerative Medicine at the School of Engineering and Materials Science, said: "I&… [more]
---
May 2016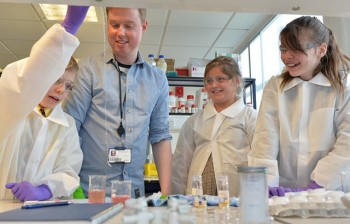 5 May 2016

A pioneering scheme called The Bioengineering Experience, developed for school children to explore advances in science, engineering and materials hosted a group of ten-year olds from St Joseph's in the Park returning for their second visit to Queen Mary University of London (QMUL). Led by Dr Tina Chowdhury … [more]
---
June 2015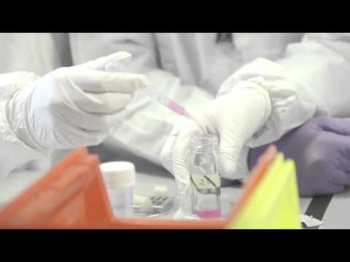 9 June 2015

Dr Tina Chowdhury's new fillm called "The Bioengineering Experience" can be seen here:
---
May 2015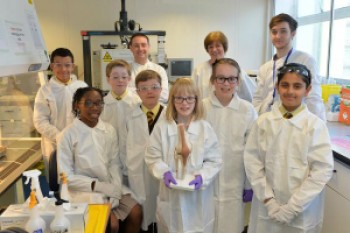 5 May 2015

Children aged 10 from St Joseph's in the Park visited the Institute of Bioengineering and experienced real, hands on lab activities at the School of Engineering and Materials Science. The project funded by the Center for Public Engagement, was a fantastic event encouraging young people to experience bioengineering first … [more]
---
January 2015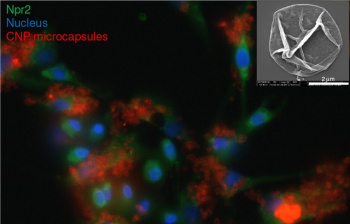 21 January 2015

A protein molecule called C-type natriuretic peptide (CNP), which occurs naturally in the body, is known to reduce inflammation and aid in the repair of damaged tissue. However, CNP cannot be used to treat osteoarthritis in patients because it cannot target the damaged area even when the protein is injected … [more]
---
July 2013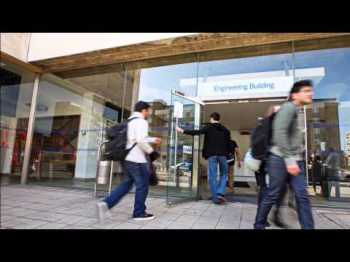 25 July 2013

For more information on this story, please see the interview on Youtube with Dr Nick Peake, one of the researchers involved in the project.
---
Other News
For further details about Tina's work, please visit www.tinachowdhury.com
You can tweet @ttchowdhury
Good luck to Dr Nick Peake who starts a Lectureship position at SHU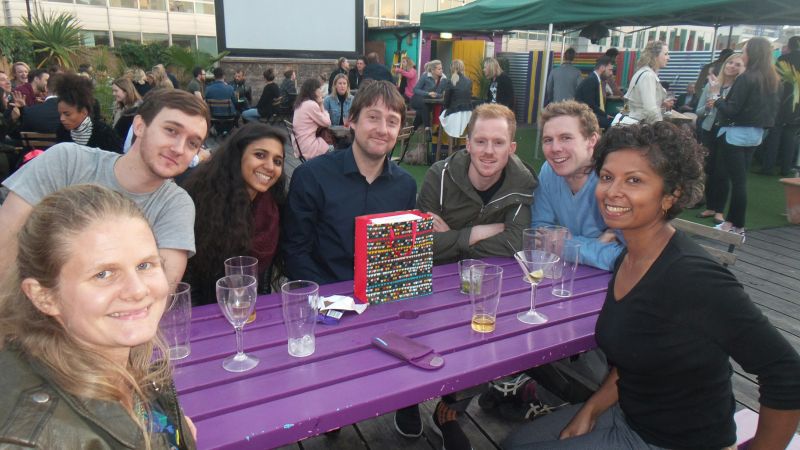 Tina's work on the virtual lab with Prof Peter McOwan and Keith Turner is published in Labs for the 21st Century in STEM Higher Education (Page 91-96).
http://oro.open.ac.uk/38849/1/Labs_for_21st_century.pdf
Tina presents the virtual lab at Foster Court 114, UCL on 29th Nov (1-2pm). The virtual lab mimics research facilities in the life sciences and enables students to practise techniques and learn from mistakes before undertaking practicals in the real lab. The platform integrates assessment and peer-review, helping students to learn in an exciting way. Image shows routine biochem equipment in the virtual lab (sponsored by Eppendorf and Ocean Optics)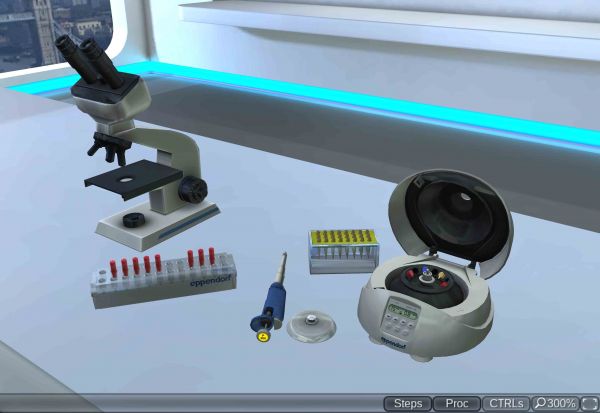 Ellie and Reshma present research in osteoarthritis at the BSMB meeting, Cardiff.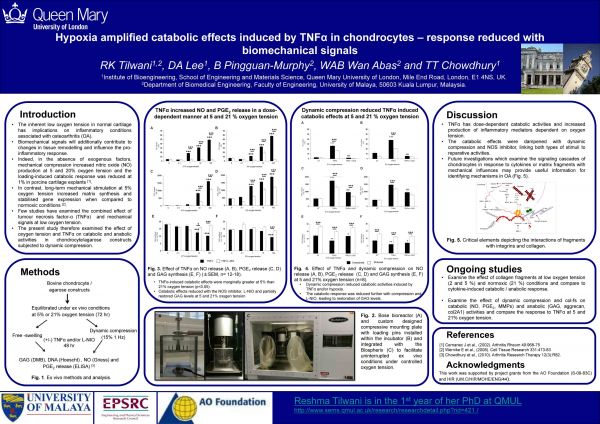 Tina and Nick discover promising new protein to treat osteoarthritis
http://www.qmul.ac.uk/media/news/items/se/104764.html
http://www.youtube.com/watch?v=MOxhPNXfcT4&feature=c4-overview&list=UUD7C4mz9mrgkY4chpS419dQ
Arthritis Research UK highlights research about CNP
http://www.arthritisresearchuk.org/news/general-news/2013/july/protein-may-have-protective-role-in-osteoarthritic-joints.aspx
Tina and Nick discuss CNP research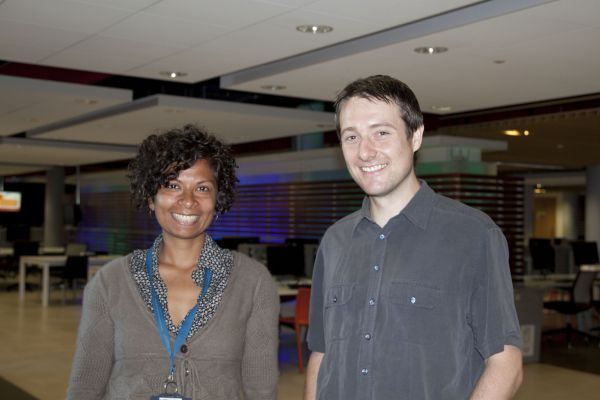 Virtual lab shortlisted Finalist for the 2013 S-Lab awards: http://www.effectivelab.org.uk/awards.html