Dr Tina Chowdhury
PhD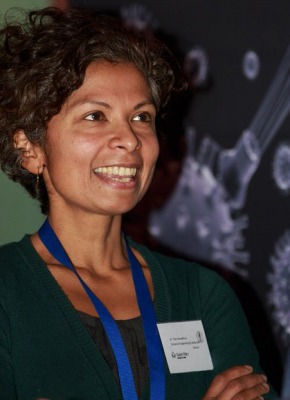 Position:
Senior Lecturer in Regenerative Medicine
Programme Director for the Intercalated BSc in Biomedical Engineering and Clinical Materials
Tel:
+44 (0)20 7882 7560
Email:
t.t.chowdhury@qmul.ac.uk
Location:
117, Engineering, Mile End
Feedback /
support hours:
Monday (1-2pm)
Tuesday (1-2pm)
Website:
http://www.tinachowdhury.com
Networks:
Expertise:
Inflammation, mechanobiology, tissue engineering, regenerative medicine, musculoskeletal science and bioengineering
Research keywords:
Inflammation, tissue engineering, mechanobiology, regenerative medicine, biomechanics.
Brief Biography
Dr Tina Chowdhury is a key member of the Institute of Bioengineering. She completed her PhD in osteoarthritis in 2002 at The Royal National Orthopaedic Hospital in Stanmore and joined SEMS as a scientist until she was appointed Lecturer (2008) and Senior Lecturer in 2012. She was awarded a Drapers Fellowship in developing teaching innovations (2014-17) and her work has been recognised by the prestigious 2014 Times Higher Education, 2016 Reimagine Education Awards and was awarded SFHEA in 2018.
www.qmul.ac.uk/media/news/items/138799.html
In her research role, Tina leads research in regenerative medicine which aims to identify therapeutics that slow down inflammation and repair tissues in a variety of models. For example, thousands of people in the UK undertake knee replacement surgery and are participating in her research, which has been highly successful in identifying new molecules and mechanisms that cause osteoarthritis. She has served on the editorial board and referee panel for several journals (eg. OA & Cartilage, Plus One) and charities (Arthritis Research UK, AO Foundation) and is a member of the prestigious ORS and OARSI. She has been invited to contribute to seminars, review articles and expert opinions by journals including Arthritis and attracted funding worth £1.5M through ongoing collaborations with Malaysia, USA and Europe. In addition, her research funded by the AO Foundation has been nominated for the 2015 Berton Rahn Research Fund Prize Award.
In her teaching role, she is responsible for organising several modules at SEMS and is Programme Director for the Intercalated BSc in Biomedical Engineering and Clinical Materials. She has been awarded several prizes and project grants in developing teaching innovations (Drapers award, SEIF, Westfield Trust, EPSRC IAA) and is a Senior Fellow of the HEA.
A short video illustrating the key features of the virtual lab can be viewed at:
www.youtube.com/watch?v=baA46qSvGrY
In addition, podcasts showcasing the differences in the writing demands in medical engineering can be viewed on the STEM wishees website:
www.thinkingwriting.qmul.ac.uk/wishees/collections/universitymenu/57070.html
Further details about Tina's work can be read at her blog at
www.tinachowdhury.com