Dr Han Zhang
MEng, PhD, PGCAP, FHEA, CEng, CSci, MIMMM
Research Overview
Multifunctional composites, Nanocomposites, Sustainable composites, Easy repairing composites, Polymer composites, Sustainable manufacturing
Interests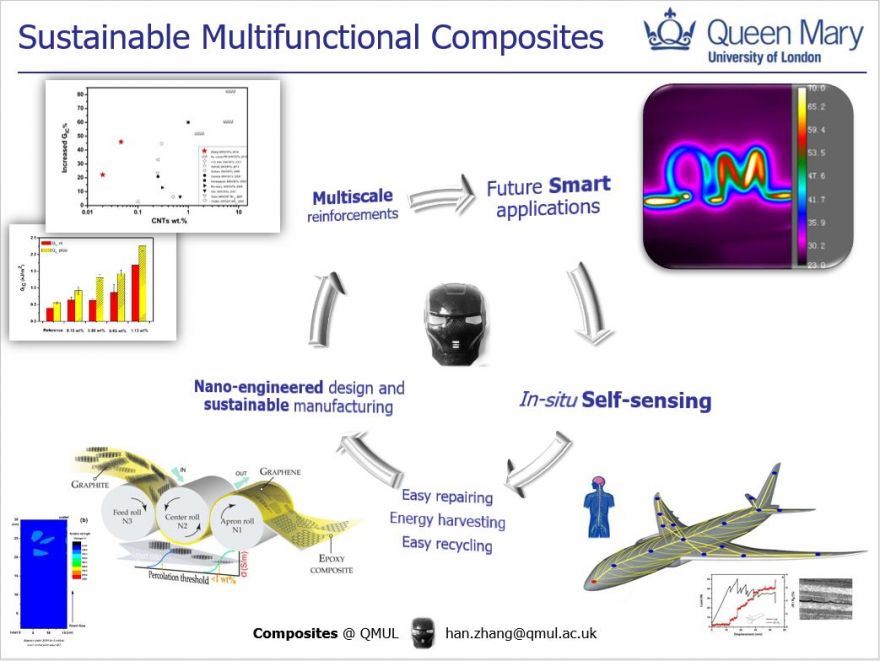 Dr. Han Zhang is a Lecturer at the School of Engineering and Materials Science, Queen Mary University of London. His research motivation comes from the needs for the next generation of sustainable high performance composites with integrated multifunctionalities for future lightweight structural applications. His current research areas mainly focus on smart multifunctional materials, sustainable composites and nanomaterials. The multifunctionalities in composites he is interested including strain and damage sensing, self-healing with preserved mechanical properties, and energy-efficient sustainable manufacturing based on self-regulating heating.
Han received research funding from various sources including EPSRC, Royal Society, EU, Innovate UK, and UK industries. Han has experience from design and processing to advanced characterisations and interpretation of polymer and composite materials, with more than 50 publications in peer-reviewed journals including Advanced Functional Materials, Composites Science and Technology, and ACS Applied Materials & Interfaces.
Han is the recipient of the 2010 RH Craven Award from Institute of Materials, Mineral and Mining (IOM3) for his excellence in polymer materials. Han is also the Senior Scientist in Composites at Nanoforce Technology Limited, a spin-out company wholly owned by QMUL.