Dr Han Zhang
MEng, PhD, PGCAP, MIMMM, FHEA, CEng, CSci
Research Overview
Multifunctional composites, Sustainable manufacturing, Sustainable composites, Easy repairing composites, Polymer composites, Nanocomposites, Polymer processing, Natural fibre composites
Interests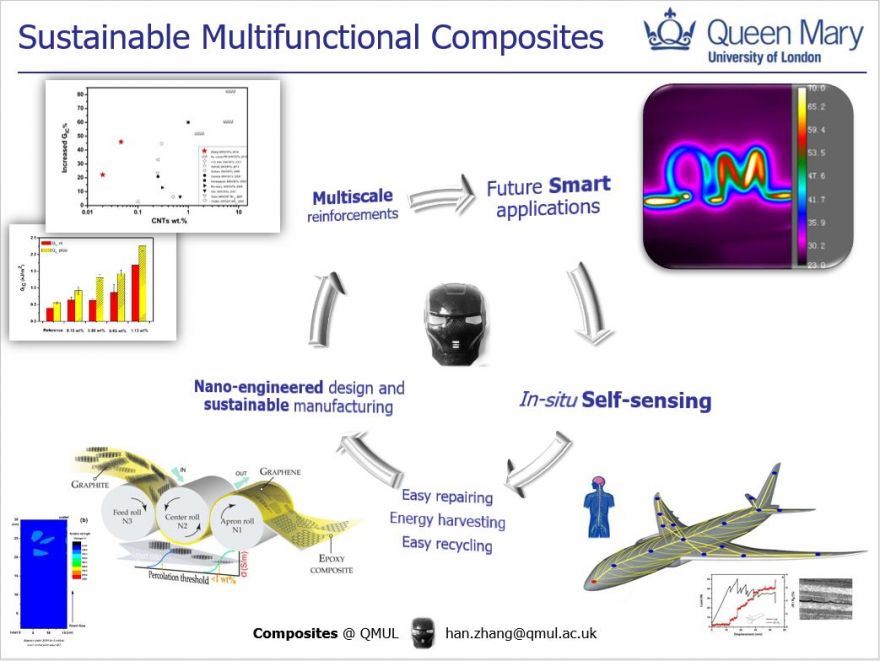 Dr. Han Zhang is a Senior Lecturer at the School of Engineering and Materials Science, Queen Mary University of London. His research motivation comes from the needs for the next generation of sustainable high performance composites with integrated multifunctionalities for future lightweight structural applications. His expertise in the field of composites range from design and manufacturing to characterization of advanced composites and nanocomposites, especially of multifunctional composites for future lightweight structural applications. His current research focuses on the sustainable development of advanced composites, including energy efficient sustainable manufacturing, and integrated health monitoring and easy repairing functionalities for extended components' life.
Han received research funding from various sources including EPSRC, Royal Society, EU, Innovate UK, and UK industries. Han has experience from design and processing to advanced characterisations and interpretation of polymer and composite materials, with more than 60 publications in peer-reviewed journals including Advanced Functional Materials, Composites Science and Technology, and ACS Applied Materials & Interfaces.
Han is the recipient of the Silver Medal from the Institute of Materials, Mineral and Mining (IOM3) in recognition of his outstanding contribution to the field of composite materials, also the RH Craven Award from IOM3 for his excellence in polymer materials. Han is also the Senior Scientist in Composites at Nanoforce Technology Limited, a spin-out company wholly owned by QMUL.