Prof Martin Knight BEng, MSc, PhD, FHEA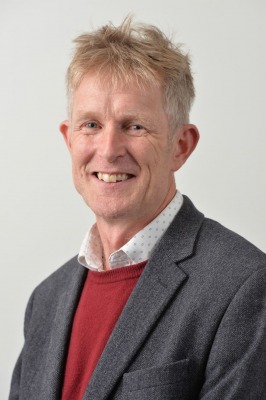 Position:
Professor of Mechanobiology
Director of Research, School Executive Team
Tel:
+44 (0)20 7882 8868
Location:
303b, Eng, Mile End
Email:
m.m.knight@qmul.ac.uk
Websites:
» UK Cilia Network
» QMUL Institute of Bioengineering
Networks:
Expertise:
My research is focussed on 'mechanobiology' or how living cells and tissues respond to physical forces. In particular I am interested in the mechanical properties of living cells and tissues and the role of the fascinating cellular structure known as the primary cilium (cilia in plural). I work with a variety of different cell types including cartilage cells, tendon cells, cancer cells and stem cells helping to understand important diseases such as osteoarthritis, tendonopathy and cancer.
Research keywords:
Primary cilia, Mechanosignalling, Cell and Tissue Biomechanics, Cartilage, Osteoarthritis, Inflammation, Tendonopathy, Cancer, Ageing, Confocal and Super Resolution Microscopy.
Affiliations:
Fellow of the Higher Education Authority
EPSRC OATech Network - Theme lead for Biomechanics
Cilia Network UK coordinator
Journal Editor - Scientific Reports, Cilia
EPSRC engineering panel member
British Society for Cell Biology Ambassador
Brief Biography
Martin Knight is a Professor of Mechanobiology. He is the Director of Research for the School of Engineering and Materials Science and a member of the Senior Executive Team for the School.

Prof Knight previously held a prestigeous EPSRC Advanced Research Fellowship in cartilage mechanobiology and tissue engineering (2000-2006) and was promoted to Reader in 2009 and Professor in 2012. Since 2000 he has published over 70 papers and attracted over £3M of research funding including project grants from all three UK research councils (EPSRC, BBSRC and MRC) as well as EU, Wellcome Trust and other charities.

Prof Knight has have a strong interest in promoting the public understanding of science and has been involved in a wide range of science communication activities. He was Director of Public Engagement in the School of Engineering and Materials Science and have participated in numerous engagement activities - see research impact. He is a fellow of the Higher Education Authority in recognition of his high quality teaching at undergraduate and postgraduate levels.

Outside work Martin enjoys the 'great outdoors' and has had many enjoyable trips to wilderness areas all over the world including Alpine treks, canoeing expeditions in the Everglades, cycling in the Hebrides and others, many of these with his family. He is interested in wildlife and environmental issues. He is also a potter and a fly fisherman!