Centre for Bioengineering
Targeting the innate immune system in high grade serous ovarian cancer
| | |
| --- | --- |
| Principal investigator: | Fran Balkwill |
| Co-investigator(s): | Olive Pearce, Daniellea Loessner, Michel Lockley, R Manchanda, Quezada S and Martin KNIGHT |
| | |
| --- | --- |
| Funding source(s): | CRUK |
| | Start: 01-10-2018 / End: 01-09-2023 |
| | Amount: £2028756 |
| Research Centre: | |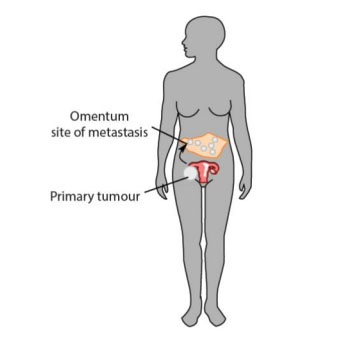 Background
High-grade serous ovarian cancer, HGSOC, is a major clinical problem. Although 75% of patients initially respond to chemotherapy, the overall 5-year survival rate is 40% reducing to 5% in patients diagnosed with Stage 4 disease. Patients usually present with disseminated peritoneal disease and relapse with increasingly chemo-resistant metastases. During the current programme, we have:
Established a unique platform of mouse and human 3D models that more accurately reflect the genetics, transcriptomics, and tumour microenvironment of human HGSOC, including relapse.
Studied the effects of chemotherapy and anti-IL-6 antibodies on the tumour microenvironment in HGSOC. Of particular interest, we found that reduction in tumourassociated macrophages (TAM) and/or phenotype is accompanied by an increase in T cells and/or T cell activation.
Completed a multi-level "deconstruction? of the evolving HGSOC metastatic tumour microenvironment uncovering evidence for a prognostic matrisome response that may influence tumour immunity.
Aims
Our aim is to prevent relapse of HGSOC. We hypothesise that targeting cells and mediators of the innate immune system will enhance the ability of the adaptive immune system to destroy peritoneal metastases. We will:
Uncover mechanisms of reciprocal regulation of TAM and T cell populations in HGSOC tumours, as we believe this will lead to better ways of enhancing anti-tumour immune responses (Work Package 1).
Elucidate interactions between the matrisome and the host immune response (Work Package 2).
Use the results of this research to define effective treatments that will deliver longlasting disease control and prevent relapse (Work Package 3).
Methods
Using our novel platform of mouse and human HGSOC models and clinical samples, we will conduct sequential and multi-level analyses of tumours as the tumour microenvironment is modified by chemotherapy or biological therapies, obtaining data on gene expression and proteomics, cytokine/chemokine levels, cellularity, extracellular matrix organization and biomechanics. We will integrate these results by univariate, multivariate and network analyses to answer our research questions. We will then conduct pre-clinical experiments in models of advanced HGSOC with the aim of eradicating peritoneal metastases and preventing relapse.
How the results of the research will be used
The key regulatory pathways discovered in this research will give us compelling data about best treatments and rational treatment combinations that can be tested pre-clinically before progressing to clinical trial in advanced HGSOC. The integrated tumour microenvironment data resources we generate will be publicaly available and relevant to research in other cancers.
For further details see Prof Balkwill's web page: https://www.bci.qmul.ac.uk/en/staff/item/fran-balkwill