Dr Yousef Zawahreh
BEng(Hons), PhD, PGCert, FHEA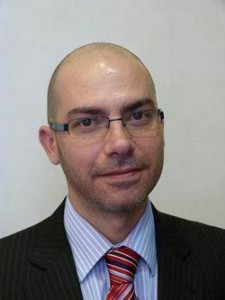 Position:
Senior Lecturer in Engineering Materials & Design
Deputy Director of Education
Email:
y.zawahreh@qmul.ac.uk
Location:
119, Engineering, Mile End
Feedback /
support hours:
Wednesdays 10:00-12:00
If I'm not in my office, you will find me in the Maker Space
Website:
www.zawahreh.net
Networks:
SEMS Research Division:
Brief Biography
Hello! Thank you for visiting my pages. I completed my BEng (Hons) in Materials Science and Engineering (1997) and my PhD in Bioceramics (2001) at QMUL. Though I am a double alumnus of QMUL, I have worked in Canada, Australia and the UK. In addition to my Senior Lecturer post at SEMS, I am an independent Technology Scout and intellectual property (IP) intelligence Consultant. I help multinational corporations to identify and evaluate external technologies. My areas of interest include fast-moving consumer goods (FMCG), consumer healthcare products, medical applications, food production and sustainable energy (renewables).

For potential industrial partners: I sit within two School Divisions - Materials and Mechanical. My students are on a range of engineering programmes including Aeronautical, Biomedical, Chemical, Design Innovation and Creative Engineering, Mechanical, Robotics and Sustainable Energy. I am always interested in potential collaborations with industry. In addition to our capstone 3rd, 4th-year and Masters' projects (3-6 months' duration), I am also keen to co-develop shorter coursework projects (1-12 weeks). Please feel free to get in touch.

For students: the work I do in industry informs my teaching. I use examples from industrial practice to emphasise the applicability of academic content to the working life of an engineer. My lectures are interactive sessions ensuring active learning and student engagement with the subject. The activities and materials I employ are designed to put theory into context, develop analytical thinking and ensure sustained learning. In short, I will assist you in achieving your potential in the remainder of your programme at QMUL and in your future studies or working life. I hope you enjoy my lectures and labs - learning is more rewarding when it's fun :) Feel free to ask me questions whenever. There is no such thing as a silly question - I ask them all the time! I won't always have the answer, but I will definitely know how we can find it...

SEMS Students: The Maker Space is a great resource, please use it. You can work on your own project idea, build a model for coursework (doesn't have to be one of my modules) or develop your general making skills. I'm happy to assist, especially if it's in one of my areas of interest, and Clement Cordery is always very helpful.