Prof Elizabeth Tanner
OBE, FREng, FRSE, PhD (Hon Caus)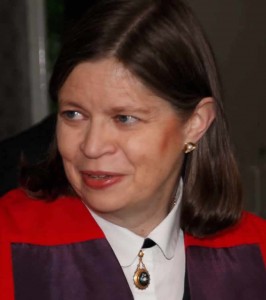 Position:
Bonfield Professor of Biomedical Materials
Head of Materials Engineering Division
Tel:
+44 (0)20 7882 6785
Mobile:
+44 (0)7914 875629
Email:
k.e.tanner@qmul.ac.uk
Location:
121, Engineering, Mile End
Feedback /
support hours:
Friday mornings 10-11, or send me an e-mail to request.
Networks:
Expertise:
My research interests are in the development, testing and use of biomaterials for bone and joint replacement. In particular composites of bioactive ceramics and polymers which can encourage bone ongrowth yet have sufficient mechanical properties to be used for load bearing applications. These are based on either non-degradable or degradable polymers depending on application. In parallel I have interests in the mechanical properties of bone and the effects of pathology on these properties.
Research keywords:
Biomedical materials, mechanical testing
Affiliations:
Fellow Royal Academy of Engineering (FREng), Fellow of Royal Society of Edinburgh (FRSE), Fellow of the Institution of Mechanical Engineers (FIMechE), Fellow of the Institute of Materials, Minerals and Mining (FIMMM), Fellow of the Institution of Physics and Engineering in Medicine (IPEM), Chartered Engineer (CEng), Chartered Scientist (CSci)
Brief Biography
Bonfield Professor of Biomedical Materials, Department of Materials
Adjunct (Visiting) Professor, Department of Orthopaedics, University of Lund, Sweden.

My research interests are in the development, testing and use of biomaterials for bone and joint replacement. In particular composites of bioactive ceramics and polymers which can encourage bone ongrowth yet have sufficient mechanical properties to be used for load bearing applications. The first of these materials is HAPEXâ?¢ which we manufactured for Gyrus ENT to use in middle ear implants. It is a composite of hydroxyapatite in polyethylene and as can be seen from my publication list we have tried various methods of increasing it mechanical properties.
The second of these materials are based on poly(lactic acid) and uses drawn fibres to reinforce a poly(lactic acid)-calcium phospate pre-preg. Again we are working on this material to improve its mechanical properties enabling it to be used for fracture fixation and in dental applications.
Finally I have an interest in the mechanical properties of bone and understanding how it behaves as a material. In this area of my work I am involved in the behaviour of bone under load including the failure mechanisms of cancellous bone the spongy bone at joint ends.