Dr Chinnapat Panwisawas
BSc, PhD, CEng, FIMMM, FInstP, FIMechE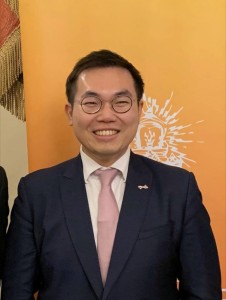 Senior Lecturer in Materials and Solid Mechanics
Deputy Chair of the Academic Misconduct Panel
‌
Engineering 219, Mile End
Feedback/
support hours:
Monday 11 am - 12 pm
Expertise:
Dr Chinnapat Panwisawas' research has been concentrated over the last 15 years on advanced process science and engineering of investment casting laser fusion welding and powder-bed fusion additive manufacturing particularly for establishing a multi-scale multi-physics approach to understand the process-structure-property-performance relationship of advanced metallic materials for aerospace energy and biomedical applications.
Research Centre:
Affiliations:
- Fellow of The Institution of Mechanical Engineers (FIMechE), UK
- Fellow of The Institute of Physics (FInstP), UK
- Fellow of The Institute of Materials, Minerals and Mining (FIMMM), UK
- Chartered Engineer (CEng), Engineering Council, UK
- Member of The Minerals, Metals & Materials Society (TMS), USA
- DERI Academic Fellow, Digital Environment Research Institute (DERI)
- EPSRC Full College Member
- EPSRC UKRI Innovation Fellow
Brief Biography
Dr Chinnapat Panwisawas obtained his PhD in Metallurgy and Materials from University of Birmingham, UK (2013) and his BSc (First Class Honours) in Physics (Honours Programme) from Department of Physics, Chulalongkorn University in Thailand (2008). After the conferment of his PhD, Dr Panwisawas has joined Rolls-Royce University Technology Centre at University of Birmingham from June 2013 to May 2018 as Research Fellow. In June 2018, he has awarded EPSRC UKRI Innovation Fellowship and became Senior Fellow at Department of Materials University of Oxford. Before joining QMUL in July 2022, Dr Panwisawas was Associate Professor in Digital Manufacturing and Associate Director of NISCO UK Research Centre at School of Engineering, University of Leicester.

Dr Panwisawas also holds visiting positions and prestigious roles in various institutions:
- MMRI Affiliated Professor at Metallurgy and Materials Science Research Institute (MMRI), Chulalongkorn University, Thailand (2022 - now)
- Visiting Professor at Department of Materials Science and Engineering, Shanghai Jiao tong University, China (2021 - now)
- Visiting Academic Collaborator at Department of Mechanical and Aerospace Engineering, University of California, Davis, USA (2019 - now)
- Guest Lecturer in Operation Management at School of Integrated Innovation, Chulalongkorn University, Thailand (2022 - now)
- Academic Visitor at Department of Materials, University of Oxford, UK (2020 - now)
- Visiting Associate Professor at Next Generation TATARA Co-creation Centre, Shimane University, Japan (2019 - now)
- EPSRC Full College Member - Peer Reviewer to evaluate the diverse range of EPSRC applications received each year (2019 - now)
- Ideas to Impact (I2I) Fellow at Saïd Business School, University of Oxford, UK (2019 - now)
- Advisor to Deputy Minister of Education, Ministry of Education, Government of Thailand, Thailand (2020 - now)
- Executive Committee of the Anglo-Thai Society, The Anglo-Thai Society, London, UK (2018 - now)

Dr Panwisawas was elected Fellow of The Institute of Materials, Minerals and Mining in 2019, Fellow of The Institute of Physics in 2020, Fellow of The Institution of Mechanical Engineers in 2021, and chartered as Chartered Engineer in 2016.