Prof Pankaj Vadgama
MB, BS, BSc, PhD, FRCPath, CChem, FRSC, CPhys, FInst, FIM, CSci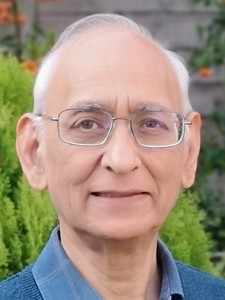 Position:
Professor and Director of IRC in Biomedical Materials
Tel:
+44 (0)20 7882 5151
Mobile:
07582147425
Email:
p.vadgama@qmul.ac.uk
Location:
218, Engineering, Mile End
Feedback /
support hours:
11:00 - 12:00am every wednesday
Expertise:
Biosensors, interfaces, polymers, membranes
Research keywords:
Biomaterial Interfaces, Polymeric Membranes, Electrochemistry, Impedance Spectroscopy, In vivo metabolite sensors, Bioprocess Monitioring, Contact Angle Measurement, Piezoelectric Sensing.
Brief Biography
Professor P Vadgama is currently Professor of Clinical Biochemistry. Prior to this he was Professor of Clinical Biochemistry, University of Manchester and Professor of Medical Biomaterials, Manchester Materials Science Centre.