News
Celebrating the Inspiring Women Engineers at QMUL
23 June 2023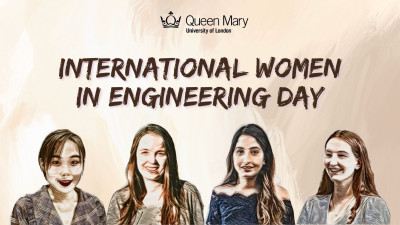 Celebrating International Women In Engineering Day
On International Women in Engineering Day on 23 June 2023, we celebrate the remarkable accomplishments of Women In Engineering worldwide, who tirelessly contribute to improving and saving lives.
This year, we turn our attention to the exceptional female engineers at the School of Engineering and Materials Science. These women embody the qualities of brilliance, courage and propel us towards a brighter future. We invite engineers at different stages of their careers to share what it is like to be an engineer at Queen Mary University of London.
Saskia Olivia Hale, a final year undergraduate student and representative BEng Biomedical Engineering, reflects on her journey. "I have just completed three years at the School of Engineering and Materials Science, where I could excel as a female engineer. It was a great opportunity to learn how to adapt and work with like-minded individuals, which gave me great confidence. I have been inspired by the female professors, who are leaders in their respective fields and have made life-changing contributions. I hope to follow in their footsteps to inspire young girls to consider engineering as a viable career. It is reassuring that there is a place for women in engineering at Queen Mary and I hope to see more companies and universities adopt this mindset in the future. Through the exceptional support provided at Queen Mary, I successfully attained the Engineering Leadership Scholarship from the Royal Academy of Engineering. In the future, I hope to challenge stereotypes and contribute to the field of biomedical engineering."
Wen Qi Teoh, a Malaysian PhD student studying in the Digital Health and Robotics Lab, shares her perspective on life as a female engineer at Queen Mary University of London. "Being part of Queen Mary's engineering community has been an empowering experience. Being raised by parents who are self-made entrepreneurs, I always have an ethos to my work connected to addressing real-time problems to deliver a social impact and make a difference in the lives of others. I am inspired by the collaborative environment and the university's commitment to fostering diversity and making an impact on the world. As a female engineer, I feel supported and motivated to make a difference in the field of digital health and robotics."
Dr Sheetal Inamdar, a Postdoctoral Research Assistant shares her experience. "Queen Mary acknowledges the unique challenges faced by women in engineering, and I am grateful for the support I have received. Most importantly, the university's commitment to supporting women who are growing their families whilst developing their careers has been fundamental in my success. The guidance and support from my mentors have allowed me to make meaningful contributions in the field of cartilage nanomechanics. It's fulfilling to know that my work can positively impact lives."
Dr Caroline Roney is a Lecturer in Computational Medicine and UKRI Future Leaders Fellow, speaks passionately about her research interests and said "Queen Mary's environment works closely with the hospitals at Barts Health NHS Trust enabling our multi-disciplinary teams to develop personalised treatment approaches in computational medicine. We are motivated to develop innovative methodologies for cardiac arrhythmias supported by our collaborators across Queen Mary. The university's commitment to diversity and inclusion fosters an atmosphere of collaboration and growth, enabling us to make a great impact with our research."
The school strives to foster an environment which encourages the development of leaderships in Equality, Diversity and Inclusion. As part of International Women's Month, Dr Tina Chowdhury chaired a panel session on health equity, where she spoke out about the need to protect women's reproductive health. "If we are going to be truly inclusive, we must be authentic. This means speaking out about who we are and engaging in difficult conversations by being brave. I believe the past will help us to look out what is needed for the future and together we can change perspectives by transforming a future for all."
On this International Women in Engineering Day, let us celebrate and honour the remarkable achievements of these outstanding women engineers at Queen Mary and recognise the immense contributions of women engineers worldwide. Together, we can build a brighter future and create a world where the extraordinary work of women engineers is truly valued and recognised.