News
Queen Mary Science and Engineering researchers awarded UKRI Future Leaders Fellowships to tackle heart irregular heart rhythms and explore turbulence in space plasma
15 June 2022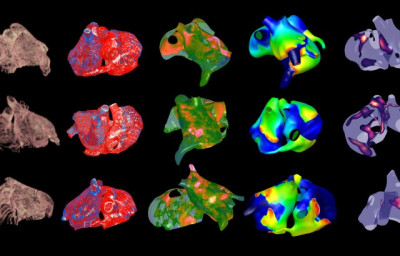 Atrial Digital Twins. [Caroline Roney]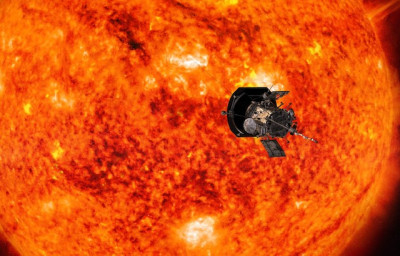 The Parkar Solar Probe approaching the Sun. [NASA/Johns Hopkins APL/Steve Gribben]
Dr Caroline Roney and Dr Christopher Chen are among 84 promising leaders awarded fellowships totalling £98 million. 
The fellowships support the most promising science and research leaders to tackle major global issues and to commercialise their innovations in the UK.
Professor Wen Wang, Queen Mary's Vice-Principal and Executive Dean for Science and Engineering, said: "Congratulations to Dr Roney and Dr Chen - the scale of their ambitions, from the heart to the universe, is impressive and captures the breadth of Queen Mary's science and engineering research. I am looking forward to seeing the impact of their work grow even further."
Dr Caroline Roney - developing a personalised treatment for Atrial Fibrillation
Dr Roney is Medical Research Council Skills Development Fellow in the School of Engineering and Materials Science. Her Future Leaders Fellowship aims to develop a digital tool for personalised treatment of Atrial Fibrillation – one of the main causes of stroke and heart failure.
Her team will combine biophysical simulation and deep learning methods with a longitudinal digital twin approach to optimise risk prediction and choice of therapy. They aim to move predictions from the acute response to the long-term response; from the average patient to an individual patient; from standard treatments to any treatment approach; from small patient cohorts to large virtual trials; and from long simulation times to short clinical timescales.
Her fellowship is with a network of academic and industrial collaborators, including Barts Hospital, St Thomas' Hospital, Royal Brompton Hospital, Hammersmith Hospital, Stanford University, University of Bordeaux, University of Freiburg, DERI (Digital Environment Research Institute), WHRI (the William Harvey Research Institute), Acutus Medical and Philips.
Dr Christopher Chen - unravelling the mysteries of space plasma
Dr Chen is Senior Lecturer in Space Plasma Physics in the School of Physical and Chemical Sciences. He will use his Fellowship to study the behaviour of the plasma (or ionised gas) that makes up most of the visible matter in the Universe. This plasma is in a turbulent state, with complex chaotic motions that have long been a challenge to understand. This turbulence is thought to have many effects – for example being involved in the heating of the Sun's atmosphere, the generation of the stream of particles known as the solar wind, and the emission from galaxy clusters.
His research will tackle the interconnected questions of how plasma turbulence works throughout the Universe, and what impacts is has for us here on Earth. The impacts of plasma events in space on Earth is known as space weather. Disruptive space weather events are capable of causing significant harm to the technology that is essential for running our modern society, so being able to understand and predict these is becoming increasingly important. Dr Chen's research will bring together the latest data from a range of spacecraft, such as Parker Solar Probe, which is newly exploring the Sun's atmosphere up close to the Sun for the first time; and Voyager, which is making the furthest measurements from Earth of the interstellar medium beyond the heliosphere. Along with cutting-edge laboratory plasma experiments and the latest plasma modelling, this will enable him to explore currently unexplained mysteries of plasma astrophysics, and its role in space weather impacts on Earth.