Prof Su Varma
BSc (Hons), MSc, PhD CChem FRSC FIMMM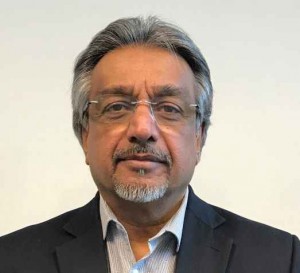 Visiting Professor
‌
Engineering 215, Mile End

Affiliations:
Fellow of the Royal Society of Chemistry
Chartered Chemist
Fellow of Materials, Minerals and Mining
Brief Biography
Su is Academic Director of the R&D Incubator within the NSG Group's global R&D organisation. He is a synthetic heterocyclic chemist by training having received his BSc (Hons), MSc and PhD at the University of Bombay. He then spent time at the University of Southern Denmark and the University of Wales, Bangor in the synthesis of organic-inorganic molecular conductors/ molecular electronics.

Subsequently he joined Pilkington R&D at Lathom, Lancashire in 1989. He led different R&D teams in the areas of transparent fire-resistant epoxy polymers; polymer electrolytes for electrochromic systems; functional colloidal silicates and non-aqueous borosilicate sol-gel chemistry and has held senior, principal, and chief scientist roles over a span of 23 years principally in materials development.

In 2011 he initiated the development of what has become the R&D Incubator within the NSG Group with the remit and vision to collaborate extensively with start-ups, companies and universities globally to access new materials and technologies for the development of potentially new and novel glazing products. Having been the Incubation Portfolio Manager and R&D Incubator Director, since Feb 2020 he has taken on the role of Academic Director within the Incubator to direct and build its academic collaboration program to underpin existing capabilities and expand into emerging technologies by increasing NSG's Global partnerships with leading Academic Institutions and Research Technology Organisations.

He also promotes NSG's strategic interests with Regional, National, Governmental and International Research funding bodies. He has published over 70 refereed papers in peer-reviewed journals covering synthetic organic chemistry, polymer chemistry, glazing technology, materials science, etc. and some book chapters in boron chemistry. He also has over 75 patents and patent applications in various technologies spanning fire-resistant transparent epoxy polymer chemistry, electrochromics, colloidal silicates, functional thin-film coatings including synthetic ceramics, etc.

Su is a member of the UK EPSRC Strategic Advisory Network (SAN) and core panel member of the EPSRC Future Leaders Fellowship (FLF) scheme. He also sits on Advisory Boards of the Construction Materials Board Group (IOM3); Swansea University SUNRISE (UKRI GCRF) project; EPSRC-Oxford PV Prosperity Partnership Project (Oxford U); Department of Chemistry, Swansea University and Sustainable Energy Engineering Dept, IIT Kanpur, India.
He is a Fellow of the Royal Society of Chemistry (CChem FRSC) and a Fellow of the Institute of Materials, Minerals and Mining (FIMMM).

The Visiting Professorship at SEMS, QMUL will allow Su to bring an understanding of how materials science and engineering is vital for a wide variety of industry sectors particularly in the world of glass which is ubiquitous in its presence and less understood in terms of opportunities for hybridization with other materials to increase functionality. He is passionate about making non-intuitive functional applications of synthetic materials chemistry in the wider materials world! He can share insights with academia about how new products are created either with 'market-pull' or 'laboratory-push' directions! He is also keen to explain why collaborations are vital in today's rapidly changing marketplace for new products.