Dr Jelizaveta Konstantinova
Prof Eng, PhD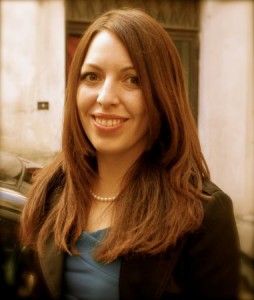 Position:
Postdoctoral Research Assistant at The Centre for Advanced Robotics (ARQ)
Supervisor:
Prof Kaspar Althoefer
Tel:
+44 (0) 20 7882 5368
Email:
j.konstantinova@qmul.ac.uk
Location:
328B, Engineering, Mile End
Websites:
Researchgate
SCOPUS
Networks:
Expertise:
My current research involves sensor development, tactile perception, sensory data fusion and learning methods for robotics. My research focus is on the perception of the world via somatosensory system. I am interested to learn the perception capabilities from living organisms and to apply it to robotics, as well as to study the ways we should interpret tactile information obtained with robotic sensory system.
Research keywords:
Interactive Tactile Perception, Tactile Sensing, Medical Robotics, Biologically Inspired Methods, Behaviour-based Control, Learning from Tactile Demonstrations.
Affiliations:
Member of IEEE
Brief Biography
Dr Jelizaveta Konstantinova is a Roboticist at The Centre for Advanced Robotics @ Queen Mary University of London. She has received a professional bachelor degree and engineer qualification in Mechatronics from Riga Technical University, Riga, Latvia, in 2010. Further on, she joined King?s College London in 2010 and obtained MSc degree in Robotics with the focus on Medical Robotics. From 2011 to 2015, Dr Konstantinova was working towards her PhD degree in Robotics on the thesis entitled "Tactile probing strategies for soft tissue examination". From 2015 she was a research associate on EU FP7 project "SQUIRREL" within the Centre for Robotics Research, King?s College London.

In 2016 she has moved to Queen Mary University of London as a Postdoctoral Research Assistant to work on EU funded projects "FourByThree" and "SQUIRREL". Currently shes is a researcher on The National Centre for Nuclear Robotics (NCNR) studying haptic perception in extreme environments. In addition, she is a Research Co-I on "WormBot" project that develops flexible manipulators for challenging environments, and on "iGrasp" project that aims to create smart tactile solutions for grasping; both projects are funded by Innovate UK.

Her research focus is on haptic perception, development of tactile technologies, medical robotics, sensory data fusion and learning for robotics, as well as on design and modelling of soft and flexible robotic manipulators. She is interested to learn the perception capabilities from living organisms and to apply it to robotics, as well as to study the ways we should interpret tactile information obtained with robotic sensory system.