Dr Hossein Heidari
BSc, MSc, PhD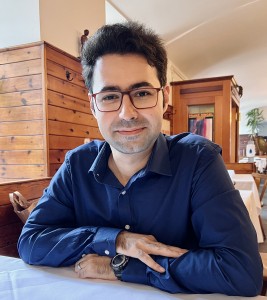 Lecturer in Biomedical Engineering
‌
Engineering 333, Mile End
Feedback/
support hours:
11-noon Mondays
Expertise:
Designing light-based additive biofabrication processes Discovering advanced photo-active biomaterials and inks Developing functional human tissue and organ models
SEMS Research Division:
Brief Biography
Dr. Heidari's research lies in the intersection of state-of-art light-based additive bioprinting technologies and predictive multi-scale in vitro models of human tissue. Some of his prior work includes the development of advanced biofabrication techniques to manufacture extremely soft tissue microenvironments with composite biopolymers to produce 3D models of the human vascular interface, and light-based additive manufacturing (AM) processes including the first ever AM process that produces 3D polymeric objects volumetrically and all-at-once through tomographic photopolymerization.

He received his PhD in Mechanical Engineering from the University of California, Berkeley in 2020. Since 2020, he was part of a spinout in 3D bioprinting, Volumetric Bio, which was successfully acquired by 3D Systems (world's largest 3D printing company) for a total of $400 Million. He joined Queen Mary's SEMS faculty in 2021 as a Lecturer in Biomedical Engineering.

His research has resulted in numerous US patents and peer-reviewed publications, including papers in journals such as Science, Bioprinting, Biomicrofluidics and Electrophoresis. He is the recipient of the 2019 SPIE Photonics Start-up Prize from the International Society for Optics and Photonics (SPIE), the 2018 BASF Innovent Shark Tank Award of $170K from the world's largest chemical producer BASF, the prestigious Anselmo Macchi Fellowship from the School of Engineering of UC Berkeley, the 2017 Young Researcher Award from the Society for Chemistry and Micro-Nano Systems (CHEMINAS) and has been featured in the Washington Post, the Guardian, Nature, Science and MIT Tech Review for his work on Volumetric AM.