Dr Helena Azevedo
MEng, PhD
Research Overview
Biomedical Materials, Peptides, Hyaluronan, Self-assembly, Hydrogels, Regenerative Medicine, Drug Delivery, Biomolecular Engineering
Interests
Advances in self-assembly offer new opportunities in molecular design of biomaterials. A major advantage of these systems is their ability to generate similar fibrillar structures to those found in the natural extracellular matrix (ECM) of tissues and to integrate directly in the structure biomolecular ligands for cell signaling.
Dr Helena Azevedo works at the interface of chemistry, materials science, nanotechnology, self-assembly, biomaterials and medicine. In particular, she works with self-assembling peptides (design, synthesis and characterization) and their combination with macromolecules (natural and synthetic polymers) to develop nanostructured biomaterials (microcapsules, membranes, hydrogels) with potential applications in the regeneration of cartilage and skin tissues. Within these studies, she is interested in using supramolecular chemistry to program molecules for self-assembly into structures with bioactivity and to understand the energy pathways for their self-assembly into functional macroscopic biomaterials.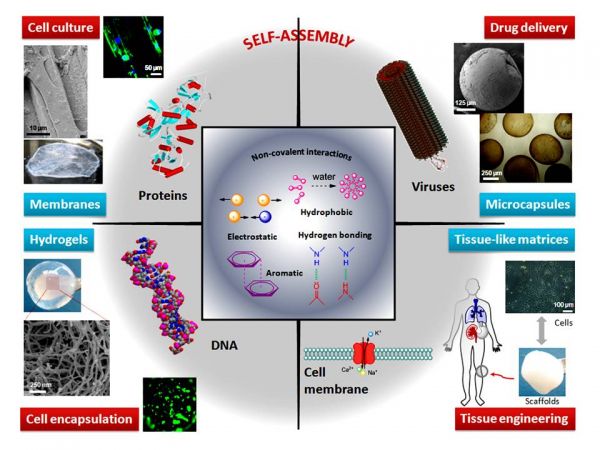 Molecular self-assembly, the spontaneous organization of molecules into ordered aggregates by noncovalent interactions, allows fabricating nanostructured biomaterials that could revolutionize tissue engineering and other forms of regenerative medicine. "Self-assembly in nature: using the principles of nature to create complex nanobiomaterials", AC Mendes, ET Baran, RL Reis, HS Azevedo, WIREs Nanomed & Nanobiotechnol , Copyright © 2013, John Wiley & Sons, Ltd./Inc. ("Wiley").
http://wires.wiley.com/WileyCDA/WiresArticle/wisId-WNAN1238.html