Dr Arun Prakash Periasamy
M.Phil, Ph.D.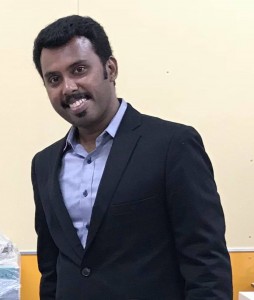 | | |
| --- | --- |
| Position: | Postdoctoral Research Associate |
| Supervisor: | Dr Ana Jorge Sobrido |
| Email: | a.prakash@qmul.ac.uk |
| Location: | 322, Engineering, Mile End |
| Networks: | |
| Expertise: | I am interested in finding renewable energy sources and developing sustainable methods to create functional materials for fabricating efficient energy devices. My research is focused on the areas of functional materials and electrochemistry in general and more specifically on electrochemical materials for electro(photo)catalysis and energy storage applications. Currently, I am developing soft templating strategies to create porous structured carbons and inorganic perovskite materials with an aim of understanding their structure-property relationships for improving their bifunctional catalytic activity towards oxygen evolution and oxygen reduction reactions in flexible Zn-air battery. |
Brief Biography
I received my B.S, M.S and M. Phil degrees in Chemistry from Bharathiar University, India. I hold a Ph.D. degree in Chemistry with a specialization in Electrochemistry and Material Science from National Taipei University of Technology (NTUT). I worked as a Postdoctoral research associate in Prof. Chang's group at the National Taiwan University from Nov. 2011 to 2018. Then, I joined as a Postdoctoral research associate in the Nanostructured Hybrid Energy Materials group of Dr. Ana Jorge Sobrido at the Queen Mary University of London in Nov. 2018.