News 新闻
Prof Wen Wang and Ms Anne Parry from Queen Mary University of London visited JEI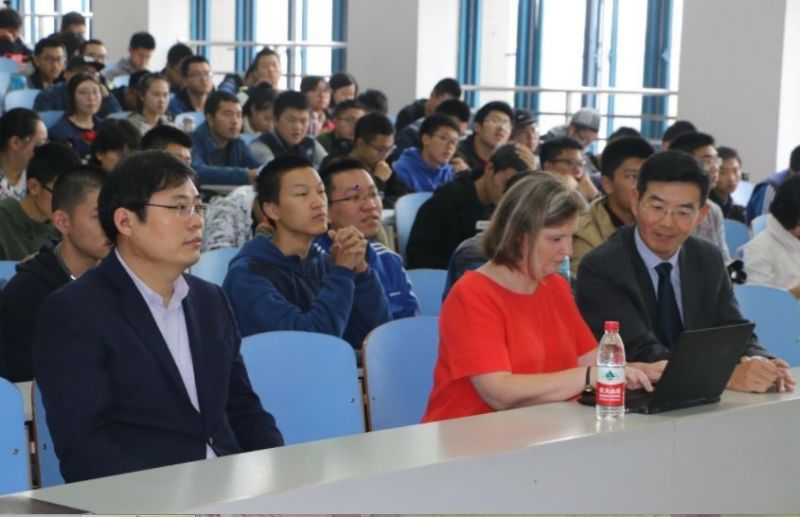 On 20th October 2017, Prof Wen Wang, Dean of School of Engineering and Materials Science, Ms Anne Parry, Faculty Operating Officer, from Queen Mary University of London visited Queen Mary University of London Engineering School, NPU (JEI). With the company of Zhang Fuli, deputy director of the International Cooperation Department, NPU, Kong Jie, Dean of JEI and Chen Jun, Vice Dean of JEI, Prof. Wen Wang and Ms Anne Parry gave a lecture about campus study and life to all JEI students of 2017, and visited JEI offices, students' common room and Internet smart classrooms.
During the lecture to all JEI new students of 2017, Prof Wen Wang demonstrated the gist of economy, culture and education in London, and the long history of Queen Mary. He also introduced his research work in the field of vascular endothelial cell and biomechanics. Ms Anne Parry introduced many famous places and British cultural characteristics. She expected students to visit Queen Mary University in London to take academic exchange so that they could experience the unique cultural atmosphere in London and British characteristics.
伦敦玛丽女王大学工程与材料学院院长Wen Wang教授与理工学部执行官Anne Parry女士访问JEI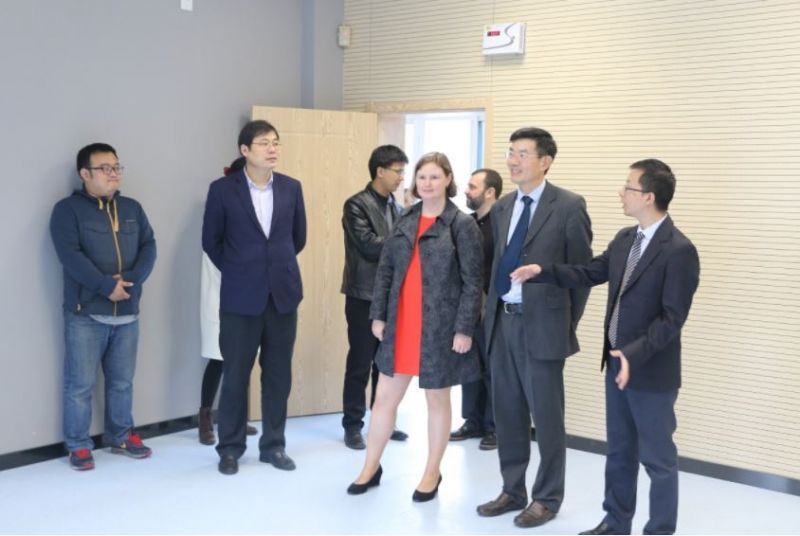 10月20日上午,伦敦玛丽女王大学工程与材料学院院长王文教授及伦敦玛丽女王大学理工学部执行官Anne Parry女士访问西北工业大学伦敦玛丽女王大学工程学院(JEI)。王文教授一行在国际合作处副处长张富利、玛丽女王工程学院院长孔杰、副院长陈俊的陪同下与学院2017级全体新生举行了学习生活座谈,并参观了学院办公区、学生活动区和互联网智慧教室。
在2017级全体新生学习生活座谈会上,王文教授向大家展示了英国伦敦经济、文化、教育等方面概况及伦敦玛丽女王大学的悠久历史,并向同学们介绍了他在血管内皮细胞生物力学领域的研究工作。Anne Parry女士介绍了英国的风景名胜、文化特色等,并期盼同学们前往英国伦敦玛丽女王大学进行学习交流,体验英国独特的文化氛围,感受别样的英伦特色。
---
QMUL signs major strategic collaboration agreement with China's Northwestern Polytechnical University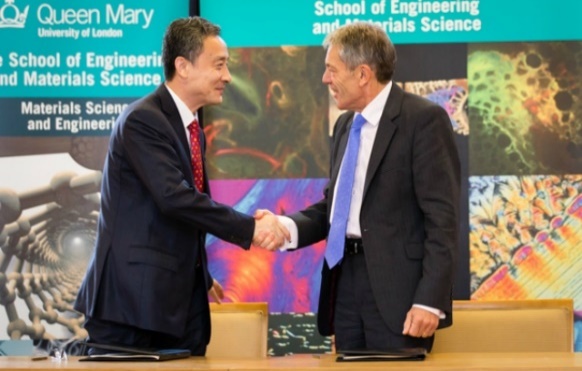 A memorandum of understanding outlining the intent for the alliance was signed at the 8th UK-China Education Summit on Thursday 17th September 2015. A further signing to confirm the development of the collaboration was then made on the following day at the QMUL Mile End campus by Professor Simon Gaskell, QMUL President and Principal with Professor Wang Jinsong, President of NPU.
伦敦玛丽女王大学与中国西北工业大学签订重要战略合作协
2015年9月17日,在第八届中英教育峰会上,两校领导签署了《西北工业大学与伦敦玛丽女王大学关于建立先进材料和结构联合研究中心的合作备忘录》。伦敦玛丽女王大学校长 Simon Gaskell 教授与西工大校长汪劲松教授于次日在伦敦玛丽女王大学签署了《西北工业大学与伦敦玛丽女王大学合作备忘录》。
---
Chinese Ministry of Education gives go-ahead to new Joint Educational Institution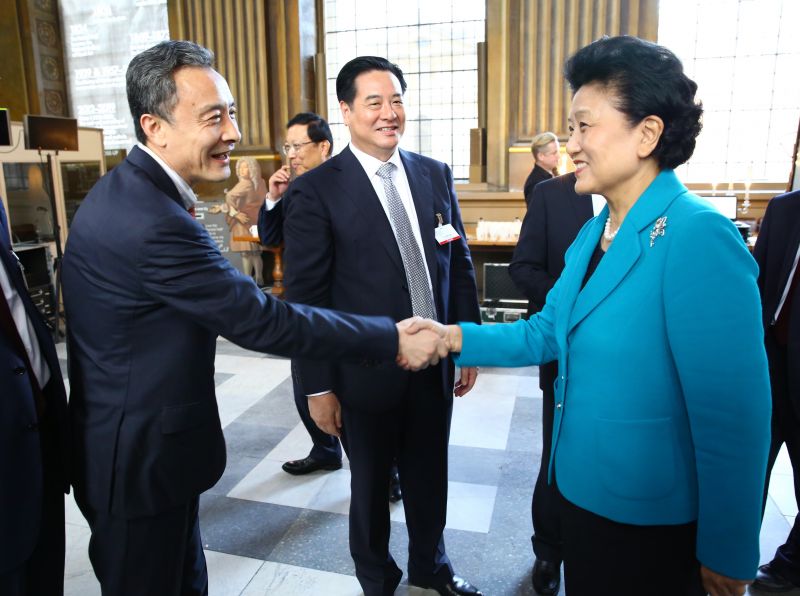 QMUL, in partnership with Northwestern Polytechnical University (NPU), has been granted permission by the Chinese Ministry of Education to establish a new Joint Educational Institution.  The new Institution, to be called 'Queen Mary University of London Engineering School, Northwestern Polytechnical University',  will be based at NPU's campuses in Xi'an, China and will provide high quality degree programmes in the area of Engineering Materials that will begin admitting students in September 2017. 
中外合作办学机构-西北工业大学伦敦玛丽女王大学工程学院获中国教育部批准
中国教育部批准伦敦玛丽女王大学与西北工业大学成立中外合作办学机构。新成立的西北工业大学伦敦玛丽女王大学工程学院将坐落在中国西安的西工大校区,在工程材料领域为学生提供世界一流的教育教学。学院将从2017年9月起开始录取新生。
---
NPU Professors visit QMUL for staff training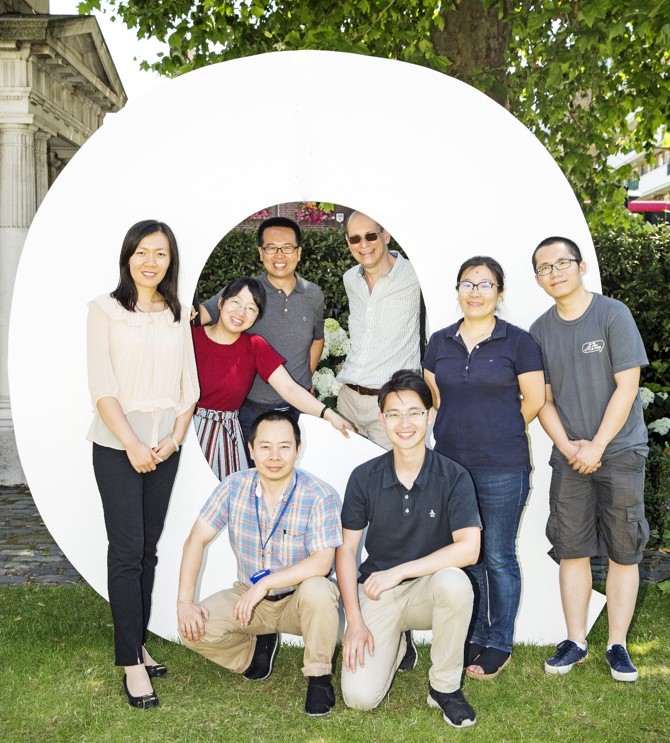 In preparation for the launch of the NPU-QMUL Joint Educational Institute (JEI), the first 4 NPU professors visited London in July 2016 as part of their training programme.  They attended an intensive course on international education at QMUL's Centre for Academic and Professional Development.  They also met with staff from the School of Engineering and Materials Science, Language Centre and Materials Research Institute to discuss the development of the JEI and related Joint Research Centre.
Professor Xuetao Shi said "We really got to know better the different teaching structure between China and UK and this will definitely be helpful for our new JEI".  
西工大教授一行到访伦敦玛丽女王大学
为了更好的筹建西工大-伦敦玛丽女王大学工程学院,四位西工大教授作为首批进修教职员工于2016年7月抵达伦敦。他们参加了由伦敦玛丽女王大学学术与职业培训中心提供的为期两周、紧凑充实的进修课程。西工大的四位教授在课程之余会见了来自材料科学与工程学院、语言中心、以及材料科研中心的教职员工,共同探讨建设西工大-伦敦玛丽女王大学工程学院以及联合科研中心的相关事宜。
史学涛教授表示:"我们必须加深对于中英教育模式的理解,这将有助于我们更好的建设西工大-伦敦玛丽女王大学工程学院。"