2021 News 
Juncheng Fan from Queen Mary Engineering School, Xi'an, comes third in IoM3 Young Person's World Lecture Competition
Juncheng Fan from QMES (Queen Mary Engineering School, Xi'an) came third in IoM3 Young Person's World Lecture Competition. The competition is run by the Institute of Materials, Minerals and Mining (IoM3) every year with students competing through regional and then national finals.
Juncheng's presentation was entitled "Polydopamine-based Antibacterial Coatings Mussel-inspired Smart and Versatile Platforms for Orthopaedic Implants"
This year the finalists represented UK, South Africa, Russia, Hong Kong, Malaysia and Canada, and Juncheng as did his degree in Xi'an he was representing China. He takes away a cash prize and a new MacBook computer. Junchang was one of the very few who reached the Final from their undergraduate work so excellent. Juncheng's project was supervised by Li Peng in NPU and Liz Tanner in London.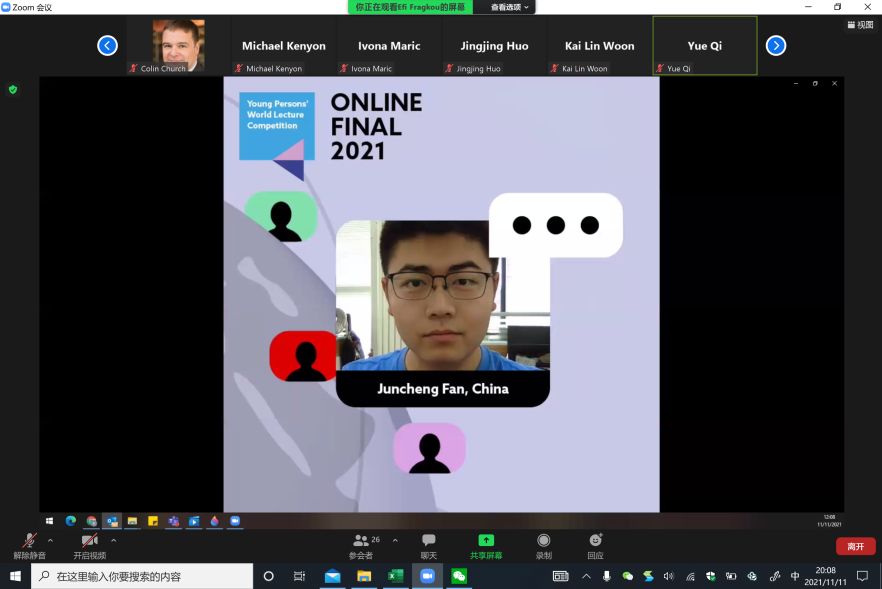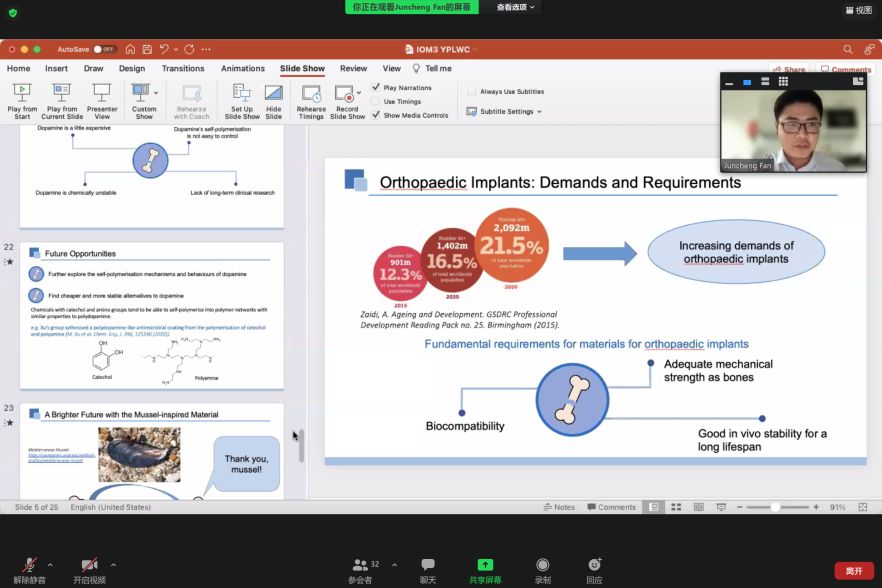 ---
Graduation ceremony for QMES class of 2017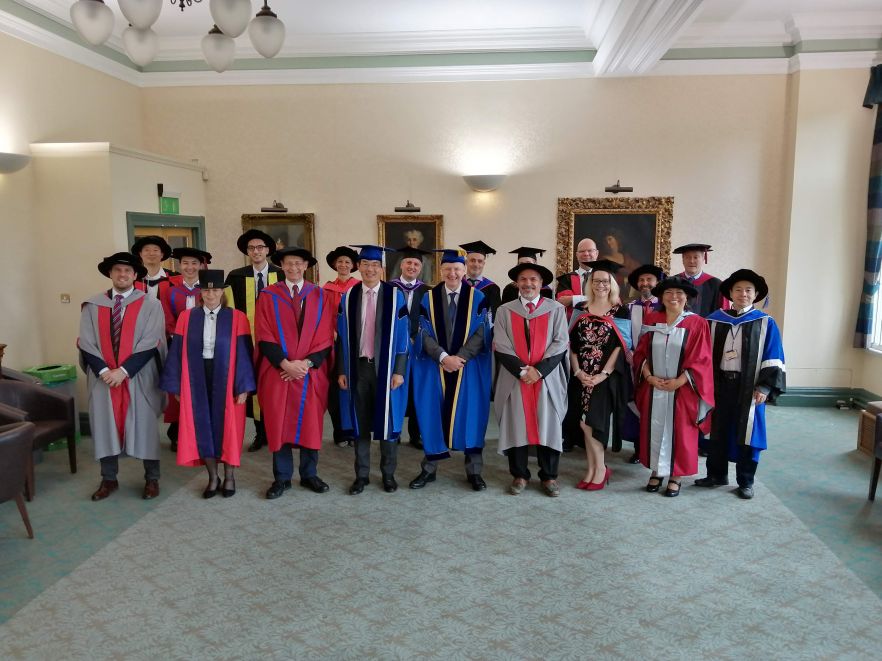 On June 21st the inaugural cohort of students enrolled at Queen Mary Engineering School in 2017 were awarded their degrees in a ceremony presided over by Queen Mary Principal Professor Colin Bailey CBE FREng and Deputy Secretary of the NPU Party Committee Professor Wan Xiaopeng. After four years of hard work and dedication to their studies, over 220 students were awarded degree certificates from both universities.
NPU staff, graduands and their friends and family attended the ceremony in the Great Hall on NPU's Chang'an campus in Xi'an. Students were wearing official Queen Mary colours for their special day. Queen Mary staff, along with many other student guests, attended the ceremony remotely from across the world.
As Principal Bailey said in his Address: "As graduates of the School, you have an unusual and powerful combination of skills to offer your country and the world. You are equipped with excellent engineering knowledge and English skills. But you also have a great international understanding, and an appreciation of the application of your knowledge in a global society."
Many graduands now go on to further study at top institutions around the world – including over 50% who will travel overseas for their postgraduate study – and others start out on promising careers. Excitingly, there are a large number of graduands who plan to continue their studies at Queen Mary this coming September; we look forward to welcoming those students to London at the start of the new semester!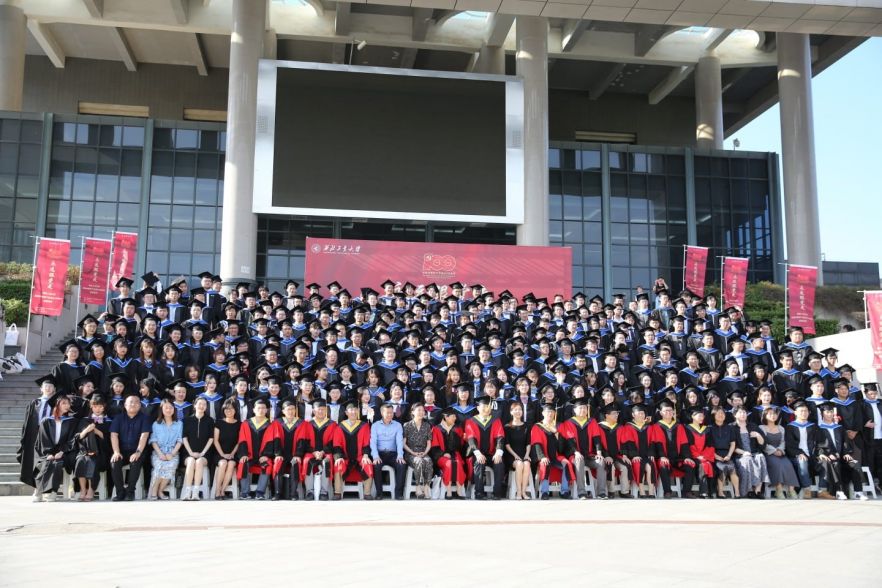 The Principal also reminded graduands that they now join the Queen Mary Alumni Network: "Our alumni office will keep in touch with you in the coming years to help you make the most of your membership of the Queen Mary community. Do keep in touch: through the alumni network you can make new contacts and friends, and further your career." Graduands can find details of the Alumni Network here.
It was also a special day for all the staff at QMES, happy to see their students achieve so much. Prof Andy Bushby, Executive Vice Dean of QMES, closed with: "As you go forward to build your careers you can look back with pride on your achievements at QMES. Your contribution to the life of the School has helped to shape QMES for future generations of students. As the first graduates of QMES you will always be a special part of the QMES legend!"
---
 QMES Students Won the Outstanding Award in the 19th "AAMS Cup" University Students Extracurricular Academic and Scientific Works Competition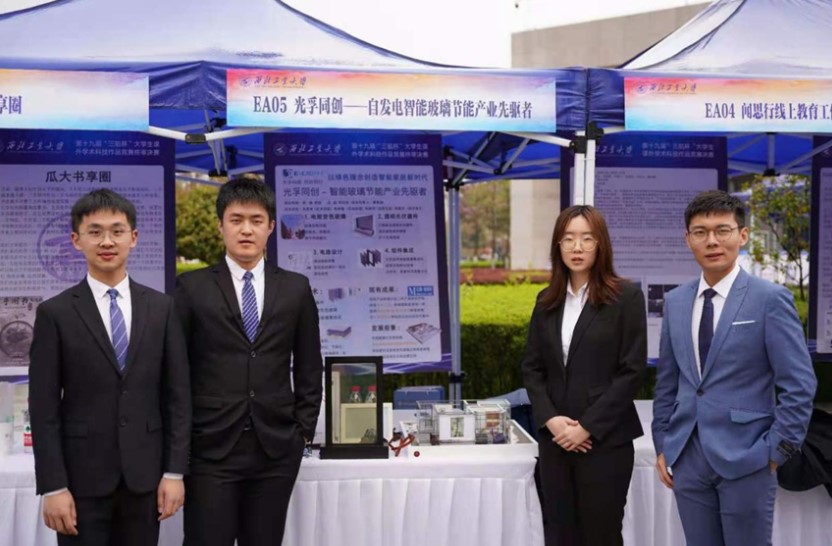 On March 26th, the 19th Northwestern Polytechnical University "AAMS Cup" University Students Extracurricular Academic and Scientific Works Competition came to a successful conclusion. A total of 23 projects from QMES were awarded. Among them, Yuan Chuhan and her classmates' project won the outstanding award, while Li Chujia and her projectmates, Xiao Weirong and Zhang Yuxiang were awarded the First Prize. 4 projects hosted by Zhang Yu, Zhu Chaokai, Feng Zhuoya and Yu Chuan were awarded the Second Prize, and the Third Prize was awarded to 15 other projects.
---
We are keeping informed students and parents with updates on how are we managing academic activities affected by Covid.
Watch this short video from Dr Maria Romero-Gonzalez, Director of Learning Development for more details.
---
Multiple Award Success for QMES in The Queen Mary University of London Educational Awards:
玛丽女王工程学院获伦敦玛丽女王大学多项教育奖:

Many congratulations to our colleagues Faith Nightingale, Maria Romero-Gonzalez, Gabriel Cavalli and Andrew Spowage for receiving prestigious Educational Awards in The Queen Mary University of London.
祝贺玛丽女王工程学院(简称:女王学院,QMES)的老师Faith Nightingale, Maria Romero-Gonzalez, Gabriel Cavalli以及Andrew Spowage获得伦敦玛丽女王大学( The Queen Mary University of London)多项杰出教育奖。
Faith Nightingale received an Education Excellence Award for her work on creating a unique materials library with the second-year students in the Queen Mary Engineering School (QMES) and embedding this work in the Personal Development Planning curriculum that she leads.                                                                                                                                       
其中,Faith Nightingale指导女王学院大二年级学生创建了别具特色的材料图书馆,为各类材料创建图文并茂的详细档案。Faith还将材料图书馆与其所授课程《个人发展规划2》有机结合起来,丰富、拓展了该项课程,因而获得优秀教育奖。
Faith Nightingale and Maria Romero-Gonzalez, jointly with The Queen Mary University of London colleagues from the Nanchang University-The Queen Mary University of London Biomedical Sciences Programme were further recognised with another Education Excellence Award for their Common Ground Project. This project promoted the collaboration of QMES and Nanchang students by creating videos that focused on materials for biomedical applications. You can see the winning videos here: https://www.sems.qmul.ac.uk/china/ictl/event/event1/                                                             
此外,Faith Nightingale、Maria Romero-Gonzalez与来自南昌大学-The Queen Mary University of London 生物医学科学专业的同事一起,获得了另一项优秀教育奖。 该项目通过指导学生创作介绍生物医学应用材料的视频,促进了伦敦玛丽女王大学在中国的两个合作项目玛丽女王工程学院与南昌大学玛丽女王学院的合作。可点击下面链接观看获奖视频:https://www.sems.qmul.ac.uk/china/ictl/event/event1/
Finally, Maria Romero-Gonzalez, Andrew Spowage and Gabriel Cavalli, jointly with their London colleague, Folashade Akinmolayan-Taiwo, won the very prestigious President and Principal's Prize at the Queen Mary Education Excellence Awards.
祝贺玛丽女王工程学院(简称:女王学院,QMES)的老师Faith Nightingale, Maria Romero-Gonzalez, Gabriel Cavalli以及Andrew Spowage获得伦敦玛丽女王大学( The Queen Mary University of London)多项杰出教育奖。

This award recognizes the hard work and crucial leadership the team offered towards developing and delivering teaching and learning activities to support staff - which were instrumental in response to the The Queen Mary University of London coronavirus pandemic.
卓越教育校长奖是对QMES团队为伦敦本部教职工网上教学活动给予的示范支持工作所做的肯定,QMES团队开展的活动在伦敦玛丽女王大学 应对新冠病毒大流行期间起了卓绝重要的作用。

The Queen Mary University of London President, Prof. Colin Bailey, also highlighted how the impact of their work has transcended their school and even the university, with the team invited to present at key events such as the 2020 AdvanceHE Online Curriculum symposium.
伦敦玛丽女王大学校长Colin Bailey教授对QMES团队的工作成绩表示高度赞赏,他认为QMES团队不仅是其学院的榜样,更是伦敦玛丽女王大学大学的典范。Colin Bailey教授还邀请该团队出席2020年度高等学校在线课程研讨会等重要活动。

Well done to the QMES team! 让我们再次祝贺QMES团队!
---
Excited to return to China
We miss you all and can't wait to see you again in QMES, Xi'an