International Centre for Teaching and Learning (ICTL)
ICTL Teaching Development and Training  
QMES has established the International Centre for Teaching and Learning to promote excellence in transnational education in the STEM subjects.  This joint initiative is driven by the success of QMES as first Sino-Foreign Joint Educational Institution in the Northwest region of China.  The objectives of the new Centre are to: 
develop and share best practice in STEM Higher Education locally at NPU.
evaluate the impact of these practices through quantitative and qualitative research in order to develop understanding of how to construct best practice in STEM T&L in Higher Education.
support objectives above and showcase the Centre activities through the organisation of symposia and workshops with established international researchers in the field of T&L in Higher Education, and dissemination of the research in the Centre through publications and conferences.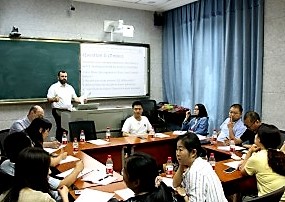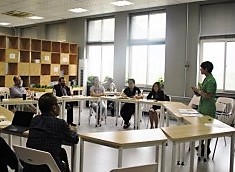 Experts and teachers from QMES share their experiences at ICTL Workshops and Seminars
---
University to build center for international cooperation
The opening of a center for international teaching and learning in Xi'an, capital of Shaanxi province, was announced on June 25. The center is expected to offer opportunities for global cooperation.
The International Center for Teaching and Learning is affiliated to Northwestern Polytechnical University and Queen Mary University of London.
At the launching ceremony, Wang Jinsong, president of Northwestern Polytechnical University, said the center will be helpful in exploring efficient and frontier higher education teaching methods in the engineering discipline, and in creating a new paradigm for training international talents in this field.
It will also be a platform for teaching experience sharing, he added.
Representatives from the two universities will act as directors of the center and experts around the world will be invited to form an advisory committee.
Meanwhile, international seminars on various teaching methods and activities will be held to assist teachers to obtain international accreditation and promote new models of international education.
According to Wang, the joint-built center is an important achievement of the cooperation between China and Britain in the next "golden ten years".
Colin Bailey, president of the Queen Mary University of London, used "uniqueness" to express his expectations for the center.
He said the teaching mode of cooperative education has changed the way English teachers teach in the UK.
The establishment of the center will not only enable the engineering college to improve its talent training, but also provide a new paradigm for teaching and education in the international engineering field for the two countries and the world.
Bailey considered that international cooperation between universities, while promoting internationalization of higher education, should also promote friendly exchanges between the cities and the states involved, and he hoped that a leading role of education in international cooperation would be achieved through in-depth cooperation between the two schools.
The International Center for Teaching and Learning, which will offer opportunities for global cooperation, is launched in Xi'an, capital of Shaanxi province, on June 25. [Photo provided to chinadaily.com.cn]
."