News
Juncheng Fan from Queen Mary Engineering School, Xi'an, comes third in IoM3 Young Person's World Lecture Competition
11 November 2021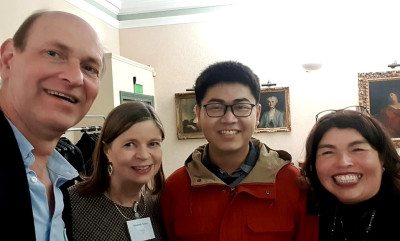 Juncheng with Andy Bushby, Liz Tanner and Maria Romero-Gonzalez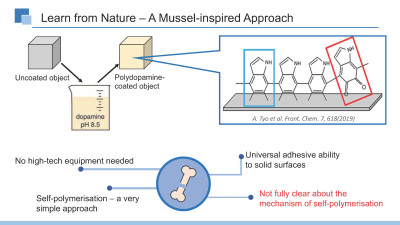 Slide from Juncheng's Presentation
Juncheng Fan from QMES (Queen Mary Engineering School, Xi'an) came third in IoM3 Young Person's World Lecture Competition. The competition is run by the Institute of Materials, Minerals and Mining (IoM3) every year with students competing through regional and then national finals.
Juncheng's presentation was entitled "Polydopamine-based Antibacterial Coatings Mussel-inspired Smart and Versatile Platforms for Orthopaedic Implants"
This year the finalists represented UK, South Africa, Russia, Hong Kong, Malaysia and Canada, and Juncheng as did his degree in Xi'an he was representing China. He takes away a cash prize and a new MacBook computer. Junchang was one of the very few who reached the Final from their undergraduate work so excellent. Juncheng's project was supervised by Li Peng in NPU and Liz Tanner in London.