Year 2019 News
Teachers from QMES Went to the UK for UKPSF Certification Training
玛丽女王工程学院教师赴英参加英国高等教育UKPSF认证培训
In late July 2019, 15 teachers from QMES went to the UK to attend a two-week UK Professional Standards Framework (PSF) training for higher education and ICTL seminar. These teachers completed all courses and received training certificates from QMUL.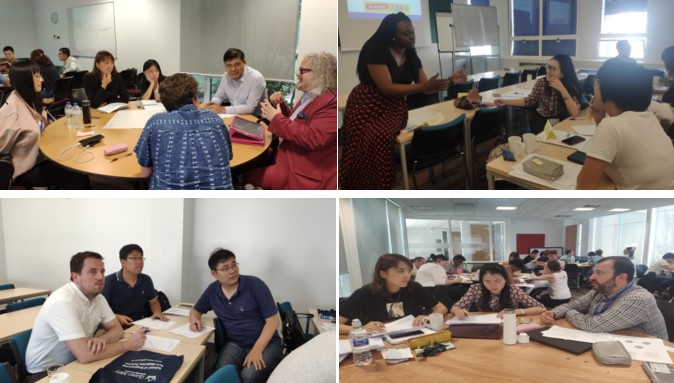 On July 26th, the teachers were invited to attend the 2019 graduation ceremony for students from School of Engineering and Materials Science at QMUL. Dressed in blue guest gowns and sitting on the rostrum, Kong Jie, Yan Yi, Chen Kaijie, Chen Yanhui, Liu Changyou, Zhang Ying, Yang Yanhui, Wang Jun, Yang Jieren, Zhang Jin, Yu Hong, Yao Dongdong and other teachers attended the traditional degree-awarding ceremony of QMUL.
This training was conducive to teachers' in-depth understanding of the opportunities and challenges brought by internationalization of higher education. It broadened their international vision of education and teaching. Meanwhile, the teachers have enhanced their teaching ability and effect .through learning teaching theory and teaching methodology.
2019年7月下旬,玛丽女王工程学院部分教师赴英参加为期两周的英国高等教育UK Professional Standards Framework(UKPSF)认证培训及国际教学研究研讨会,15名教师完成全部课程学习,获得了伦敦玛丽女王大学颁发的教学培训结业证书。
在培训第一个阶段,老师们与伦敦玛丽女王大学教师同堂共课共学,共同参加了"教师教学发展暑期学校(Academic Development Summer School)",培训课程内容丰富,形式多样。系列课程讲座由伦敦玛丽女王大学的知名专家主讲,专家们理论功底深厚,经验丰富,他们聚焦教学方法、教学设计、学业评价、教育技术等主题,与各位教师分享教学经验,交流教学心得,讨论如何提升课堂教学水平。第二个阶段为7月22日-26日,在国际教学研究中心主任Gabriel Cavalli博士的主持下,各位教师一起细致研究了目前学院培养计划及课程设置,并就教学质量评价标准等内容做了深入的研讨。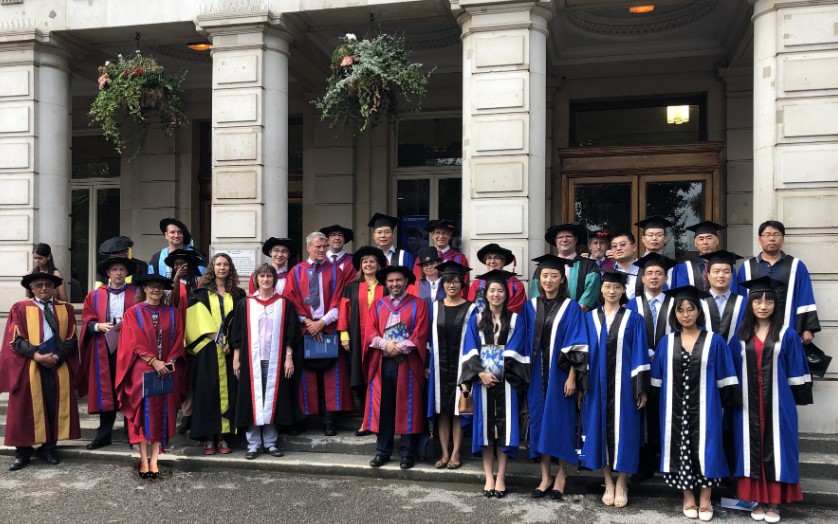 7月26日,教师们受邀出席了伦敦玛丽女王大学2019年工程与材料科学学院学生毕业典礼,孔杰、闫毅、陈凯杰、陈妍慧、刘长友、张莹、杨艳慧、王军、杨劼人、张晋、余泓、姚东东等老师身着蓝色嘉宾学位袍,就坐于主席台上全程参加了伦敦玛丽女王大学传统而又隆重的学位授予仪式。
此次培训有利于教师们深入了解高等教育国际化带来的机遇和挑战,开阔了教育教学的国际视野。同时通过重点学习了教学理论和教学实践的融合与互促,以及如何通过教学实践反馈并提升教学理论与方法,提升了教学能力和效果。
Six Student Representatives from QMUL Visited QMES
海内存知己,天涯若比邻 ──伦敦玛丽女王大学学生大使来访纪实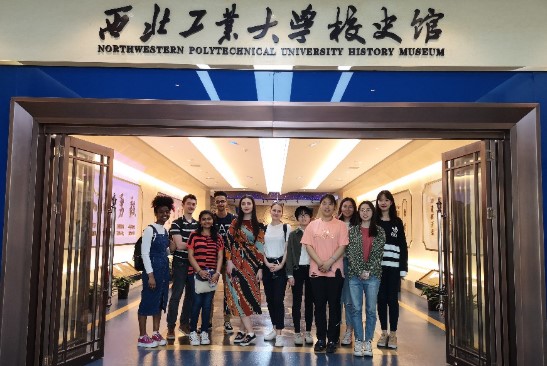 From April 6thto 15th, 2019, 6 students from QMUL went to QMES and started their visit and learning here. During ten days of exchange, student representatives had a deep understanding of NPU and QMES. By visiting NPU historical museum, exploring treasures on campus, experiencing characteristic courses, and sharing international growth experience, these students learnt a log traditional Chinese culture. During this period, student representatives joined classes with QMES students. They exchanged their views and learning achievements, all of which have deepened their friendship, as well as the firendship between China and the UK.
伴着和煦的春风,2019年4月6日-15日,6名来自英国母校--伦敦玛丽女王大学的学生作为英方学生大使,从阴雨绵绵的伦敦来到了温暖明媚的西安,开启了在玛丽女王工程学院的访问学习。在为期近十天的交流中,学生大使通过参观校史馆、校园寻宝探秘、体验特色课程、分享国际化成长经历、感悟中国优秀传统文化等学院志愿者们精心安排的活动,深度了解西北工业大学和女王学院,亲身体验东方文明古国的无限魅力。学生大使与学院学生在短短的一周中,一同上课、一同学习、一同交流,从陌生到熟悉、从局促到热络,深化了中英友谊,结下了深厚感情。