School of Engineering and Materials Science Research Studentships
Re-imagining Peptide Synthesis
Supervisors: Andrew LIVINGSTON
Application Deadline: 30-06-2021
This PhD studentship is part of a programme of work (approx. £9M total) funded by Eli Lilly and Company (US) and EPSRC "Transforming synthetic drug manufacturing: novel processes, methods and tools".
Vision and Ambition
The project will create a radical new technology for the synthetic manufacture of peptides and proteins. These will be created through sequential (iterative) addition of AA building blocks or AA fragments in the liquid phase, and, crucially, purification at each stage will continue in the liquid phase by organic solvent nanofiltration (OSN). The growing peptide attached to a nanostar macromolecular construct will be selectively retained by the OSN membranes, while excess building blocks and other debris are removed by permeation through the membrane. This new filtration technology will allow all the benefits of liquid phase synthesis to accrue while providing facile separation.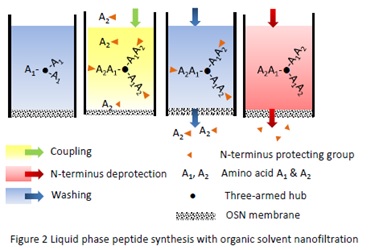 Nanostar Sieving attaches two or more peptides to a central hub molecule, to form a macromolecular "nanostar" construct, so that the peptide synthesis can be carried out entirely in the liquid phase. An amino acid (A1) is tethered to a n-arm hub molecule by a cleavable bond (Hub-A1), creating a Nanostar. Amino acid building block A2, with the N-terminus protected to avoid uncontrolled further reaction (A2<), reacts with Hub-(A1)3 to give the sequence Hub-(A1A2<) 3.Excess building block (A2<) is then removed by diafiltration through an organic solvent nanofiltration (OSN) membrane, whilst the growing Nanostar Hub-(A1A2<)3, which is bulkier, is retained. After coupling, the N-terminus protecting group (<) is cleaved and removed using diafiltration. The advantages of this approach include (i) in-line analysis, enabling corrective action, for example if a coupling has not reached completion; (ii) there is no need for the solvent to swell a solid phase resin, meaning a wider range of solvents and solvent mixtures can be employed; (iii) a constant and high coupling efficiency as the peptide is extended, bringing linear builds of >100 AA within reach as a practical manufacturing process.
Our ambition is to develop technology capable of biopharmaceutical production via organic chemical processing, at lower cost and with greater reliability than biological production.
PhD Studentship
The PhD student will carry out research to advance the Nanostar Sieving platform for peptide synthesis. This will involve working experimentally on hub selection and validation, coupling protocols and solvent selection, deprotection and purification, Membrane fabrication and optimization, fragment condensation processes as alternative to linear build, and analytical methods for determining peptide purity. The student will contribute to the construction of an automated Nanostar Sieving synthesiser with in line composition monitoring, and operating the Nanostar Sieving synthesiser to optimise protocols using in line data and off-line analysis.
Studentship Details
Available to Home/EU & International Applicants.
Full Time programme only
Applicant required to start before or on the 1st October 2021
The studentship arrangement will cover home tuition fees and provide an annual stipend for up to three years (Currently set as £17,609 in 2021/22 Entry).
The minimum requirement for this studentship opportunity is a good Honours degree (minimum 2(i) honours or equivalent) or MSc/MRes in Chemistry or Chemical Engineering.

I

f English is not your first language you will require a valid English certificate equivalent to IELTS 6.5+ overall with a minimum score of 6.0 in Writing and 5.5 in all sections (Reading, Listening, Speaking).
International applicants should refer to the following website at https://www.qmul.ac.uk/international-students/
Supervisor Contact Details:
For informal enquiries about this position, please contact Prof Andrew Livingston
E-mail: a.livingston@qmul.ac.uk
Application Method:
To apply for this studentship and for entry on to the Chemical Engineering programme (Full Time) please follow the instructions detailed on the following webpage:
Research degrees in Engineering:
http://www.qmul.ac.uk/postgraduate/research/subjects/engineering.html
Further Guidance: http://www.qmul.ac.uk/postgraduate/research/
Please be sure to include a reference to '2021 SEMS EPSRC AL' to associate your application with this studentship opportunity.
Deadline for applications: 30th June 2021
Website: http://www.qmul.ac.uk/postgraduate/research/subjects/engineering.html