News
Award Winning Research Students in 2023 SEMS ILF Research Showcase
14 November 2023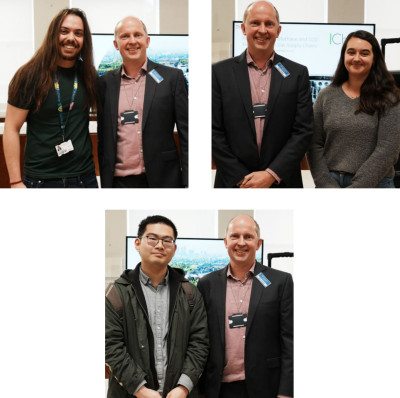 From top left: Francisco Rubén Parra-Perea, Laura Forster and Yuan Zhang, with Dr Oliver Fenwick.
At the recent SEMS research-led Industrial Liaison Forum, there was a showcase from 60 of our current PhD students. The panel of judges this year were made up a wide range of early career researchers (Dr Luis Murillo Herrera, Mr Eugenio Sebastian Suena Galindez, Dr Clemence Nadal, Dr Oliver Brookes and Dr Sara Naderizadeh) from each research centre. After careful deliberation, the panel awarded the following prizes (in no particular order):
Francisco Rubén Parra-Perea for a poster on 'Improving Air Traffic Control via Genetic and Multi-objective Algorithms' supervised by Dr Jun Chen.
Laura Forster for a poster on 'Nanoscale Biophysics of Wound Healing' supervised by Prof Himadri Gupta.
Yuan Zhang for a poster on 'Flexible Hybrid Energy Harvesters based on ZnO Nanogenerator and Perovskite Solar Cells' supervised by Prof Joe Briscoe.
Congratulations are offered to all three. Well Done! We would also like to extend our gratitude to all judges - thank you for volunteering your time and expertise.