News
Congratulations to the 2022 Intercalated Graduates
1 June 2022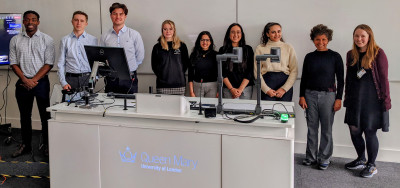 Speaker presentations in medical healthcare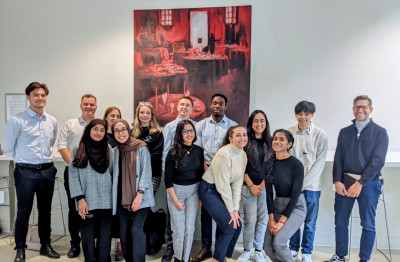 Celebrating the 2022 Intercalated Graduates
Celebrating seven years of the Intercalated Research Symposium
The Intercalated Symposium is an exciting scientific forum for medical students to present collaborative multi-disciplinary research in science, engineering and medicine.
Around 60 participants joined the 2 sessions with presentations in machine learning, computational medicine, medical robotics, healthcare, nanotechnology, biomaterials and regenerative medicine. The speakers adopted storytelling techniqes in their presentations to engage the audience and help them learn the main points through the medical narrative.
Hot topics include the work by Yakshi Aggarwal who investigated the role of mechanotransduction on inflammation and tendinopathy. Filip Skierski developed electroporation to knockout gRNA by CRISPR-Cas9 in microvascularised endothelial cells. Shree Khambekar and Arkar Lwin created impressive programming tools for convoluted networks and K-clustering models using clinical data for ECG and collagen. Warda Mansur presented exciting research in reproductive medicine and environment health where she discovered black carbon particles from air pollution in the unborn baby's amniotic sac.
Sir Harry Bhadeshia who is a metallurgist asked engaging questions to the speakers who explained more deeply about their work.
Dr Tina Chowdhury who is the Programme Director for the Intercalated BSc in Biomedical Engineering and Clinical Materials said "I am very proud of all our Intercalated Graduates. The research quality is impressive and the impacts on medical healthcare are significant. Our future medics will be scientists, engineers and doctors working together with interdisciplinary research teams at Barts, UCLH and hospitals around the world.
This is the data science revolution. If we are going to develop therapies to treat cancer, cardiovascular and inflammatory disease, then we need to teach medics how to use clinical data, learn how to code, programme and predict who is at greater risk to prevent the disease. I am very excited for the future of our doctors who bring together scientific, clinical and engineering communities together".
Several of our medics are back to finish off their research and publish papers in tendinopathy, environment health and mechanobiology. This work augments our leadership in the 2021 Research Excellence Framework where our research at the School of Engineering and Materials Science is ranked second in the UK.
We look forward to the summer graduation which is taking place in July 2022 and to welcoming our new Intercalated students who are joining our research teams in Sept 2022.
Enormous congratulations and thanks to research teams across the science, medicine and engineering faculties at the Institute of Bioengineering.
Special thanks to Laurence Correll and the events team who supported the media and AV technology.
| | |
| --- | --- |
| | |
| Contact: | Tina Chowdhury |
| Website: | |
| People: | |
| Research Centre: | |