Events
Engineer your communication skills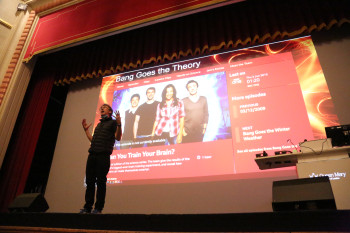 BBC presenter Dallas Campbell - why stories matter
Date: Monday 7 November 2022 10:30 - 12:30
Location: The Great Hall, People's Palace
How stories can improve your careers
During National Engineering Week we are providing you with an opportunity to develop skills that could transform your future career. Storytelling techniques are key to unlocking funding, building relationships, presenting research, developing your own brand and inspiring others. In this workshop with the Ideas Foundation you will have an opportunity to work with creative industry experts from the world of marketing and photography.
Plan and create engaging stories using social platforms to help change public perceptions of engineering and showcase how engineers improve lives
Celebrate the Royal Academy of Engineering National Engineering campaign called Tomorrow's Engineers Week #TEWeek22 that starts today https://raeng.org.uk/education-and-skills/this-is-engineering
Programme
10.30-10.40 An introduction to why QMUL have included storytelling in the engineering curriculum, what students need to create as part of their assessment and by when. Initial mentimeter polling about awareness of storytelling (Tina Chowdhury).
10.40-11.25 Introduction to the theory of storytelling. Why thinking in stories can help create connection, impact and improve your thinking. Why the stories have impact and how to superpower them into your personal brand (Chris Arnold).
11.25-11.30 Questions and answers. Reflection task using mentimeter.
11.30-12.30 An introduction to the art of digital storytelling "picture yourself as an engineer" (Michael Cockerham)
Speaker profiles
Dr Chris Arnold is a leading expert on creativity and thinking differently, neurodiversity in the workplace and ethical marketing. He has spoken at over 300 events in 8 different countries running workshops for organisations such as the BBC, Renault, Sky @ecoSuperMan
Michael Cockerham is a leading photographer. He has created stories about astronauts, footballers, conflict zones and is passionate about helping people to the "Picture Yourself An Engineer" https://michaelcockerham.com/
Tina Chowdhury is a scientist, engineer and storyteller. She works with the creative technology industry and is passionate about the added value of storytelling for the "Engineers of Tomorrow."
Partners: Royal Academy of Engineering and the Ideas Foundation