News
Emma Sadler wins the PDRA prize at the 2023 SEMS ILF Research Showcase
15 November 2023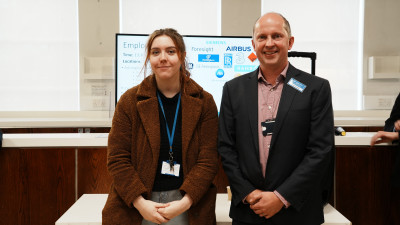 Emma Sadler with Dr Oliver Fenwick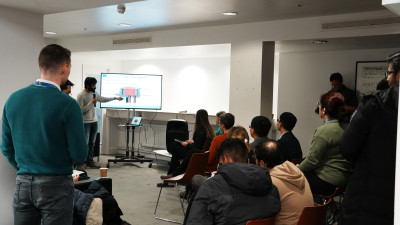 Abu Bakar Dawood presenting his work
At the SEMS recent research led Industrial Liaison Forum, there were nine Postdoctoral Research Associate (PRDA) flash presentations. The session was of great interest to faculty, PDRAs, students and attending industrialists alike. After careful deliberation panel of judges awarded the following prize:
Emma Sadler for a presentation on 'Superhydrophobic Surfaces: Moving from the Lab to Real Life Applications' supervised by Dr Colin Crick.
Congratulations are offered to Emma Sadler. Well Done! We would like to extend our gratitude to Dr Anureet Kaur for her support in organising and chairing the session, and to our judges (Dr Maria Crespo Ribadeneyra and Dr Han Zhang) for volunteering their time and expertise.