News
Professor Liz Tanner made an Honorary Member of the European Society for Biomaterials
7 September 2023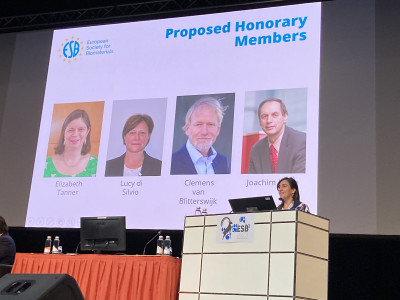 Announcement of new Honorary Members of the European Society for Biomaterials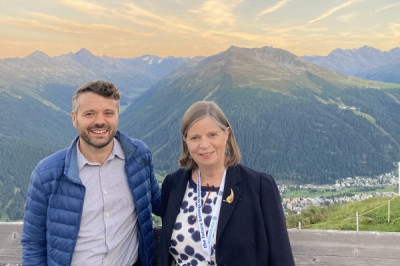 Julien and Liz at the ESB conference in Davos
Professor Liz Tanner has been elected an Honorary Member of the European Society for Biomaterials (ESB) at their conference in Davos Switzerland.
According to the Statutes of the ESB "Honorary membership can be awarded to any person who has given the Society particularly meritorious services or who has made a significant contribution to research in the field of biomaterials. Honorary members are proposed by the Council and are elected by the members of the Society."
Liz was joined by Prof Lucy Di Silvio - another former member of the IRC in Biomedical Materials at QMUL.
This reflects Liz and Lucy's activities in the ESB including both having been the Secretary General of ESB and two of the organisers of the 11th World Biomaterials Congress in 2020.