News
Bioengineering - a secret success story
22 May 2023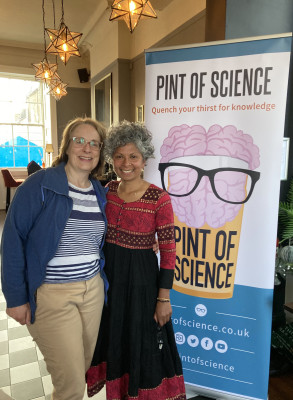 Celebrating a twelve year journey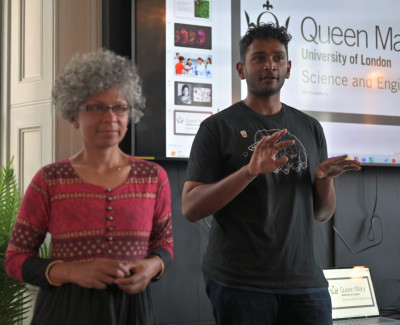 The tenth Pint of Science Festival
Bioengineers save babies' lives
When soft tissues like fetal membranes weaken too early, the waters break and the baby is born prematurely. Researchers at Queen Mary University of London and University College London are investigating the causes of preterm premature rupture of the fetal membranes.
A twelve-year journey in multi-disciplinary research
By investigating tissues from women who delivered after preterm birth, Dr Tina Chowdhury from the SEMS Centre for Bioengineering, discovered how to repair wounds after iatrogenic surgery. Fetal membranes are exposed to a changing mechanical environment with forces that affect the strength of tissues throughout gestation. Cells in the fetal membranes are able to respond to the dynamic environment by increasing molecules that can either rebuild or weaken the tissue. Working with Prof Anna David who is UCLH Consultant in Fetal/Maternal Medicine and Director of the EGA Institute for Women's Health at UCL, the multi-disciplinary team now know which cells are the "healers" and responsible for maintaining strength of the amniotic membrane.
One decade - Pint of Science
Tina and Anna joined the celebrations at the Pint of Science festival by showcasing their twelve-year journey of research in fetal regenerative medicine. This three-day event is hosted by university institutions around the world. Using tools in visual storytelling and film, Tina explained how myofibroblasts could repair defects in wounds created after fetal surgery or with 3D engineered models, and why the relationship between mechanical properties and microstructure matters. The audience used props to demonstrate the rupture of fetal membranes and watched a portrait gallery of how Queen Mary University of London is inspiring a legacy of Women in Engineering.
Leading a legacy of inspiring women
The narrative ended with a Tribute reel to Tina's dear "Ma-Ma", who after a decade of fighting dementia with Lewy bodies died shortly after the King's Coronation. Tina's mum was educated at a time when universities excluded women and engineers faced discrimination to achieve professional success. By overcoming the barriers, the Tribute showed how we used our education to pave the way and change the world. We eventually became the first female engineer, from a BAME background in London, with an older generation who never had university access. Tina especially thanks the legacy of inspiring women who are leading and transforming the future.
| | |
| --- | --- |
| | |
| Website: | |
| People: | |
| Research Centre: | |