News
National Engineering Day
2 November 2022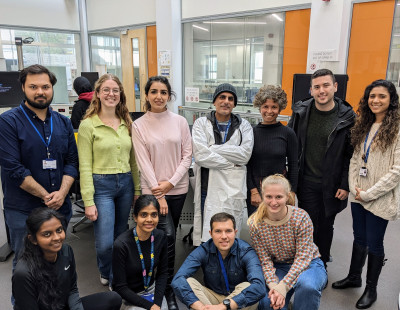 Celebrating engineers across disciplines
Empowering tomorrow's engineers
Celebrating This is Engineering
This is Engineering Day returned today as National Engineering Day to celebrate the engineers and show how engineering improve lives. We marked the event by inviting undergraduate, Intercalated and MSc students to meet the engineers and celebrate all things STEMM.
Engineers improve lives
Around 100 students worked with Queen Mary's scientists and engineers. The students learnt how technologies in bioengineering could have more life-saving innovations that in the future will change lives. The doctoral researchers driven by their passion to save lives and make this world a better place spent time talking about their work and inspired students to reflect on their future careers. The conversations helped to change mindsets about how engineers are seen from different worlds and how "everyone can be the one" and relate to what we do at work.
Empowering the engineers of tomorrow
Dr Tina Chowdhury from the Centre of Bioengineering talked about how technologies in regenerative medicine are changing the lives of women and babies who experience difficult pregnancies due to the impact of lifestyle and environment on health. She spoke to 100 students studying A-levels at Presdales School for girls and Walthamstow Academy.
She said "connecting young people with the research that we are doing right now is really important. In just one visual narrative, I can quite literally help young people understand the importance of how engineers are helping us live, improve our environment and make our world more sustainable".
This is the first time the team were able to connect young people studying STEMM from different schools in London and Hertfordshire using a combined "in the classroom" and virtual platform approach.
Our work on raising the diversity profile of Queen Mary's engineers is funded by the Royal Academy of Engineering Ingenious Award in partnership with the Ideas Foundation.