News
Rosetrees Trust celebrates 35 years at the Royal Society of Medicine
11 October 2022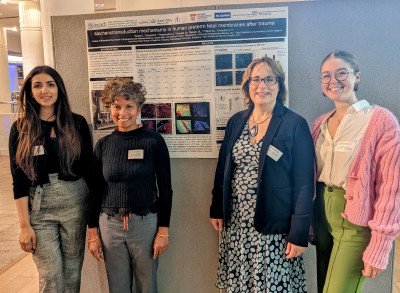 Celebrating medical research with scientists, clinicians and engineers
Rosetrees Trust supports interdisciplinary research
Rosetrees Trust is a unique medical charity working to advance interdisciplinary research in science, engineering and medicine. The charity has been funding exciting research projects to develop healthcare solutions that benefit patients and improve the lives of communities and society. After supporting 35 years of outstanding medical research, the Rosetrees team brought together around 200 clinicians, scientists and healthcare professionals to showcase the best translational research at the Royal Society of Medicine. More importantly, this family like event celebrated the Chairman's birthday Richard Ros CBE who created the ethos using venture philanthropy to support clinical scientists and researchers working in multiple disciplines.
Investigate new cutting edge ideas to generate pilot data
The charity supports early scientific research by providing seedcorn funding to Rosetrees researchers in all areas of science, engineering and medicine. This approach enables research teams to generate preliminary data for ideas that are both risky and exciting enabling further funding for scientific and translational research. Dr Tina Chowdhury is a Rosetrees researcher leading a team of scientists and clinicians in regenerative medicine. Since 2014, she has been supported by three Rosetrees Trust awards for inter-disciplinary projects investigating healing and repair mechanisms in fetal membranes and to test therapies using biomechanical models. Tina works closely with Prof Anna David who is a world-leading clinical translational Consultant in Fetal and Maternal Medicine at UCLH and Director of the UCL Institute for Women's Health.
At the Rosetrees celebration, the research team had a great opportunity to showcase the latest findings of the research with leading experts in the field. Dr Tina Chowdhury is very grateful to the Rosetrees Trust for supporting the work and said "In 2014, we were awarded our first grant to investigate why fetal membranes do not heal after surgery or rupture. We now know why the membranes do not heal and are developing new clinical interventions to improve healing, delay delivery and prevent preterm birth. Our work is collaborative and successful due to the support provided by the Rosetrees Trust enabling further funding inspired by new ideas helping to raise awareness about preterm birth with patient advocacy groups like UCLH prenatal charity and Little Heartbeats".
The Rosetrees Trust 35 years celebration brought together a community of speakers and poster presenters from all areas of medical research. The project team especially thanks the Chairman and the Rosetrees team for their continued support and for the creation of the family approach to explore new ideas, shift perspectives and learn in a completely ingenious away.
| | |
| --- | --- |
| | |
| Website: | |
| People: | |
| Research Centre: | |