Athena SWAN
SEMS promotes equality and fairness in all aspects of school life. Athena SWAN is specifically aimed at advancing the careers of women in science, technology, engineering, maths and medicine (STEMM) employment in higher education and research. While the School is committed to this agenda, the action plan devised by our self-assessment team (SAT) aims to improve fairness, support the career progression and ensure a good work-life balance for all staff and students, female and male. Here are some of the key policies introduced over the last few years:
A mentoring scheme for postdocs was launched in 2014.

A part time working guarantee for academic staff was introduced by which a member of staff who decides to work part-time can come back to her/his previous maximum FTE at any time.

Substantial support for staff returning from maternity leave or long-term illness is provided. The nature of the support is tailored to the individual's needs.

A professorial advisory group who mentors and advises academic staff on career progression was formed.

Improved first year tutorial support to ease the transition from school to university and raise the career aspirations of students was introduced.

Staff meetings and the school forum now include all staff. The meetings are held in core hours and on alternating days to allow all staff to attend most of them.

SEMS Core Hours are defined as 10.00 -16.00. All meetings are advised to be arranged within the Core Hours.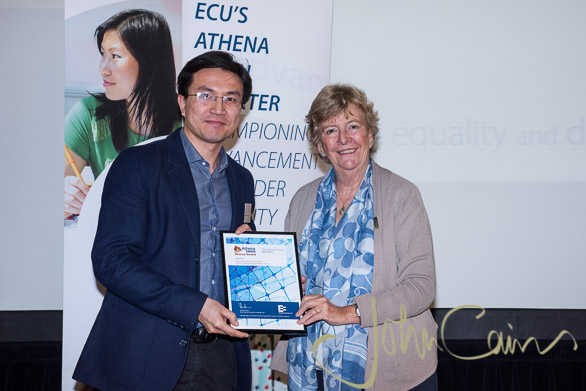 SEMS was awarded an Athena Swan Bronze award in November 2012. Since then, a lot of positive changes to the School's culture have been made including the ones listed above. In April 2015 the School applied for an Athena Swan Silver Award. Here is the submission document (PDF). The School's Bronze award was renewed in December 2015, and the award was presented to the Dr Lei Su from the School by Professor Dame Julia Higgins in Oxford (right).
The action plan (Word) is continually reviewed and updated; your comments and suggestions are very welcome.