News
Undergraduate Engineers Visit Teledyne e2v
9 November 2023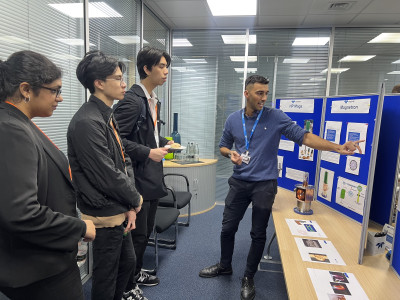 SEMS students at Teledyne e2v
Fifteen SEMS students were hosted at Teledyne e2v in Chelmsford as part of our Industrial Site Visits Programme for undergraduate engineering students. Teledyne is a leader in semiconductor devices, full spectrum imaging and high-power radio frequency solutions. They are present in virtually all markets and industries from medical to mining, food processing to vehicle manufacturing, aerospace avionics to remote sensing, and security systems to space exploration. Teledyne's Chelmsford site houses design and manufacturing facilities around a semiconductor fab.
There was a talk by engineers on space imaging devices, with the students seeing the Teledyne imaging chips that took the famous Hubble Space Telescope images. There was also a presentation on magnetrons for radiotherapy, with a chance to see the devices made on the site. The students spoke to over 10 engineers at different stages of their careers over the course of the day.
Our Industrial Site Visit Programme takes our undergraduates to the employers and gives them a chance to explore engineering sectors and engineering roles. In 2023 we offered over 200 places on Industrial Site Visits to students.