News
Queen Mary forms a new Industrial Advisory Board on Systems Engineering
31 October 2023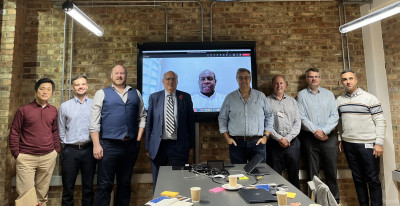 SEMS Systems Engineering Industrial Advisory Board inaugural meeting
The School of Engineering and Materials Science (SEMS) at Queen Mary University of London (QMUL) has established a new Industrial Advisory Board (IAB) on Systems Engineering in October 2023 to ensure that the School's Systems Engineering programmes meet the international standards and needs of industry, and the School students are graduating with the latest knowledge and skills required by employers in this emerging field.
The primary role of the Systems Engineering IAB at SEMS is to facilitate the exchange of ideas between the board members, the academic staff and the students with the goal to maximise employability, research opportunities, and to enhance the School's position as a centre of excellence for Systems Engineering. The Board meets biannually and includes leading figures from local and global technology companies and public sector, including NASA, British Telecommunications, National Air Traffic Services (NATS), Thales, Costain, QinetiQ, UK Department for Transport, as well as the current chair of the UK Chapter of the International Council on Systems Engineering (INCOSE).
The IAB held its inaugural kick off meeting on 31st October 2023 at QM's Digital Environment Research Institute (DERI), with focus on setting out strategies to design QMUL Systems Engineering Degree Apprenticeship MSc curriculum, recruiting strategies, identifying competency priorities for Systems Engineering training, as well as potential ways for industry engagements.
During a short breakout session, the board interactively discussed the priorities of companies in developing Systems Engineering competencies in both short-term and longer-terms. The outcome Systems Engineering Competency Map

will give the School a headline to direct efforts towards filling priority skills gap in industry.
For details
If you are an engineer already employed by a UK company and interested in developing career in Systems Engineering, consider our Systems Engineering Degree Apprenticeship MSc programme.
If you are not employed in the UK yet, or you are an overseas students interested in learning about emerging Systems Engineering field, consider our Data-Centric Systems Engineering MSc programme.
If you are an experienced professional and interested in joining our Systems Engineering IAB, get in touch via email provided below to discuss further.