News
Ana Sobrido gives an Invited Talk at the Royce National Conference 2023
7 September 2023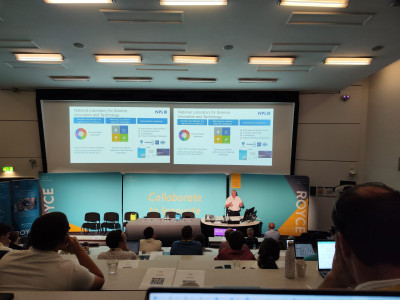 Plenary talk at the Henry Royce Institute National Conference.
Prof Sobrido gave a talk at the Henry Royce Institute National Conference held at the University of Manchester (6th-7th September) on her group's research work on sustainable materials for flow batteries.
Flow batteries are a type of stationary energy storage technology where chemical energy is provided by two electroactive components dissolved in an electrolyte that are pumped through the battery stack. The redox reactions take place at the interface electrolyte / electrode.
Prof Sobrido's group explore the use of biomass waste resources to produce self-supporting electrodes for flow batteries to replace current petrol-derived materials.
The conference was a fantastic opportunity to hear from speakers from academia, industry, government and research funding councils on the importance and impact of advanced materials against this evolving backdrop.