News
Three more PhD students join the role of honour for the Soft Matter Group in SEMS
25 July 2023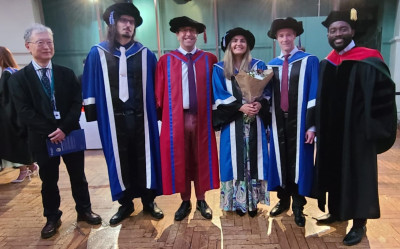 In the photo from left to right are Visiting Professor Keizo Akutagawa, Eduardo, James, Anureet, Travis and SEMS research assistant William Kyei-Manu.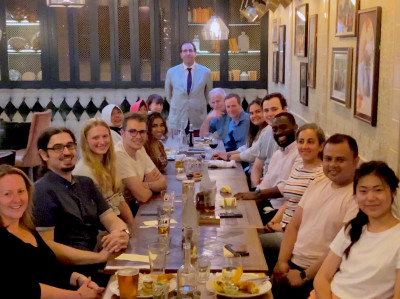 In the photo are members of the Soft Matter Group as well as Travis' parents, James' wife Rachael and Afni's daughter.
At the graduation ceremony on the 25th July 2023, three more PhD students graduated from James Busfield's Soft Matter Group at QMUL. Dr Anureet Kaur completed her Phd on a self-healing elastomers funded by Weir Group, Dr Travis Hohenberger completed his PhD on leak prediction in high pressure seals funded by SLB and Dr Eduardo Francisco Yanes Nunez completed his PhD on the friction behaviour of rubber under high contact pressures also funded by SLB.
Anureet is continuing as a PDRA at QMUL working with James on an EPSRC funded elastomer recycling project. Travis now works in engineering design for his PhD sponsor, SLB in Houston and Eduardo has moved to Switzerland to work for Datwyler working on advance sealing systems. James Busfield noted that it was great that all three graduated together, having worked throughout the worst of the COVID lockdown and forming a very strong team.