News
School of Engineering and Materials Science students visit Aston Martin F1
13 July 2023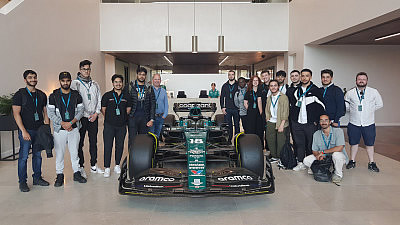 Students and staff with last year's Aston Martin F1 car
A group of 15 SEMS students visited the new Aston Martin F1 team at Silverstone a few days before the British Grand Prix. The visit was a part of the Make a Mark Day at the AMR Technology Campus, which aimed to inspire the next generation and showcase STEM career opportunities in F1 and beyond. The event also saw the launch a new partnership between Aston Martin F1 and The Aleto Foundation, a leading charitable organisation dedicated to promoting social mobility among young people from underrepresented communities. The Aleto Foundation CEO David Villa-Clarke joined a session on the stage to offer career advice to the students.
There was a chance to speak to a graduate engineer about his experience working for the company, and there were talks on how to get into the motorsport business and networking. There was also a discussion on the future of the jobs market in the face of rapid developments in automation, machine learning and artificial intelligence. Celebrity spotting included Toto Wolff and Lawrence Stroll, but Fernando Alonso was busy training!
150 places on industrial site visits were offered to SEMS students this year, with the aim of informing students about career options, building their professional networks and inspiring them to aim high.