News
Let's Move to the Moon!
12 July 2023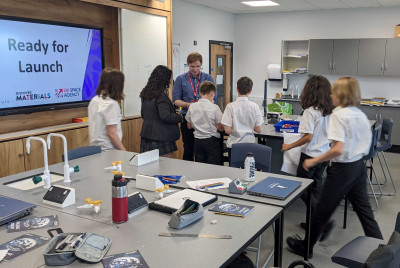 Thomas briefing the team for the rocket launching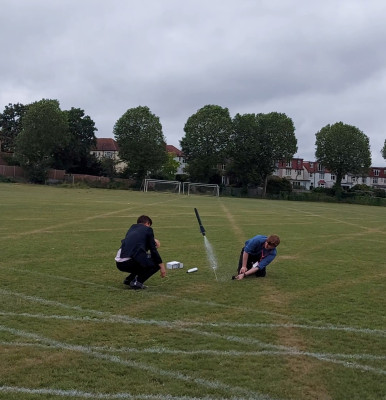 Launching the rocket
The School of Engineering and Materials Science (SEMS) is dedicated to promoting the field of Materials Science and Engineering (MSE) among the next generation of scientists and engineers. As part of their ongoing outreach efforts, SEMS staff and students delivered a unique activity to inspire students about the future possibilities of Materials Science in space exploration.
Last month, pupils from St Dunstan's College in southeast London participated in a full-day event to understand the significance of Materials Science for future space exploration. The outreach project, called "Let's Move to the Moon," was designed and facilitated by Discover Materials - a collaboration among several UK universities' Materials Science Departments (including SEMS), the Henry Royce Institute for Advanced Materials, and other members of the materials science community.
Through interactive practical 'missions', students discovered various material properties such as the density of solids, bending strength, thermal conductivity, and UV protection. Armed with this knowledge, they then applied it to design their very own moon base.
Thomas Thorn, a PhD student in SEMS and a Discover Materials Ambassador, joined the students for the afternoon. He delivered an engaging talk on the importance of materials in society and the advantages of pursuing Materials Science as a degree and future career. Thomas also evaluated the students' designs and concluded the day's activities by launching a 3D printed rocket.
Dr. Han Zhang, the Discover Materials working lead in SEMS, expressed his enthusiasm, saying, 'It was truly exciting to witness the creative thoughts and joyful expressions of the students while answering the challenging questions about materials science that arose during the activity. We eagerly look forward to collaborating with more schools to inspire our future materials scientists and engineers.'
This outreach project is funded by the UK Space Agency (UKSA), and designed by Dr Leah-Nani Alconcel (University of Birmingham), Dr Chris Hamlett (Discover Materials and The Henry Royce Institute), and Dr Han Zhang (QMUL).