News
SEMS runs first Industrial Workshop on Systems Engineering: toward sustainable digital systems
24 April 2023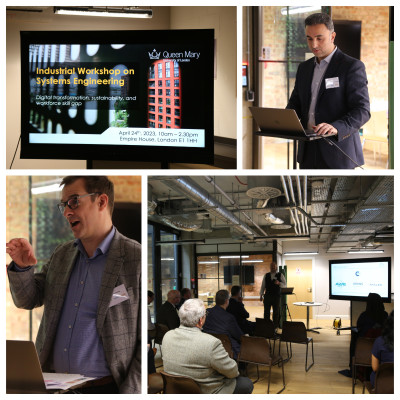 Andrew Pemberton (Present Elect, INCOSE UK) and Graham Herries (Chair of Innovation and Skills, IET) delivering keynotes.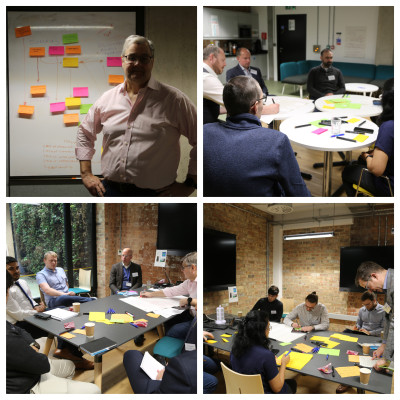 Three breakout sessions, respectively focusing on Digital Transformation, Sustainability, and Skill gaps.
SEMS' Systems Engineering team - led by Dr Mohammad Hassannezhad - ran an industrial workshop with focus on digital transformation, sustainability and skill gaps, on 24 April at QM's Digital Environment Research Institute (DERI).
The workshop brought together a group of 17 industry practitioners from 14 different companies in eight sectors (including INCOSE, IET, Thales, Costain UK, QinetiQ, Siemens Mobility, Network Rail, Capgemini Engineering, Airbus, HS2, Department for Transport, and Transport for London) to discuss three emerging topics that are influencing today's industry practices:
Digital transformation: how do different businesses incorporate digital transformation in routine operations and what are the emerging challenges?
Sustainability: what does sustainability mean to businesses of various sectors, what are top priorities to change, and where Systems Engineering can play a role?
Skill gap: what makes a good Systems Engineer in today's business as well as within five years, and where are key skill gaps?
The workshop started with an online poll to understand the individual perception of the term Systems Engineering and how the status of Systems Engineering has been changed (and what would be the priorities) over the past 3-5 years. Participants, organised in three groups, then discussed each topic in a separate breakout session - supported by a senior industry practitioner. The breakout discussions were nurtured by two keynote talks by leading figures in the field:
The workshop output has been a Capability Planning Map with in-depth information primarily on three dimensions, covering the business sector, priority challenges, and potential solutions. The data shows a significant overlap (yet with different priorities) between interpretation of sustainability across construction, rail, aerospace, space, and defence.
With digital transformation, whilst appreciating standard challenges from sector to sector, lack of organised data, lack of connectivity, lack of interoperability between tools and systems, lack of digital systems tools, and cyber security, and lack of verification before digital transformation have been recognised as some of the emerging challenges facing industry practice. Consequently, for example, use of cloud-based solutions and AI reasoning tools appeared to have the potential to help human operations – through developing models that transparent gaining trust from human and making information available across the joint.
This information is thought to be refined through developing a range of follow-up conversations with academic experts in the field and a wider range of industry practitioners. If you are interested in getting updates about or getting involved in our Systems Engineering events, you can subscribe to our events notifications and mailing lists.