News
Ana Sobrido presents research on electrospun carbon electrodes for redox flow batteries at CIC energiGUNE
19 April 2023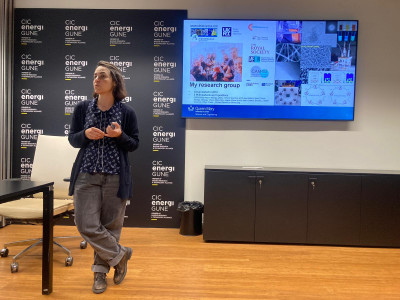 Ana giving a talk at CIC energiGUNE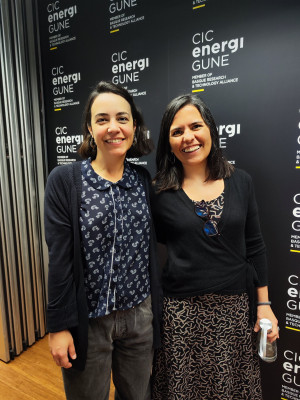 Ana with Montse Casas Cabanas - Scientific Lead of Electrochemical Energy Storage at CIC energiGUNE
Ana Sobrido presented her work on electrospun carbon electrodes for redox flow batteries as part of her UKRI FLF at CIC energiGUNE, in Vitoria, Basque Country, Spain.
In her talk, Ana shared her research group's latest findings on how to optimise the microstructure of self-supporting electrospun carbon fibre electrodes to promote good electrolyte permeability and high electrochemical performance.
CIC energiGUNE is the research centre of electrochemical and thermal energy storage, a strategic initiative of the Basque Government to generate excellent research in materials and systems for energy storage.
| | |
| --- | --- |
| | |
| Contact: | Ana Jorge Sobrido |
| People: | |
| Research Centre: | |