News
Soft Matter Group at RubberCon 2023 in Edinburgh
11 May 2023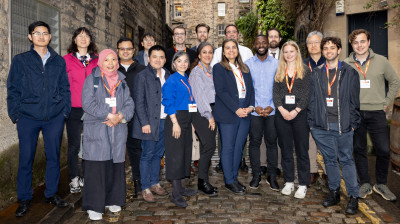 From left to right: Dr Wei Tan (staff), Dr Yinping Tao (alumni), Afni Restasari (PhD), Rattapong Numard (PhD), Dr Menglong Huang (alumni), Dr Khai Nguyen (alumni), Dr Hediyeh Zahabi (alumni), Eathan Plaschka (PhD), Dr Lewis Tunnicliffe (alumni), Dr Sara Naderizadeh (PDRA), Dr Anureet Kaur (alumni and PDRA), Prof James Busfield (alumni and staff), William Amoako Kyei-Manu (PhD), Dr Ben Alcock (alumni), Kirsty Rutherford (PhD), Prof Keizo Akutagawa (alumni and staff), Evangelos Koliolios (PhD), Aaron Duncan (PhD). Missing from the photo was Dr Katz Tsunoda (alumni).
The largest ever group of Soft Matter Group members and former members joined together to participate in RubberCon 2023. This global conference on Elastomer Materials was held in Edinburgh from the 9-11th May. With more than 300 international delegates the event was the largest rubber conference in the UK since the IRC in 2019. We realised at the conference dinner that 19 of the participants were either current QMUL staff or students or SEMS alumni.
Prof James Busfield (the conference chairman) was very pleased that two of the current QMUL PhD team, Aaron Duncan and Kirsty Rutherford were both awarded £150 prizes for their oral presentation and poster presentations respectively. They kept up the long run of SEMS students winning student prizes at every major global rubber conference since 2019.