News
Congratulations to Huan Meng who passed his PhD on mechanical regulation of cartilage inflammation
13 March 2023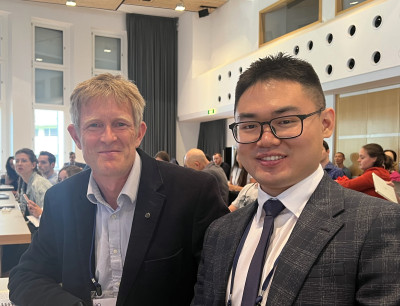 Huan Meng with PhD supervisor Prof Martin Knight at a research conference in Switzerland.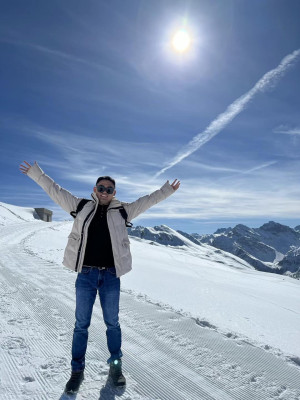 Huan enjoying his new post doc position at the AO Foundation in Switzerland!
Huan's thesis examined the effect of the mechanical environment on inflammation that occurs in articular cartilage associated with joint disease such as osteoarthritis. In particular, the research examined the role of a complex signalling mechanism (termed YAP-signalling) that occurs within the cartilage cells and the involvement of specialised cellular structures known as primary cilia.
Huan discovered that the stiffness of the environment in which the cartilage cells are growing, influences the inflammatory response of these cells controlling disease progression by altering YAP-signalling. As the stiffness decreases the inflammatory response increases representing a potential feedback loop leading to more cartilage degradation. These findings, and the discovery that primary cilia are involved in this behaviour, help scientists and bioengineers to better understand the complex interaction between biology and mechanical forces which regulate joint health and disease. Furthermore, the work may help to identify new therapies for joint disease which currently effects over 7 million people in the UK and for which there is no cure.
Following his PhD, Huan secured a research assistant position at the AO Foundation in Davos, Switzerland where he is developing x-vivo models of the synovial joint for testing new therapies.
Huan's PhD was supervised by Professor Martin Knight within the Centre for Bioengineering, in the School of Engineering and Materials Science at Queen Mary University of London and was funded by the China Scholarship Council. The thesis is entitled: 'The role of YAP and primary cilia in regulating inflammatory responses of cartilage'.
During his PhD, Huan published the following three journal papers and one book chapter:
Meng H, Fu S, Ferreira M, Pearce O, Gavara N, Knight M. (2022) "YAP activation inhibits inflammatory signalling and cartilage breakdown associated with reduced primary cilia expression" Osteoarthritis and Cartilage.
Fu S, Meng H, Inamdar S, Das B, Gupta H, Wang W, Thompson C and Knight M (2021). "Activation of TRPV4 by mechanical, osmotic or pharmaceutical stimulation is anti-inflammatory blocking IL-1β mediated articular cartilage matrix destruction" Osteoarthritis and Cartilage.
Fu S, Meng H, Freer F, Kwon J, Shelton C and Knight MM (2020). "Sub-toxic levels of Co2+ are anti-inflammatory and protect cartilage from degradation caused by IL-1β." Clinical Biomechanics.
Meng H, Thompson C, Coveney C, Wann A, Knight M "Techniques for Visualisation and Quantification of Primary Cilia in Chondrocytes" (2022). Methods in Molecular Biology.