News
Single Atom Iridium on Hematite for Solar Water Splitting: Catalyst or Spectator? SEMS Leads an Innovative Study that Brings New Understanding on the Processes Controlling Solar Water Oxidation
12 January 2023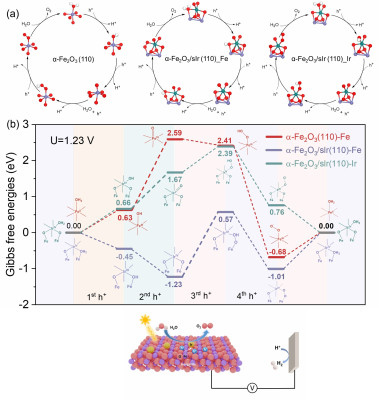 Proposed mechanism and optimised structures of reaction intermediates for the oxygen evolution reaction of sIr/hematite photoelectrocatalyst system.
Single-atom catalysts (SACs) on hematite photoanodes are efficient co-catalysts to boost photoelectrochemical performance. However, the specific role of SACs on hematite photoanodes is not fully understood yet: Do SACs behave as a catalytic site or a spectator?
By combining spectroscopic experiments and computer simulations, a research led by Ana Sobrido in QM's School of Engineering and Materials Science in collaboration Rachel Crespo, Devis Di Tommaso and Stoichko Dimitrov of QM's School of Physical and Chemical Sciences demonstrates that SAC Ir on hematite photoanodes act as a true catalyst by trapping holes from hematite and providing active sites for the water oxidation reaction.
The study has just been published in the Journal of the American Chemical Society.