News
Salvatore Grasso and co-authors presented with the Pfeil award by the IOM3
4 January 2023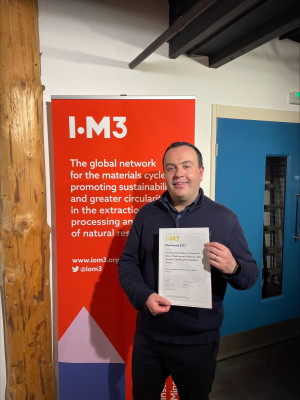 Salvatore at the 2022 Special & Publication Awards Lunch Reception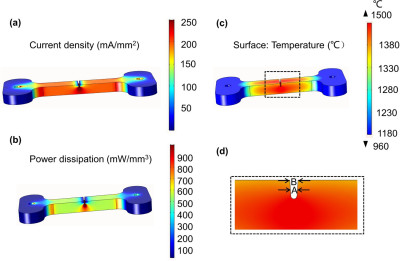 Finite element modelling supporting the findings of the work.
Salvatore Grasso and co-authors including Theo Saunders were presented with the Pfeil award by the IOM3. The Pfeil Award is presented annually for published work of particular merit in the field of ceramics. Eligible papers must be published 2 years before the award is presented in a relevant IOM3 Journal, such as: Advances in Applied Ceramics: Structural, Functional & Bioceramics.
The work entitled "Athermal electric field effects in flash sintered zirconia" proposed an innovative methodology to correlate the current density with grain growth/densification while maintaining nearly unaffected temperatures and heating rates in the order of ≈ 104 °C min−1. A notch located in the middle of a dog-bone specimen allowed a precise control of the current distribution (i.e. current density ranging from 3 to 670 mA mm−2), while the temperature remained relatively homogeneous (1420–1500 °C). The proposed approach could be employed to: (i) rationalise athermal field effects in FS and (ii) define a relationship between electric parameters (i.e. waveform, polarity, pulsing and frequency), grain growth and densification.
SEMS is delighted to note that Salvatore and Theo were among several members of the materials community at QMUL recognised at the IOM3 awards ceremonies this year. James Busfield (Deputy Head of School) commented "It was amazing that so many of our team were recognised this year and that reflects the strength of the materials research in SEMS."