News
Prof Martin Knight elected as the first Chair of the UK BioMedical Engineering Council
6 July 2022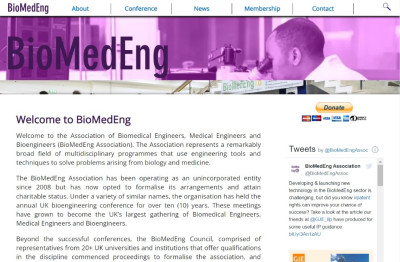 BioMedEng Association website
Prof Martin Knight from the School of Engineering and Materials Science at Queen Mary University of London (QMUL) has been elected as the first Chair of the UK BioMedEng Council.
The Association of Biomedical Engineers, Medical Engineers and Bioengineers (BioMedEng Association) represents a broad field of multidisciplinary research and education that uses engineering tools and techniques to solve problems arising from biology and medicine.
The organisation has held the annual UK bioengineering conference for over ten years. These meetings have grown to become the one of the largest gathering of Biomedical Engineers, Medical Engineers and Bioengineers in the UK. The next conference, BioMedEng22, will be held at University College London from 8-9 September 2022.
Martin will work with the recently elected Working Group Leads, chair BioMedEng Council activities and join the Trustee Board.
The BioMedEng Association is actively welcoming new members, including students. Visit the website to register
Prof Knight's active bioengineering research group works in the area of mechanobiology or how living cells and tissues 'sense and respond' to mechanical forces. This is essential for the health and functionality of many tissues and therefore has potential application ranging from regenerative medicine to novel pharmaceuticals. In particular, the Knight group are leading development of organ-on-a-chip models incorporating physiological mechanical stimuli, providing a platform for therapeutic innovation and testing. Visit Prof Knight's web pages to find out more about the team's research in areas including cancer, inflammation, kidney disease, atherslerosis and arthritis.