News
MEng Group Project Presentation prize awarded at ILF April 2022
6 April 2022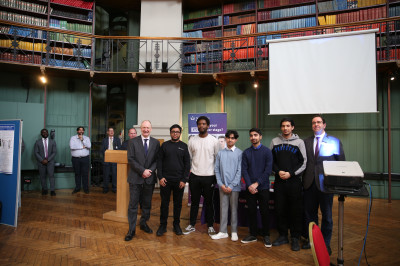 MEng project presentation prize winners
Our MEng students presented their Research & Design Team Projects at the Industrial Liaison Forum on 6th April 2022.
Our MEng students conduct team projects in their 4th year in groups of about 5 students. Currently towards the end of their projects, they were able to present a mix of prototypes, samples and posters. Throughout the 2-hour event, they engaged in lively discussion with our academics and external visitors. The feedback from our judges and industrial collaborators was excellent.
One MEng team was selected for a prize for the quality and enthusiasm of their presentation, which included many samples of their work on 3D-printed carbon electrodes.
Energy storage devices (batteries, supercapacitors, etc.) are essential to supporting our modern life and helping achieve the ambitious net-zero target. Their project aims to develop some novel 3D architected electrodes for redox flow batteries. The students have worked exceptionally well as a team, covering manufacturing, mechanical/electrochemical characterisation and computational modelling of the novel architected electrodes.
The prizes winners were:
Students: Aqil Ali, Jabril Ahmed Abdinur, Mogomotsi Mbeha, Rafi Istidar Farhad Rahman & Syed Moizz Ali
Supervisors: Wei Tan & Ana Sobrido
Project title: 3D Sustainable Architected Electrodes for Energy Storage Devices